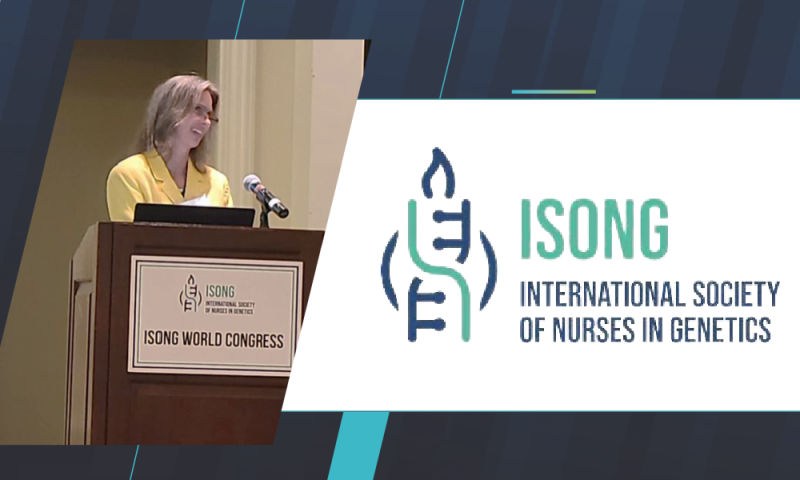 Lori Orlando, MD, MHS, MMCI, Director of the Precision Medicine Program and professor of Medicine in the division of General Internal Medicine, was recently the keynote speaker at the 2022 International Society of Nurses in Genetics (ISONG) conference held in Durham, North Carolina, to discuss utilizing genomic testing to transform healthcare. Dr. Orlando shared why precision medicine has the potential to prevent disease, detect early, and provide patients personalized interventions.
"While there has been some recent hype around a few technologies [gene and immunotherapies for treatment] it applies to all stages of the health to disease spectrum and is particularly well suited for disease prevention," says Orlando. "Unfortunately, it brings with it a great deal of complexity that the infrastructure and personnel in most health care systems are not yet prepared to address. I hope to continue to share the message of how to understand the barriers and educate our facilitators, like those part of ISONG, that will guide future successful implementation."
ISONG's mission is to serve both the nursing profession and the public by fostering and advocating for the scientific and professional development of its members and the nursing community, in the discovery, interpretation, application, and management of genomic information, for the promotion of the public's health and wellbeing.
ISONG advocates for public understanding of genomic health and use of genomic information. This year's conference provided attendees with the knowledge, tools, and resources to:
Identify the unique contributions of nursing to precision health across the lifespan to foster healthy populations.

Understand the use of holistic approaches to advance diversity, equity, and inclusion in genomic nursing.

Incorporate the concepts of personalized health and well-being in nursing research, education, practice, and policy settings.
Precision medicine has grown rapidly in the last 10 years and has gone from a pipedream, only obtainable to those with extensive resources, to an achievable paradigm that could change the spectrum of medicine for millions.