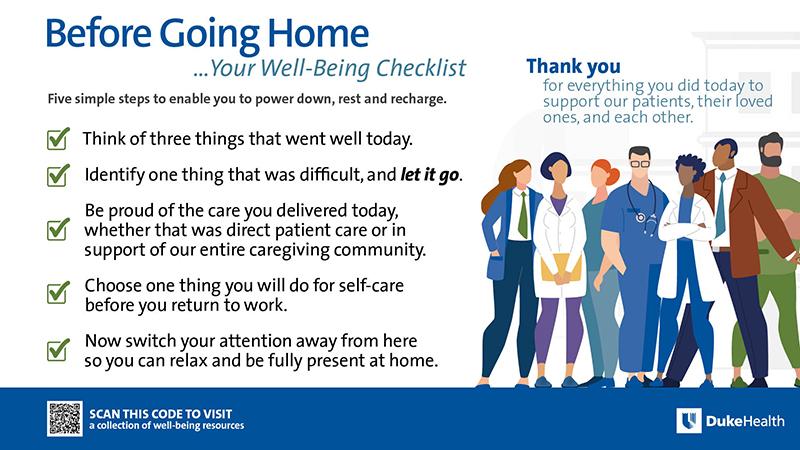 Mental Health and Parenting Resources
Support for Emotional Well-Being
Resources to Support You and Your Family
In the Department of Medicine, we know that our most valuable asset is our workforce. Over the past year we have increased our focus on workforce well-being, and that's even more important during the time of COVID-19. 
We have put together this web page that lists opportunities, valuable tools and resources for you to use during this challenging time.
Helpful guides and resources for faculty, trainees, and all Department of Medicine staff during COVID-19 can be found here.
Support for Emotional Well-Being
Personal Assistance Service is here to provide support during this challenging time. To obtain an appointment, contact the PAS office at 919-416-1727. PAS also offers video and telephone sessions. Click here to learn how to access video appointments. There are also strategies from PAS for taking care of your emotional health during a medical crisis available here. 
Other resources through the PAS site include:
Behavioral Health Urgent Access (fee for service, eligible health insurance accepted)
The Duke Department of Psychiatry and Behavioral Sciences has same-day appointments available (in-person and telephone-based) for faculty, staff, Graduate Medical Education (GME) trainees and their families (including children) who are seeking support related to stress management, coping resources, and behavioral health concerns. In-person appointments are available between 8 a.m. and 5 p.m. Monday through Friday. Extended hours are available for telehealth services. Call 919-681-1631 to access these services. More information can be found here.
Additional sites for emotional well-being support (Duke Net ID and login required)
Resources to support you & your family
Important Contact Information
COVID-19 resource guide for parents and families.
Resources for childcare, eldercare, and summer camps.
Child care, pet care, and more volunteer services offered through Duke Healthcare professional students.
Emergency Child Care options and childcare now being offered through YMCA of the Triangle.
Free childcare for frontline healthcare workers at Bright Horizons in Cary through July 17. Learn More.
Current list of Durham restaurants offering takeout and delivery. 
Meal ideas for the whole family when fresh ingredients may not be available.
Click here to sign up for the Healthy Duke Recipe of the Day.
Resources for parents teaching at home during COVID-19 school closures. 
Discounts for healthcare workers.
How to care for yourself as you care for others.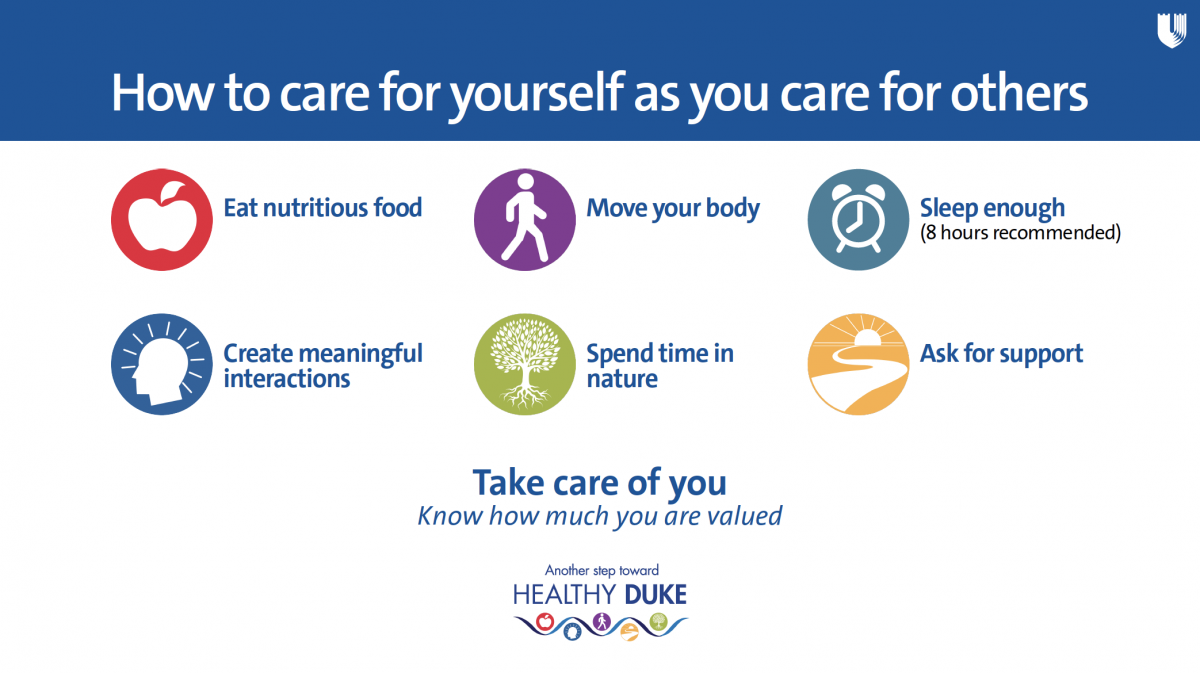 Online Well-Being Resources
Opportunities
We will continue to update the website as new things become available, and also please don't hesitate to reach out to Cary Ward, MD, or others in the Department of Medicine if you need additional help or information.
During this challenging time, please don't forget to show gratitude and support one another and to find small joys in every day.
[video:https://www.youtube.com/watch?reload=9&v=yvNqoi-QlvY&feature=youtu.be]
Have you found a great well-being resource? Please share by emailing brittany.c.young@duke.edu