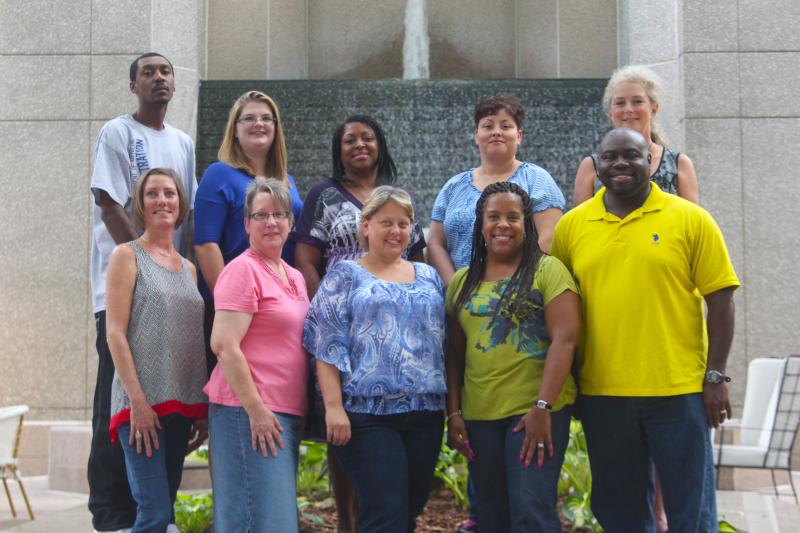 Sitting in traffic after work is tiresome, but imagine traveling in heavy traffic to get to class on time right after a long work day.
This was Jeanine Latta, Department of Medicine senior research administrator, every week when she would attend college classes in the evening while juggling work and her life outside of school.

Latta's experience led her to create PEERONE, which is a social, networking, and support group for Duke Department of Medicine Research Administration. PEERONE is a group that provides support so members graduate and can share advice on balancing life.
Having a college degree can heavily influence a person's journey in their career. The idea for PEERONE as a result of Duke University creating the Research Administration Continuous Improvement (RACI) initiative in 2006.

The RACI initiative was created to improve the efficiency of Duke's research administration support structure after collaborating with the Huron Consulting Firm to analyze the administration's flaws.
Through the initiative, employees were given career tracks based on their experience and whether they had college degrees. Employees received compensation as they moved up on their track and their skill sets increased.
However, the career track initiative put employees who didn't attend college at a disadvantage. In Latta's experience, it erased half of her years of experience working in research administration because she didn't have a four-year degree, which set her back on her track. She said she was "really heartbroken."
In 2012, Latta enrolled at the University of Mount Olive to take control of her career track. She took classes whenever it was possible. She earned her associate's degree in business administration in December 2015. Currently, she is working toward her bachelor's degree.
During her journey, Latta struggled with balancing time between her schoolwork, her job, and her home life.
"I took a class one night a week. It was so hard. I had graduated high school and had been out of school for 27 years," said Latta. "When I went to class, I was just shocked. I sat there like 'am I really doing this?'"
As she began talking to her closest peers about her situation and was given advice, Latta said she was inspired to find out who else was in school and having similar troubles.

After speaking with research administration director Laurianne Torres about her vision, Latta sent an email to everyone in DOMRA that stated "education transforms lives." Through this email she discovered she wasn't alone in her struggles. Numerous co-workers reached out to Latta via email and asked about her idea.
In November 2015, PEERONE was established. The support group held their first meeting on Dec. 4, 2015.
Since then, the support group has encouraged camaraderie throughout the DOMRA team and motivated others to be the best they can be as they complete their education.
There are 15 members in PEERONE today. The group meets monthly on every third Friday. In their meetings, they talk about how they are doing in school, watch motivational videos, and help each other move forward in their studies. Sometimes, the members exchange books and other resources to help each other.
Valorie Smith, PEERONE member and administrator, said the support group has been an enormous help to her and everyone who has participated.
"When I first was introduced to PEERONE, it was something that blew my mind because you don't find this everywhere," said Smith.
"So many people are doing the same thing and don't know that there's a resource right around the corner when you're having problems with one particular area.
"It created a lot of closer relationships within DOMRA. It helped me reach out to different people for advice or help on different situations. It made it a lot easier."
Torres shared her story at their first meeting about how she started college late. She pursued her bachelor and master's degrees while maintaining a full-time job and raising a family.
She attended the University of Central Florida where she earned a master's degree in nonprofit management in 2010. PEERONE has made Torres an honorary member. She said it took her a long time to pay her own way through school.
"Education is very important to me," said Torres. "Any time I see someone on our team investing in themselves (as Jeanine and others are), it takes me back to the days when I was in their shoes. I see it as my responsibility to pay it forward with them and make sure that they have all the tools, time and support to see it through. I know they can do it!"
Francene Richardson said that Torres inspired her to return to school. Before, she had given up on the thought of earning her bachelor's degree in business administration. Richardson thought that it was too late to pursue it. When Torres found out, she told Richardson that she has so much to offer and encouraged Richardson to "invest in herself."
Currently, Richardson is enrolled at William Peace University to pursue her bachelor's degree in business administration.
She said she was happy to see that Jeanine made her vision come to life.
"I thought it was a great idea," said Richardson. "It gave us somewhere to go for a support system where we can talk to others and give advice about where to go when we're having challenges."

The members of PEERONE said they hope the support group reaches out to not just the DOMRA staff, but all staff and faculty at the university. In time, they want to see PEERONE expand.

As the group grows, they're interested in starting a newsletter that can be sent out quarterly to members and highlight staff members who earned their degree.
PEERONE invites staff from across the Department (who are in school or considering it) to reach out to Jeanine Latta (jeanine.latta@duke.edu) and find out how PEERONE can help you on your educational journey.
This story was written by Tia Mitchell, communications intern for the Department of Medicine.