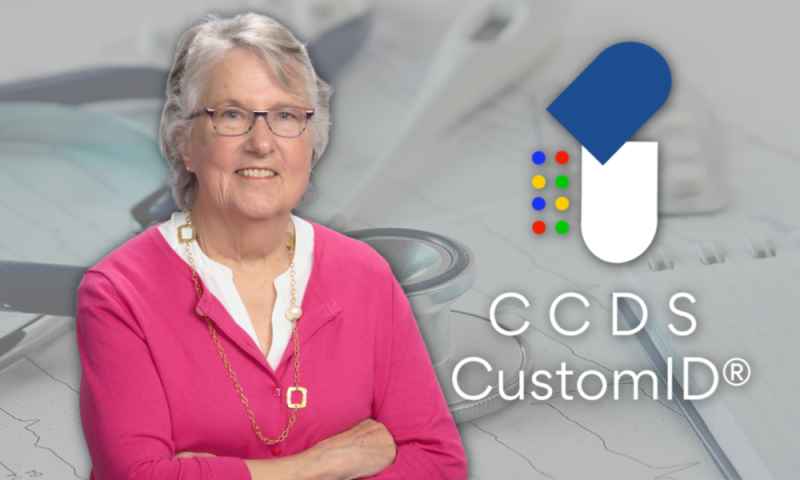 As a clinician, you can be tasked with making decisions to advise patients with, sometimes, little amounts of data. But to provide the best care for patients, data is the holy grail and continues to be a driver in the evolving world of medicine.  
CustomID® is a web-based application for clinical decision support. Developed by Duke professor emerita in the division of general internal medicine, Martha Adams, MD, MA, and co-developers, Richard Drew, PharmD, MS, Allen Coleman, MMCi, and Ken Kawamoto, MHS, MD, PhD, the application delivers site-specific, accessible, and easily customizable information about the diagnosis and treatment of infectious diseases. The platform helps simplify the understanding of recommended dosing and aims to slow the rate of antibiotic resistance. Adams is the Founder and CEO of Custom Clinical Decision Support, Inc., a spin-out company from Duke University, seeking to offer CustomID in a wider market of health care.
Piloted within Duke University Hospital in 2017 after receiving an investment from the Duke Chancellor's Office through his innovation fund, to date, thousands of Duke physicians, nurses, pharmacists, trainees, among others, are utilizing this platform to make informed patient decisions.
"Beyond the direct benefit to our patients, we are seeing multiple advantages to having a resource like CustomID available at Duke," shared Dr. Adams. "For providers, they have access to all this information in one location, saving time and improving patient care and safety."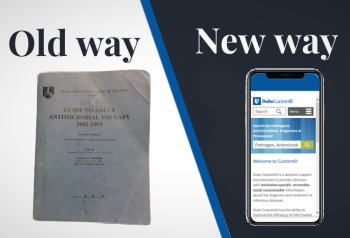 CustomID® has alleviated the time and effort spent by pharmacists to continuously keep reference guides up to date with a fluid area like infectious diseases. Additionally, doctors, nurse practitioners, and physician assistants have a resource to reference before potentially needing to consult an infectious disease specialist directly.
"It is hard to communicate quickly ever-changing clinical information and CustomID created a consolidated resource that could be readily updated and accessible by our providers," said Rebekah Wrenn, PharmD, Co-Chair of the Duke Antimicrobial Stewardship and Evaluation Team.
From inpatient floors to emergency rooms and clinics, CustomID is being used to improve antibiotic prescribing for needs such as therapeutics for immunosuppressed patients, urinary tract infections (UTI), sepsis, and C. difficile infection. Currently, Duke University Hospital, Duke Regional Hospital, and Duke Raleigh Hospital are all utilizing customized versions of the application.
Seeing the need when the pandemic hit
When COVID-19 became prevalent amongst Duke hospitals, CustomID became a critical component of therapeutics and infection prevention. Medical guidelines were changing constantly, making it almost impossible to keep teams informed. The latest research protocols needed a location for easy access.
"As a first-year clinical infectious disease fellow, CustomID was an essential resource to ensure my recommendations reflected our most up-to-date policies and interventions." shared Reinaldo Perez, MD. "I can't imagine trying to get through when COVID hit in 2020 without it!"
Now with a new virus circulating, monkeypox, CustomID has provided much assistance to Duke's response to the disease.
Incorporating your passions into your career
Dr. Adams has been a general internal medicine physician for years but has a passion for informatics and the impact of emerging technologies to help provide solutions for clinicians. Her work on developing a framework for clinical decision support in antimicrobial stewardship led to an enterprise-wide solution for the management of infectious diseases with CustomID®.
"Whether you're in medicine or in another department, early-career to late-career, you have the ability to improve patient care," said Adams. "As providers, we are boots on the ground and sometimes are the best in providing perspective on where systems and processes can be improved."
Learn more about Duke CustomID and CCDS. 
---