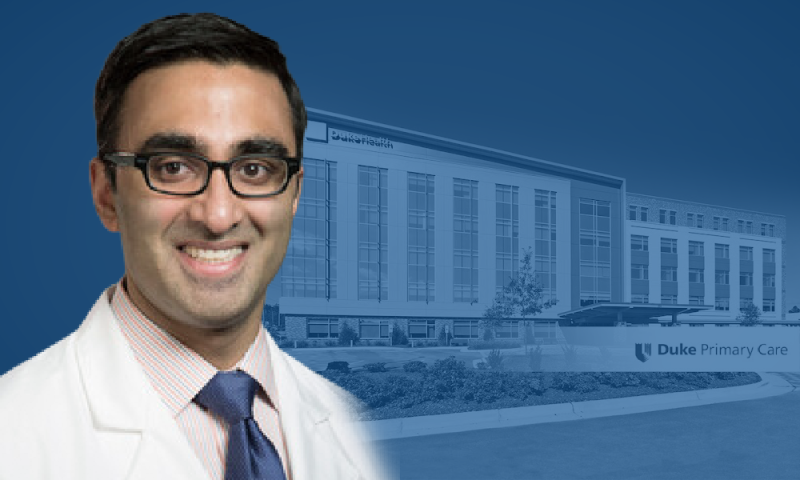 We are pleased to announce that Kevin Shah, MD, MBA, has been promoted to Associate Professor of Medicine in the division of General Internal Medicine (GIM), effective September 1, 2022.
Dr. Shah was also recently named interim Chief Medical Officer of Duke Primary Care, overseeing the continuum of work after John Anderson, MD, left this role in July.
"I have been exceptionally fortunate for the many opportunities I have been afforded at Duke Primary Care and in the Department," says Shah. "I am excited and humbled to assume this role at such a critical time for Duke Health."
Shah has been with Duke since his Internal Medicine training, where he simultaneously completed the Management and Leadership Pathway for Residents (MLPR) and completed a certificate in Health Sector Management from Duke's Fuqua School of Business.  He then joined Duke GIM faculty in 2015.
Over the last 7 years, Dr. Shah has served in several leadership roles both at Duke Primary Care (DPC) and the broader Duke Health community.  He has distinguished himself as Duke's physician leader in primary care quality improvement and clinical innovation. 
Dr. Shah practices as an internal medicine physician at DPC South Durham practice. In his current role as the Interim Chief Medical Officer, he leads a provider network of nearly 400 primary care, pediatric and urgent care providers that deliver care to over 350,000 unique lives across the Triangle.  Shah works closely with the DPC senior leadership team to oversee the network's clinical operations, drive a culture of quality and continuous improvement, and serve and lead key strategic priorities, patient access, population health, and provider and staff well-being. He previously served as the network's Associate Chief Medical Director for Innovation and Improvement where he oversaw DPC's performance excellence team and led numerous clinical improvement and data strategies.
Dr. Shah's leadership and academic accomplishments have helped transform DPC into a high-functioning learning health organization that is successfully leveraging performance improvement methodologies to drive clinical and operational excellence.  He has consistently demonstrated leadership and high-impact scholarship, all while distinguishing himself as an outstanding mentor to learners across Duke. We are excited to see all he continues to accomplish during his career at Duke.