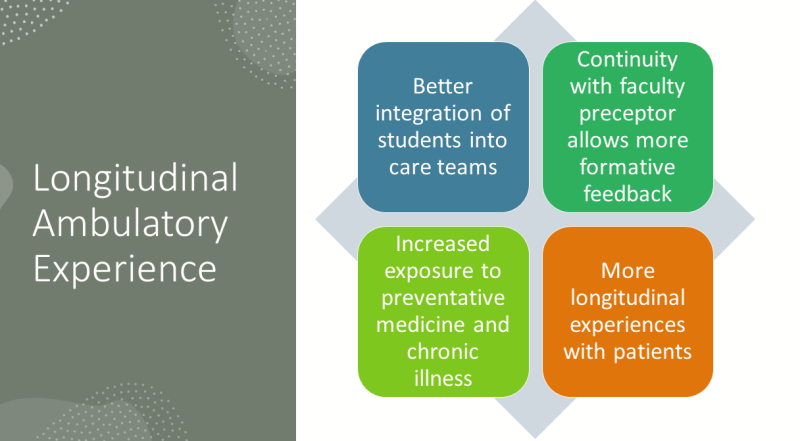 The Department of Medicine (DOM) is creating a taskforce charged with developing the internal medicine component of a new program called outPatient Integrated lONgitudinal ExpERience, or PIONEER, for second-year medical students.
The goal of PIONEER is to increase their experience with the outpatient practice of general internal medicine and its subspecialties, as well as increase opportunities for faculty to teach medical students in the clinic setting.
"With PIONEER, the Duke School of Medicine leverages best practices in medical education theory – including spaced repetition and longitudinal relationships," said Poonam Sharma, MD, director of medical education.
"PIONEER aligns with current realities of care delivery in primarily ambulatory and non-acute care settings," says Oluwatoyosi A. Onwuemene, MD, MS, associate professor of medicine (Hematology), and a member of the DOM curriculum committee, which approved the plans for PIONER.  "With the increased time in the outpatient setting, students will gain a well-rounded clinical experience and develop a better-informed perspective of Internal Medicine clinical practice."
Students may well reconsider specialties previously written off based on the inpatient experience alone, Onwuemene adds. "Additionally, the prolonged contact between students and faculty will foster high quality mentoring opportunities and open doors to research collaborations. For these reasons, PIONEER is a welcome addition to the curriculum that will improve both the student and faculty experience. I look forward to its implementation," she says. 
With an anticipated start date of August 2023, PIONEER will give second year students a multidisciplinary outpatient experience lasting 16 weeks while their inpatient medicine clerkship will decrease from eight to six weeks.
"I am excited for the learning opportunity PIONEER gives our medical students – the ability to work with an attending for 16 weeks, getting continuity with both the attending and the patients," says Saumil M. Chudgar, MD, MSEd, assistant dean for clinical education. "Attendings can really see our students' skills grow over that period and give ongoing formative feedback to help the student improve."
PIONEER builds on and expands Duke's Longitudinal Integrated Clerkship Program (LIC), which has been offered as an alternative track for the second year for students. In this program, and in the future with PIONEER, students will have more one-on-one experiences and relationships with clinicians whose clinic they return to week after week and the preceptors will be able to better invest in students' growth over the course of the program.
 LIC has shown this is feasible at Duke and with PIONEER the strengths of the program will be available to all students, Sharma notes.
"We are lucky to build on the lessons learned from the LIC, which has been expertly led by Dr. Sharma for several years and now expand that longitudinal experience to all our medical students," Chudgar adds.
For IM specifically, PIONEER offers the chance for students to have more outpatient IM experience as the core clerkship will become not just an inpatient experience but also offer this new outpatient experience, which reflects the practice of medicine for most faculty.
The DOM PIONEER taskforce intends to ensure that each division has active representation in the planning process for the new program.
The taskforce is anticipated to work together for 12 months, starting in April 2022. Taskforce faculty will meet monthly (virtually or in person), project the capacity of their divisions to provide outpatient clinical education to second year medical students, report regularly to Division Chiefs about PIONEER planning, act as an educational leader in their division and provide faculty education about PIONEER plans to their division, and contribute to plans to evaluate students and assess the efficacy of PIONEER.