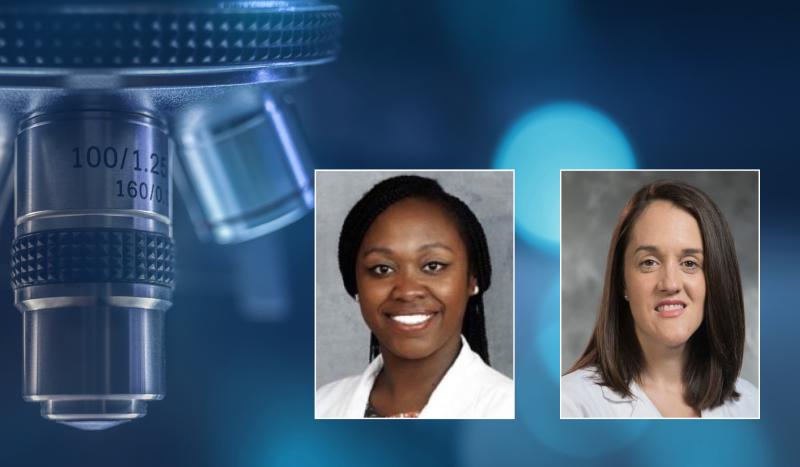 Two early career Department of Medicine investigators are being recognized with prestigious awards from the American Society of Clinical Investigators (ASCI). 
Jennifer Rymer, MD, MBA, is among 50 recipients of the ASCI's 2023 Young Physician-Scientist Award. Jashalynn German, MD, fellow in the division of Endocrinology, Metabolism, and Nutrition, is among 25 recipients of ASCI's 2023 Emerging-Generation Awards.
The Young Physician-Scientist Awards recognize physician-scientists who are early in their first faculty appointment and have made notable achievements in their research. The Emerging-Generation Award is s significant recognition of early-career achievements and recognizes post-MD, pre-faculty appointment physician-scientists who are meaningfully engaged in immersive research.
Jennifer Rymer
As a clinical researcher and interventional cardiologist, Jennifer Rymer, MD, MBA plans to devote her career to improving the care and outcomes of patients with peripheral arterial disease (PAD) and acute coronary syndromes (ACS). Dr. Rymer cares for patients at Duke and at a community hospital with poor access to care who present with advanced PAD and are at high risk of limb loss. Much of her clinical work is focused on limb salvage, and this clinical work has become the basis for her research.
Dr. Rymer received an American Heart Association Career Development Award to develop an instrument that assists the clinician with prescribing appropriate guideline-directed medical therapy (GDMT) for patients with PAD and assessing barriers to adherence to GDMT. Additionally, she was awarded the Women as One Research Award for her work in validating patient-reported outcomes in patients with advanced PAD and in African American patients with PAD. For this work, she was recently honored with the Linnemeier Award, one of the top early career investigator awards given to an academic interventional cardiologist by the Cardiovascular Research Foundation.
Dr. Rymer is passionate about mentoring trainees interested in pursuing a career in clinical research. She is currently the PI of a program sponsored by Pfizer to engage underrepresented minority college students in clinical research training to foster a more diverse workforce in clinical research. She also enjoys her roles as national PI on a 12-site registry of cangrelor use in patients with myocardial infarction which has enrolled 3,000 patients; and as a co-investigator on the SOS-AMI trial of selatogrel use in post-MI patients. Dr. Rymer also is the data coordinating center PI for the NCDR CathPCI and Chest Pain MI Registries at the DCRI.
"I am very appreciative of the opportunity to get to participate and attend the ASCI Joint Meeting and collaborate with other young investigators from around the country," she said. "I am thankful to all the wonderful mentorship I have had at Duke throughout training and into my early years on faculty that have allowed me to have research and early career opportunities. I would particularly thank Tracy Wang, Schuyler Jones, Manesh Patel, Sunil Rao, and Roxana Mehran for their mentorship over the years."
Jashalynn German
Jashalynn German, MD, is a current third year fellow in the Duke University Medical Center's Fellowship Program in the division of Endocrinology, Diabetes and Metabolism. She is on the fellowship's health services research track, supported by the division's T32 grant. As a health services researcher, with a special interest in health equity, Dr. German's research focuses on understanding patient access and utilization of health care systems and health outcomes with the overarching goal of decreasing health disparities related to endocrine diseases by identifying modifiable barriers to health equity at patient, provider, and system-levels.
Her primary research goals are to develop and effectively implement practical interventions, through health services and behavioral initiatives. Dr. German has specific training and expertise in health services research with an emphasis in health equity. She has had the opportunity to collaborate with other researchers and produced several peer-reviewed publications showcasing the findings of our projects. In the summer of 2023, Dr. German will be transitioning onto faculty at Duke University as an assistant professor in the division of Endocrinology.  
"I am honored to have been one of the 25 individuals selected for the American Society for Clinical Investigators (ASCI) 2023 Emerging Generation Awards," German said. "I am thankful to my mentors, research collaborators and colleagues. I am excited to  join the ASCI network where I am sure to receive continued support and inspiration."