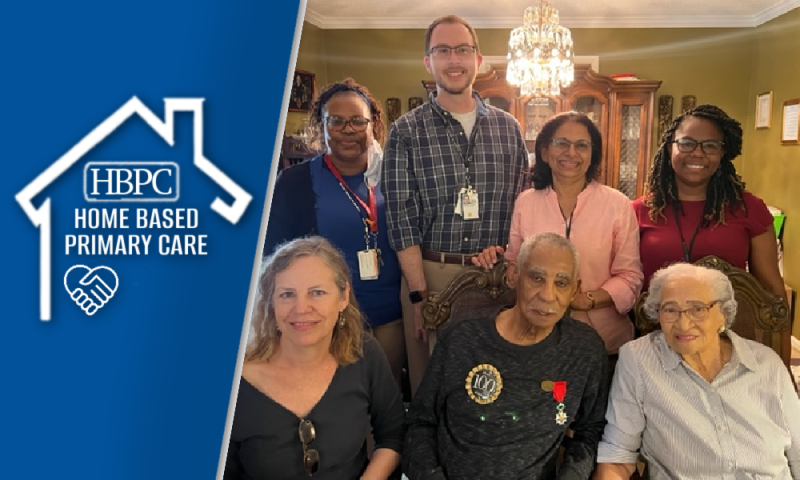 This Veterans Day, we, in the Department of Medicine, thank those service members who are currently serving and those Veterans who served our country. These individuals and their families display selflessness and courage by serving and protecting – and we are grateful.
Veteran appreciation goes beyond November though, and we are lucky enough to have the Durham VA Medical Center in our backyard at Duke to care for Veteran patients. Jeannette Stein, MD, associate professor of medicine in the division of General Internal Medicine, supports local Veterans as the medical director for 30 years of the VA Home-based Primary Care (HBPC) program. HBPC is a national VA program spanning 50 years.
The Durham VA HBPC program provides comprehensive, longitudinal primary care by an interdisciplinary team of physicians, advanced practice providers, social workers, registered nurses, physical therapists, occupational therapists, psychologists, psychiatrists, and clinical pharmacists, in the homes of Veterans with advanced chronic disabling diseases for whom routine clinic-based care is difficult.
In an effort to reduce hospitalizations and to achieve improved health-related outcomes, Veteran patients are seen for primary care needs in their home. Veterans enrolled in this program are referred by their VA physicians, many of whom are Duke faculty and residents, due to reasons such as an increased challenge of simply getting to clinic for appointments.
"The home-based primary care program meets the needs of elderly home-bound Veterans," shares Dr. Stein. "Once the referral is made from primary care, we enroll the Veteran patient in our program and admit them for anywhere from 6 months to the rest of their lives."
The VA HBPC program in our local network is made up of three teams – in the Durham, Clayton, and Greenville area. Stein is the medical director for Durham HBPC, which currently supports close to 200 Veterans, while her colleague, Kambiz Soheili, MD, PhD, consulting associate in the division of General Internal Medicine, leads the Clayton team serving approximately 100 veterans.
Stein and Soheili do many of the home visits within their areas and find that this program is an ideal setting for Veterans.
"The Veteran's preference is to live out their days in an environment in which they are comfortable - there is no place like home." - Jeannette Stein, MD
Home-based programs result in a reduction in hospital days, nursing home bed days, (Journal of the American Society on Aging 2010; Edes) and these programs are associated with prolonged survival (Circulation 2002; Stewart et al). The strategies that seem to work best include frequent communication among team members, Veterans, caregivers, and the development of trusting, reliable relationships among team members, and with Veterans and caregivers. (J. American Geriatrics Society 2019; Haverhals et. al.)
Fewer, yet thorough, educational home visits can provide an impact – such as, an understanding of which medications to take, resulting in improved medication adherence. Home visits by a nutritionist, social worker or physical or occupational therapist, can help make quality-of-life improvements.
"Sometimes one visit can address confusion – such as, an advanced practice provider helping a Veteran reorganize his/her medications and to remove old ones," says Stein. "These clinicians can quickly address poorly controlled diabetes or make medication adjustments on the spot."
Thanks to this unique VA program, Veterans who have high medical acuity can benefit from interdisciplinary health care teams, continuity, coordination of care, and the integration of diverse services to cover their complex medical, social, rehabilitative, and behavioral care needs at their own home.
"Faculty in the division of General Internal Medicine and Duke Internal Medicine residents have truly been key in flagging Veteran patients that could benefit from this program," says Stein. "Quality-of-life can make all the difference for these patients and getting the care they need in the comfort of their homes can help reach that goal."