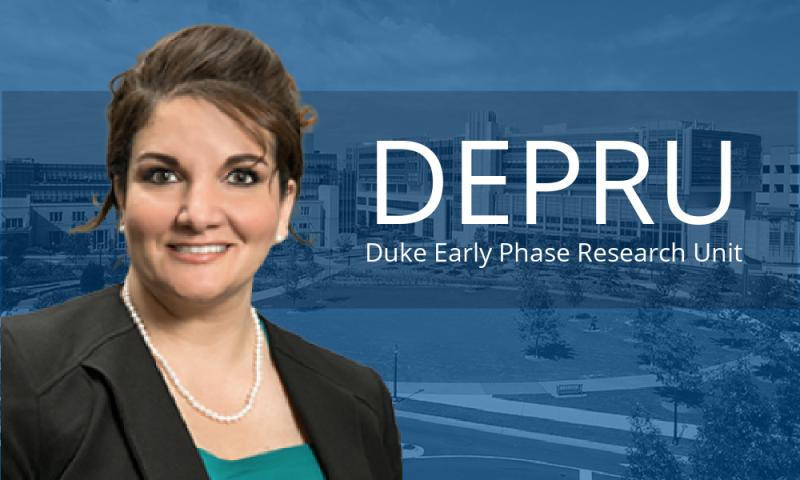 Dr. Lana Wahid, MD, a medical instructor in the Department of Medicine, Division of General Internal Medicine, has been named as the Medical Director of the Duke Early Phase Research Unit (DEPRU). Dr. Wahid is a hospital medicine specialist who sees patients at Duke University Hospital. Her clinical research interests include thrombosis prevention and long term outcomes in COVID-19 patients.
Dr. Wahid's extensive leadership experience prior to medical school includes serving as the Director of Emergency Services, Director of Nursing, and Chief Nursing Officer (CNO) in Northside Hospital, St. Petersburg, FL. As CNO, she had oversight of more than 200 inpatient beds and 250 employees. She was responsible for a $24 million-dollar annual budget and regulatory compliance (CMS, JCAHO and AHCA). During her time as both Director of Nursing and CNO, she decreased employee turnover and improved patient satisfaction in a manner that was sustained and recognized at the state level in Florida. Dr. Wahid is also a successful entrepreneur. She saw the need for urgent care in her community and created a successful urgent care clinic in Largo, FL, which she later sold to attend medical school.
Dr. Shruti Raja, DEPRU Faculty Director, stated "We are delighted for Dr. Wahid to join DEPRU as our Medical Director. Her diverse background and leadership experience will enhance the services we provide for clinicians to perform site-based research."
Dr. Wahid noted "I work with DEPRU as a clinical research investigator and I have been impressed with the team members and services provided. I am thrilled to work with this team and support my fellow Duke researchers."
Dr. Raja has served as the DEPRU Medical Director since 2019 and Medical Co-Director of the Duke Clinical Research @ Pickett facility since 2020. In these roles, she has developed and led complex collaborations across Duke for implementation of clinical trials and new contracts in multiple therapeutic areas.
"DEPRU provides a state-of-the-art research unit and services the needs of research subjects who require specialized monitoring during the course of their study visit" says Dr. Susanna Naggie, Vice Dean of Clinical Research. "We are excited to have Dr. Wahid serve in this important role."
---
Story adapted from DOCR Update