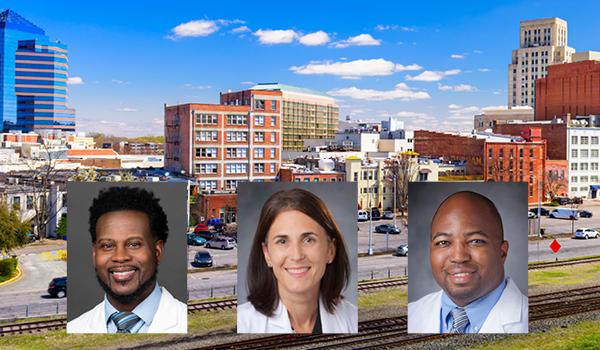 Research has shown that a lack of trust in health care can have significant health consequences on diverse communities. A coalition of health care funders working to improve trust in health care has awarded grants to Department of Medicine faculty members, Julius Wilder, MD, PhD, and Aimee Zaas, MD and Lance Okeke, MD, to advance local health equity in the Durham, N.C. community.  
The awards to Drs. Wilder and Zaas/Okeke are among 20 projects selected from 150 requests for support from medical schools and teaching hospitals across the United States. Funders include the Alliance for Academic Internal Medicine (AAIM), the American Board of Internal Medicine (ABIM), the ABIM Foundation, the American College of Physicians (ACP), the Gordon and Betty Moore Foundation, and the Josiah Macy Jr. Foundation.  
Coalition grants range from $10,000 to $40,000 and will support inter-professional projects led by internal medicine residents, fellows, and faculty. Both Wilder's and Zaas' projects are designed to include more internal medicine residents in health equity work and experiences.  
Wilder: Colorectal Cancer Screening Among African-American Community  
Dr. Wilder's award of $20,000 over four years funds his proposal, Increasing Colorectal Cancer Screening Among the Local African-American Community. The goal is to utilize multilevel, collaborative interventions that increase rates of local colorectal cancer (CRC) screening. Bharathi Selvan, MS4, is a partner and helped develop and write the grant. 
Dr. Wilder and Selvan aim to improve awareness about personal risk for CRC and screening options and educate trainees, using a health equity framework, about the burden of CRC and disparities in outcomes. They plan to develop a health equity curriculum for internal medicine residents that can be tailored to address a multitude of health disparities, and perform community-based outreach with primary community partner, Community Health Coalition (CHC), which connects leaders and advocates in the community in advocating for health equity.  
Dr. Wilder's work advances community health equity at the cultural and interpersonal levels and extends to the provider-patient relationship by educating trainees in a four-part didactic series, held during noon conferences, that focuses on education about the disparate burden of CRC in various populations in the context of a health equity framework. 
"By doing this through a community-based, participatory research model approach, we optimize our opportunity to create a project that is both impactful and sustainable," Dr. Wilder said. "Furthermore, while this grant initially focuses on colon cancer screening, it serves as a model for Duke Health to engage in other health equity projects to address health disparities and adverse outcomes in the Durham community."   
Zaas/Okeke: PrEPping Internal Medicine Trainees and HBCU Students to Combat HIV 
Dr. Zaas will receive $40,000 over two years to expand the Evidence2Practice (E2P) program, an HBCU-focused educational enrichment endeavor to promote careers in HIV care through implementation science in the context of HIV prevention. Dr. Lance Okeke is a co-investigator. Amy Corneli, PhD, associate professor in the division of General Internal Medicine, is a key faculty member also involved in the project.   
Launched in 2021 by Dr. Okeke, E2P is a three-day intensive on-campus workshop culminating in the development of a student-generated, campus-specific action plan to improve awareness of HIV pre-exposure prophylaxis (PrEP). To date, nine workshops have been held at eight HBCUs across the Southeast. Through this grant, they plan to expand the E2P program to eight HBCUs across North and South Carolina.  
Internal medicine residents will be recruited to serve as moderators for E2P workshops, engaging four HBCUs each in the first and second years of the project. Residents will be deployed in pairs to two E2P-participating HBCU campuses each year (two IM resident pairs, four campuses annually). Residents will be trained by Dr. Okeke. 
Training involves meeting with key E2P team members, an in-depth review and discussion of the implementation science, HIV epidemiology and prevention-based content, and a one-hour session with Dr. Angela Aifah, assistant professor in the Department of Population Health at the New York University Grossman School of Medicine on the tenets of human-centered design.  
Incorporating E2P into the IM residency program has the potential to be a multi-level recruitment tool for Duke IM by highlighting Duke's commitment to equity, diversity and inclusion through community engagement and health promotion to diverse audiences, Zaas noted. 
"The program also emphasizes Duke's acknowledgement that HBCUs are critical partners in the broader goal of addressing racial inequities across the country. Highlighting these values has the potential to attract medical students who value the importance of addressing racial inequities in healthcare. E2P provides an unparalleled platform to increase internal medicine resident visibility on HBCU campuses," Zaas said. "Having internal medicine residents presenting their career stories in HBCU classrooms can be a powerful tool to recruit Black students to careers in internal medicine." 
The partnership between E2P and the Duke IM program will also provide a novel pathway for infectious disease and HIV workforce development within Duke. It creates a multilevel pathway for recruiting students interested in health inequities to Duke IM, Duke IM residents to careers in public health-related fields, and HBCU students to careers in internal medicine.