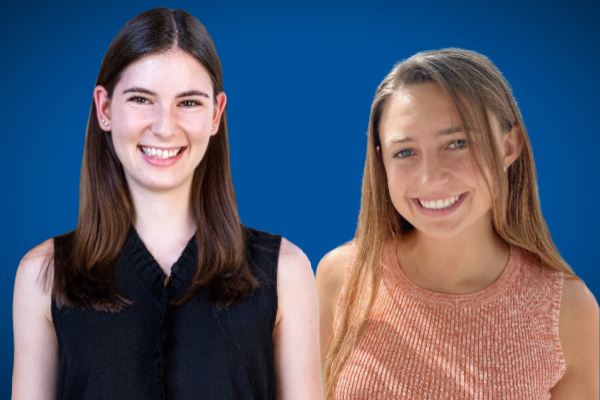 The Snyderman Scholars Applied Genomics & Precision Medicine Summer Program is supporting two student researchers this summer, who are both coincidentally working on cancer projects.  This competitive 10-week program provides Duke University undergraduate students an opportunity to continue their research in applied genomics and precision medicine, with the generous support of Dr. Ralph Snyderman, James B. Duke Distinguished Professor of Medicine and former Chancellor for Health Affairs and Dean of the School of Medicine at Duke University.
Camille Krejdovsky ('25) and Julia Caci ('24) are this year's Snyderman Scholars. Camille is working in the laboratory of Micah Luftig, PhD, Professor of Molecular Genetics & Microbiology.  Her project is titled "Epstein-Barr virus and cancer: Validating CRISPR screen hits of cellular restriction factors with single knockouts to explore potential mechanisms of action." Epstein-Barr virus (EBV) is detectable in approximately 10% of gastric cancer patients. Camille is contributing to a project in the lab to validate and explore the mechanistic pathways of potential factors that may be involved in cancer growth following EBV infection.  Camille is pursuing a double-major in Biology and French and has been working with Dr. Luftig since the fall of her freshman year.
"I feel grateful for the generous support this program has provided me and am excited about the opportunity to pursue this project this summer. Being in the lab full-time has allowed me to engage in the research process on a deeper level and has helped me to envision a future career in science," shared Camille.  She will be studying abroad in Paris this fall studying healing and healthcare through the lens of the social sciences and humanities at Sciences Po.
Julia Caci ('24) is a Biology major working in the laboratory of Kris Wood, PhD, Associate Professor of Pharmacology & Cancer Biology since Fall 2021.  Her project is titled "Exploring the cellular basis for sensitivity to NDE1 depletion in brain-metastatic lung cancer cells."  Specifically, Julia is analyzing the role of a gene (NDE1) in metastasis, particularly with respect to mitosis.  NDE1 could serve as a potential therapeutic target.
"We know that at a population level, cancer cells undergo a series of adaptations as they metastasize, and that these changes may reveal new therapeutic approaches to combat the disease," shared Julia. "We're excited to have identified some of these differences through functional genomics." 
Interestingly, both projects have used CRISPR/Cas9 screen to identify potential molecules involved in growth and metastasis.  This relatively novel method enables rapid identification of multiple changes of gene loss-of-function in a single experiment.
Both Julia and Camille plan to attend medical school in the future and will continue conducting research in-between classes for the remainder of their time at Duke.
Learn more about the Snyderman Scholars Applied Genomics & Precision Medicine program.
---