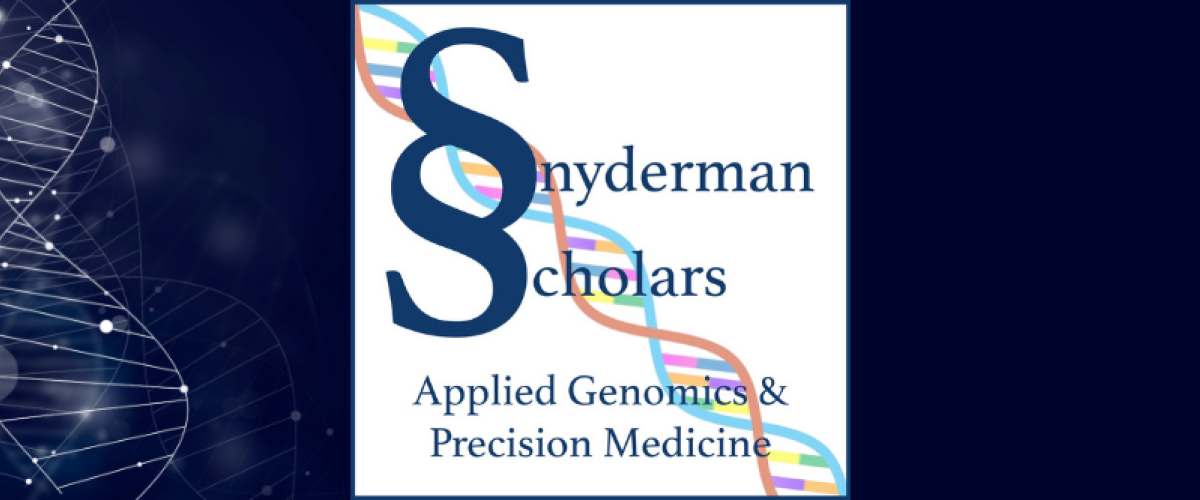 A 10-week Applied Genomics & Precision Medicine Summer Program for undergraduates! 
This program provides Duke undergraduate students an opportunity to participate in a faculty-mentored research project in applied genomics and precision medicine. 
The 2023 Snyderman Scholars program runs May 22 - July 28.
The deadline to apply is February 1, 2023. 
Research opportunities in applied genomics & precision medicine at Duke span a wide range of topics, including genomic and computational biology, data sciences, statistics, health sciences research, translational medicine, bioethics, business, and policy. The Snyderman Scholars in Applied Genomics & Precision Medicine Program is open to undergraduate Duke students in their second, third or fourth year. 
Students must already be working in a laboratory they wish to continue to work in over the summer and provide a description of their project in the application. Mentors must be faculty members in any Duke school. Students must also obtain a letter of support from the faculty mentor, confirming the mentor's willingness to host the student for the summer. Faculty letters should be sent directly to Dr. Susanne Haga at susanne.haga@duke.edu. 
The proposed project must clearly focus on a minimum of one area of applied genomics or precision medicine, such as:
-omics-driven biomarker discovery and insights into disease biology
-omics technology development and new analytical approaches
Analytic and translational approaches to diagnostics
Evidence-based approaches that use innovative tools and data science to customize disease prevention, detection and treatment and improve the effectiveness and quality of care
Policy, health economics and bioethics
Students will receive campus housing (if requested) and a $5,000 stipend. We especially encourage women and individuals from underrepresented minority groups to apply. Students will be selected for the program based on their research focus/project and faculty letters of support/recommendation.
Sarah Feng (Class of 2019)
Mentor: David Hsu, M.D., Ph.D.
Major: Biomedical Engineering and Biology
Project: Predictors of response to anti-FGFR therapy in colorectal cancer
The fibroblast growth factor receptor (FGFR) is a potential therapeutic target for patients with metastatic colorectal cancer (CRC). Sarah aims to identify predictors of response to anti-FGFR therapy in colorectal cancer. Her research will determine the efficacy of targeting the FGFR pathway both in vitro and in vivo in 15 matched patient-derived CRC lines and patient-derived xenografts and identify predictive biomarkers of response to anti-FGFR therapy. Her work may allow for prediction of response to anti-FGFR therapy and development of targeted therapy to treat colorectal cancer.
Vidit Bhandarkar (Class of 2019)

Mentor: Charlie Gersbach, Ph.D.
Major: Biology
Project: Genome Engineering in Human Cells
Glucocorticoids are used to treat chronic inflammation and autoimmune disorders, but they can cause side effects that reduce the quality of life for patients using them. Vidit aims to better understand the mechanisms of the glucocorticoid transcriptional response by developing CRISPR-based tools. His overall goal is to provide an efficient means to tag proteins to better understand their biological function as well as their role in the glucocorticoid response pathway.  
Program Contacts
Susanne Haga
Associate Director of Education, Precision Medicine Program and GCB
Associate Professor of Medicine
(919) 684-0325
susanne.haga@duke.edu