Health assessment tools can help you and your provider better understand and quantify your risk for specific diseases and establish goals and strategies for better health. Disease risk assessments use an individual's personal, genetic and environmental information to determine a quantitative or qualitative value of risk for developing specific diseases. Many of these tools are designed for use by health professionals. If you are not a health professional, you are encouraged to discuss the results and your personal risk of disease with your doctor.
Family history is the most cost-effective and well known "genetic test" we have in clinical practice today. Understanding your family history helps identify risk, both environmental and genetic. It can help direct care towards targeted risk reduction and genetic testing when indicated.
MeTree
MeTree, developed by the Duke Center for Applied Genomics and Precision Medicine, is a web-based, patient-facing risk assessment tool that collects personal health information and family health history. The tool collects personal history on diet, exercise, smoking, and clinical data to calculate the Gail, BRCApro, and Framingham scores, in addition to personal and family health history on 20 cancers, 14 hereditary cancer and cardiovascular syndromes, and 21 other conditions. MeTree also creates a three-generation pedigree and tabular version of the family health history and implementation is currently being studied in an ongoing NIH-funded trial as part of the IGNITE network to understand how to best implement IT tools, like MeTree, in various settings and with diverse populations.
Electronic Medical Records and Genomics (eMERGE) network 4.0
The discovery and clinical use of polygenic risk scores (PRS) for complex traits promises to dramatically change the practice of medicine. The eMERGE IV network will leverage a large Biobank and a rich electronic medical record to define the clinical impact of PRS derived from diverse populations and the clinical impact of returning these results along with family history and clinical risk information to participants and their healthcare providers. Our family history platform is collecting the family histories for the 25,000 participants enrolled in the network. Participants and their providers will be given a report combining their risk for 10 conditions across their family history, genetic testing results, and PRS genomic results. Changes in care attributable to the report is the primary outcome.
Impact of family history and decision support on high-risk cancer screening
Family health history can help identify patients at higher than average risk for disease. There is no standardized system for collecting and updating family health history, using this information to determine a patient's disease risk level, and providing screening recommendations to patients and providers. Patients will enter their family health history into MeTree, a family history software program. The program will produce screening recommendations tailored to the patient's family health history. The investigators will examine whether this process increases physician referrals for, and patient uptake of, guideline-recommended screening for colorectal cancer. Read publication.
Collaboration for family history collection and evaluation in Singapore's Biobank Study
The biobank study seeks to perform comprehensive assessments, including whole genome sequencing, on healthy Singaporeans. In this study high quality family health histories are gathered through MeTree and incorporated into the biobank dataset. Initial outcomes compare the output of risk from family history assessment to those from whole genome sequence results. Read publication.
Development and Clinical Implementation Pilot of an Oncology-specific Risk Assessment tool in Singapore
Study evaluated how Asian breast cancer patients using family health history (FHH) based risk assessment perceived the importance, benefits and usability of FHH-based risk assessment and the clinical utility of it. Participants used MeTree, an online platform for comprehensive FHH collection and guideline-based risk stratification. Findings demonstrate that there are a significant number of breast cancer patients in Singapore at risk for hereditary cancer syndromes and that clinical care is impacted by identifying those at risk. While there are significant process and psychosocial barriers to uptake that need to be considered in future implementation efforts in Asia, when addressed, there is the potential for significant impact for patients and their families. Read publication and/or Read summary of study
Guilford Genomic Medicine Initiative (GGMI)
Genomic medicine, using genetic information to improve health outcomes, is heralded as the answer to rising medical costs by focusing on prevention and tailored care. Despite its potential, little investigation has focused on how genomic medicine can be applied in health care. To be effective, it requires new ways to learn, deliver, and communicate medical information. It will also raise new ethical questions. The overall goal of Guilford Genomic Medicine Initiative (GGMI) is to identify the specific challenges in "re-structuring" an existing medical system to integrate genomic medicine, and create solutions that can be used by other medical systems, such as the extensive military medical care system. To accomplish this goal, GGMI includes the development of a large-scale genomic medicine education initiative targeted at the community, providers, and patients, and a clinical systems model to implement strategies to facilitate the integration of genomic medicine into several pilot practices. Read publication.
Type 2 Diabetes Genetic Risk Testing in Primary Care 
Risk assessments based on traditional risk factors for type 2 diabetes (T2D) have only limited success in identifying at-risk patients and motivating them to modify their lifestyles for prevention. Genetic advances have identified markers for T2D, which, when combined with traditional risk factors, may improve the clinical utility of risk assessment, particularly as it relates to motivating healthier diet and exercise behaviors. The purpose of this study was to assess the clinical and personal utility of incorporating T2D genetic risk testing into comprehensive diabetes risk assessments performed in a primary care setting. Read publication. 
For more information, contact: Allison A. Vorderstrasse, DNSc, APRN
Genetic Risk Testing and Health Coaching for Type 2 Diabetes and Coronary Heart Disease
Military personnel are not exempt from increasing rates of overweight and obesity or the associated rising burden of coronary heart disease (CHD) and type 2 diabetes (T2D) seen in the U.S. population. Innovative and clinically feasible approaches to addressing these chronic disease risks are needed, particularly those that motivate and support sustainable, risk-reducing health behaviors. Risk assessment (global, genetic, etc.), historically based on clinical risk factors (e.g., blood pressure, cholesterol) alone, is a central aspect of preventive care. This study examines the clinical utility of genetic CHD and T2D risk information with and without concomitant behavioral intervention in promoting risk-reducing behaviors and improving clinical outcomes. The purpose of this four group (2X2) randomized controlled trial (RCT) is to determine whether incorporating multiple-marker genetic testing into risk counseling for CHD and T2D, coupled with a health coaching intervention will lead to greater changes in physical fitness, health behaviors, disease risk status and clinical outcomes in active-duty Air Force (ADAF) primary care patients at risk for CHD or T2D. Read Publication. 
For more information, contact: Allison A. Vorderstrasse, DNSc, APRN
MeTree, developed by the Duke Center for Applied Genomics and Precision Medicine, is a web-based, patient-facing risk assessment tool that collects personal health information and family health history.
Resources for Patients
Why is my family health history so important? Because some conditions run in families asking relatives about your family health history can help you find out if you and your children are at increased risk for any medical conditions. Depending upon the disease and your risk level you may meet criteria for more or different kinds of prevention and/or screening. How much your risk is increased depends upon the type of risk you have. 
Types of Risk
This means you have a slightly higher chance (about 2-3 times higher) of getting the disease than most people outside your family. An example of a family history for familial risk is a mother with breast cancer after age 50.
What does it mean to be 2 to 3 times more likely to get cancer? Here are examples:
Breast cancer occurs in 1 out of 9 women; this means the average person has an 11% chance of getting breast cancer in their lifetime (called population risk). If you have a familial risk for breast cancer then you would have a 22-33% chance of having breast cancer in your lifetime.
The below image shows the difference between a population risk of 11% and what the familial risk would be at 22-33%
This means you have a much higher chance (50-100%) of getting the disease than most people outside your family. These risks are inherited from a parent through DNA segments (genes) and are not common (only about 1 in 500 people have them). An example of a family history that might indicate risk for hereditary risk is a parent with breast cancer at age 40.
In the example of breast cancer, if you have hereditary breast and ovarian cancer syndrome you have an 80% chance of getting breast cancer in your lifetime.
The same image shown for familial risk is shown below with the addition of hereditary risk
Frequently Asked Questions
A family health history is a record of your blood family members (parents, grandparents, aunts/uncles, brothers/sisters, children, and cousins). Your partner and his/her relatives are not your blood relatives and therefore, their family health history is not helpful in determining your risk. You should record relationship to you (mother, grandmother on mom's side, etc.), any disease they had, the age they developed the disease, and if they have died -what age they died and what the cause of death was. A worksheet with a list of all the conditions you should ask family members about is provided separately. As you saw in the description of familial vs. hereditary risk it is very important to know how old someone was when they developed a disease. There are some important distinctions to make when asking about cancers. Most cancers start in one site (site of origin) but often they will spread to other places (metastases). For example lung cancer can frequently spread to the brain. When asking about cancer we only need to know the site of origin. The other sites are not helpful in assessing your risk level.
Family members are the best source of information. Start with your parents if they are still alive. Often there is one family member who is considered the family historian and knows everything about everyone. If there is a person like this in your family you should talk with him/her. Family events like birthdays, Christmas, and weddings are an excellent time to ask, because so many relatives are in one place. In fact, Thanksgiving is the U.S. National Family History Day and would be a great time to bring it up! Some relatives are uncomfortable talking about health and/or medical histories. If that happens to you, you can explain how it will help you and your children.
Find more tips from Dr. Orlando on asking your family members about health history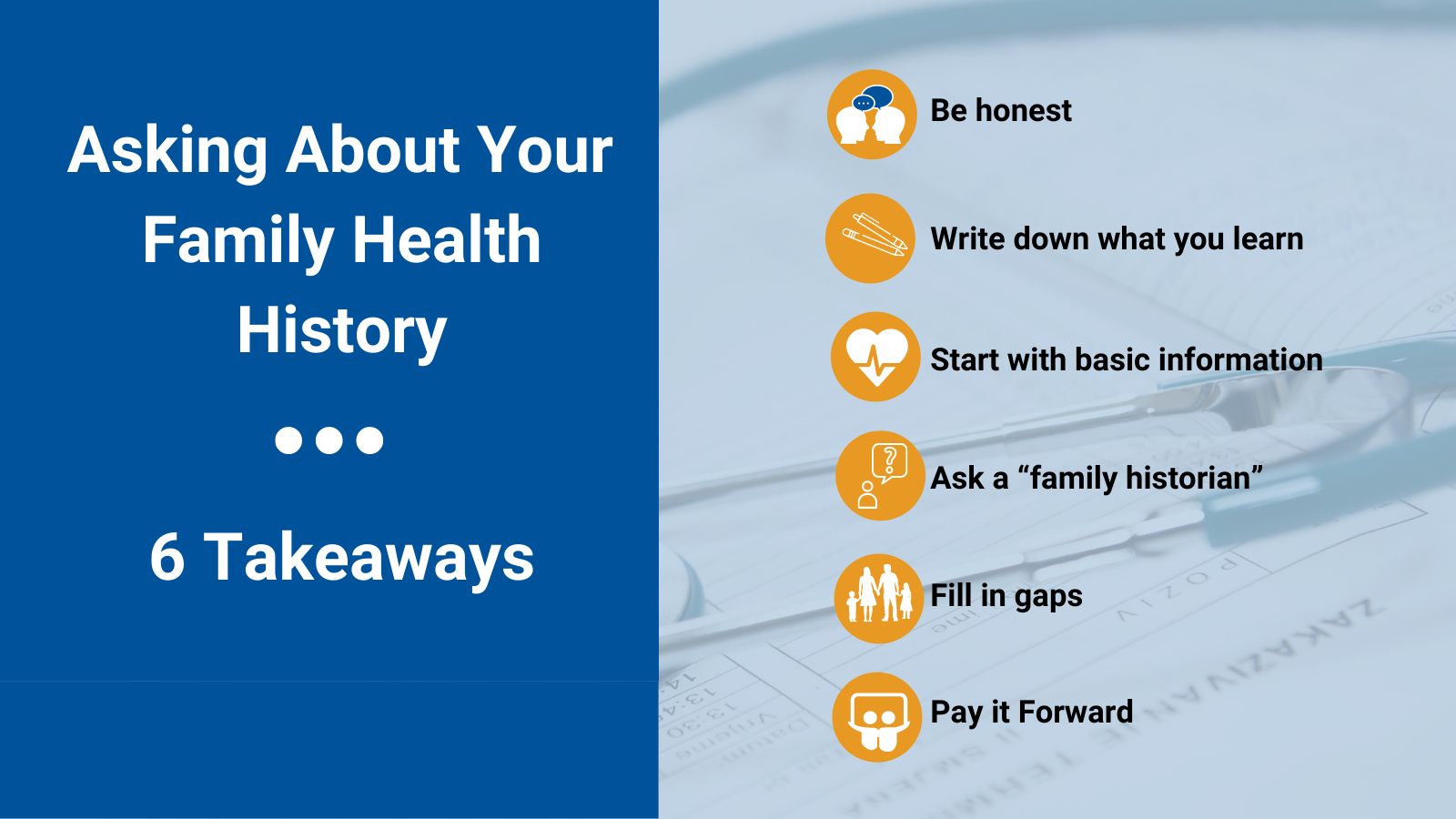 Resources for Providers
Family health history is a critical part of understanding a patient's risk. For example, a family history of uterine cancer and colon cancer, while seemingly unrelated at first glance, may point to risk of Lynch syndrome in the family. Risk assessment does this through three potential mechanisms: tailoring prevention, motivating healthier lifestyles, and directing treatment.
Many guidelines now recommend assessing risk and providing options for more intensive or alternative risk management strategies,as indicated by risk. For example, women with a lifetime risk for breast cancer >20% can alternate MRIs with mammograms every 6 months or those with certain family history characteristics can undergo genetic counseling to assess for hereditary conditions such as long QT or Lynch Syndrome.
Currently there are recommendations to offer to high risk individuals actionable prevention/risk-management strategies that differ from population-based screening for the following conditions: breast cancer, ovarian cancer, colon cancer, lung cancer, type 2 diabetes, coronary artery disease, aortic and cerebral aneurysm, ischemic CVA, hemochromatosis, alpha-1 anti-trypsinase deficiency, Wilson's disease, and others.
Providing risk information to patients can raise awareness and personalizes health messages
In cardiovascular disease this has been shown to improve diet and exercise behaviors
When therapeutic interventions are necessary risk assessment can target interventions, particularly medications, to the patients most likely to benefit
The most common examples are for chemotherapy, however, a family or personal history of statin intolerance or an elevated GAIL score may indicate consideration of change in medical therapy.
Despite being an important component of clinical care, risk-stratification is not commonly performed. Reasons include: the information needed to assess risk is often not readily available, the risk calculations are complex and not easily accessible, and providers are not always aware of the appropriate actions to take based on the risk score. To address these barriers, Duke has led the development of MeTree, a patient-facing web-based family history risk assessment tool designed for use in primary care.
General stratification guidelines
Taking a target family history
Standard pedigree symbols
Shared genes by generational relatedness
Risk Stratification Information related to breast cancer 
Assessing breast cancer risk
Environmental factors
Gail model
Risk for each cancer with a BRCA mutation
Risk Stratification Information related to colon cancer 
Assessing colon cancer risk
Family history contribution
Online CME courses are available through North Carolina Area Health Education Centers (AHEC)