On June 14, House Appropriations Committee released the draft fiscal year 2019 Labor, Health and Human Services, and Education (LHHS) funding bill. Following mark-up of the bill by the House Labor-Health and Human Services-Education (LHHS) Appropriations Subcommittee, it was approved in late June. The committee mark-ups includes several increases for biomedical research and science education:
$38.3 billion for the National Institutes of Health, an increase of $1.25 billion over FY 2018:
$2.3 billion for Alzheimer's disease research, a $425 million increase
$500 million for research on opioid addiction, development of opioids alternatives, pain management, and addiction treatment.
$429.4 million for the BRAIN Initiative to map the human brain, a $29 million increase;
$361.8 million for the Institutional Development Award, a $11.2 million increase;
$376 million for the All of Us precision medicine study, a $86 million increase;
$550 million to Combat Antibiotic Resistant Bacteria, a $37 million increase;
$560 million for the Clinical and Translational Science Award, a $17.32 million increase;
$12.6 million for the Gabriella Miller Kids First Research Act;
$120 million for research on the universal flu vaccine, a $20 million increase;
"Up to" $30 million for the Cures Acceleration Network, an increase of roughly $5 million over FY 2018.
$366 million for the Institutional Development Awards Program, an increase of $15 million over FY 2018.
$7.6 billion for the Centers for Disease Control & Prevention, a programmatic increase of $427 million above FY 2018
$6.5 billion for the Health Resources & Services Administration, a cut of $196 million below FY 2018
$334 million for the Agency for Healthcare Research and Quality, level-funded from FY 2018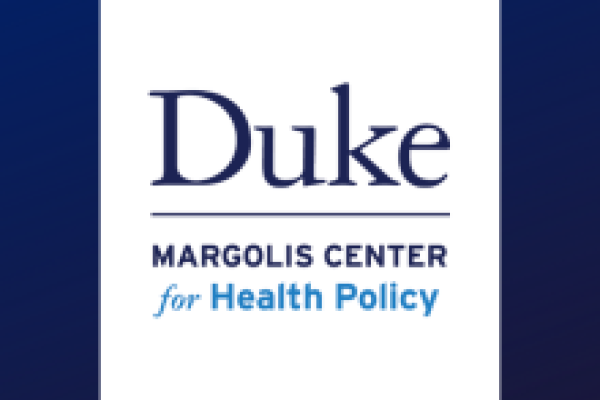 The mission of Duke University's Robert J. Margolis, MD, Center for Health Policy is to improve health and the value of health care by developing and implementing evidence-based policy solutions locally, nationally, and globally.
Duke-Margolis brings together capabilities that generate and analyze evidence across the spectrum of policy to practice, supporting the triple aim of health care – improving the experience of care, the health of populations and reducing the per capita cost. This requires broad multidisciplinary capabilities that few institutions can bring together, and is fueled by Duke University's entrepreneurial culture.