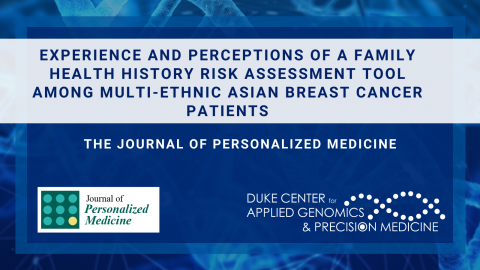 On the heels of October highlighting breast cancer awareness and entering November when National Family Health History month is recognized, Dr. Ryanne Wu, MD, MHS, Associate Professor of Medicine and faculty at the Duke Center for Applied Genomics & Precision Medicine (CAGPM), recently completed a study on the "Development and Clinical Implementation Pilot of an Oncology-specific Risk Assessment tool in Singapore", funded by the Duke/Duke-National University of Singapore (NUS) Research Collaboration funding mechanism.
Family health history (FHH) based risk assessment in the general population has been well documented to identify a significant number of high-risk individuals not identified through usual care and has been shown to change clinical activity. Less research has been done to understand the impact of FHH-based risk assessment on identifying potential hereditary conditions among already affected individuals (e.g. breast cancer patients) and to evaluate the patient perspective on perceived benefit and challenges to FHH risk assessment in these contexts.
In collaboration with Duke-NUS Medical School and SingHealth faculty, Dr. Joanne Ngeow, CAGPM researchers evaluated how Asian breast cancer patients using FHH-based risk assessment perceived the importance, benefits and usability of FHH-based risk assessment and the clinical utility of it. Participants used CAGPM's MeTree, an online platform for comprehensive FHH collection and guideline-based risk stratification.
Wu and CAGPM co-authors, Lori Orlando, MD, MHS, MMCI, director of precision medicine and Geoffrey Ginsburg, MD, PhD, center director, in collaboration with the Duke-NUS team, found that of the 102 women enrolled in the study, 65% met guideline criteria for genetic counseling regarding hereditary cancer risk. 36% of at-risk women were ultimately referred for genetic counseling. Referral was independent of sociodemographic factors or cancer stage but was associated with clinical provider.
In a qualitative analysis, the team discovered that participants' views were impacted by their desire for personal control over early detection, concerns of anxiety for themselves and their family members, a desire for clearly defined follow-up care plans, and Asian cultural beliefs around disease and dying.
The study found that breast cancer participants saw risk assessment as beneficial for mentally and financially preparing them for potential future adversity. One participant expressed, "Cost of cancer treatment can be exorbitant, and not many people can actually afford[it]. So, I think it's good to have this preliminary assessment, so if they fall under this high-risk group, then they can go for a further test and be financially prepared if results show positive." Some participants also expressed anxieties about knowing and sharing the results. One participant reflected, "People are very sensitive. They don't want to know. If you ask my husband, he wouldn't want to know either. Instead of thinking about all these unhappy and uncertain things, he would rather not know anything."
These findings demonstrate that there are a significant number of breast cancer patients in Singapore at risk for hereditary cancer syndromes and that clinical care is impacted by identifying those at risk. While there are significant process and psychosocial barriers to uptake that need to be considered in future implementation efforts in Asia, when addressed, there is the potential for significant impact for patients and their families.
Read the full paper on "Experience and Perceptions of a Family Health History Risk Assessment Tool among Multi-Ethnic Asian Breast Cancer Patients"
Read the full paper on "Clinical implementation of an oncology‐specific family health history risk assessment tool"
Learn more about MeTree