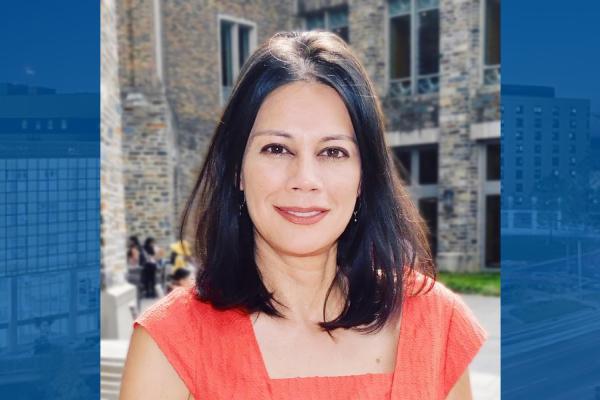 Congratulations to Susanne Haga, PhD, who received a distinguished academic promotion in the division of General Internal Medicine. Dr. Haga will be promoted to Full Professor, effective May 1, 2023.
"It gives me tremendous pleasure to announce this promotion to Full Professor. As you know, academic promotions mark faculty members' scholarly achievements and are a hallmark of professional accomplishment in our school. Faculty appointed to Full Professor have achieved recognition within Duke and at peer institutions as leaders in their fields both nationally and/or internationally."  

- William Yancy, MD – Interim Division Chief, Duke General Internal Medicine 
---
Susanne Haga, PhD
Professor of Medicine, effective May 1, 2023
Susanne Haga, PhD, has been at Duke since 2006. She has secondary appointments in the Department of Biology since 2018, and the Sanford School of Public Policy since 2014. She served as the Director of Education for the former Institute for Genome Sciences & Policy and currently serves as the Director of Education for the Precision Medicine Program and the Center for Genome and Computational Biology.
Dr. Haga's training in Human Genetics coincided with the rise of the genome revolution and precision medicine. Her research focuses on clinical implementation sciences, including patient and provider education, barriers to delivery, patient interest/attitudes in genomic medicine, patient communication, and policy and ethical issues. Specifically, she has been focused on pharmacogenetic testing, given the broad potential use of testing across medical disciplines, but has also conducted research on genetic risk assessment for Type 2 diabetes.
In the past six years, she has published 36 papers indexed in PubMed, three book chapters, and one book. Her work has been extensively cited and has often been the first of its kind with respect to evaluation of clinical delivery approaches of new genetic and genomic tests and the multitude of factors that can impact clinical utilization.
Her research has led to her personal and professional interest in education and training. She was co-PI of the only award for a new training program in genomics research for genetic counselors. Outside of these programs, she is working on developing other training opportunities such as a professional development program in genomic medicine and a Certificate or Master's program in Genome Science/Genomic Medicine and continuing efforts to support workshops and continuing education/learning opportunities for faculty, trainees, staff and health providers.
Her leadership and initiation of educational and training programs has substantially elevated Duke's status as a leader in genomic medicine education and training at multiple levels. Dr. Haga has been very active with respect to undergraduate teaching and mentorship. She is an instructor of several undergraduate courses on genome technologies, pharmacogenetics, and ethical issues related to genome research. Her role as a mentor and instructor to many students exemplifies her commitment to education and has positively impacted the educational paths of her students and raised awareness of precision medicine to a new generation.
Dr. Haga's research is central to the transition of new genomic applications to routine clinical use and working towards population health-based initiatives as the costs of testing decline and evidence accumulates– for healthy populations and patients. Her commitment to education will help prepare the next generation of researchers and clinicians to continue to discover and develop new applications and to appropriately use them.
---