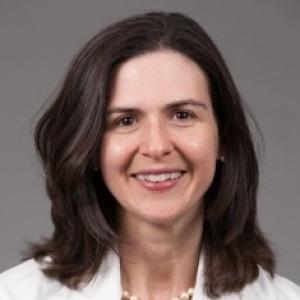 Principal Investigator
Associate Professor of Medicine
Member of the Duke Cancer Institute
Member of Duke Molecular Physiology Institute
Affiliate of the Duke Regeneration Center

Contact Information
Campus mail:
Dept of Medicine, Durham, NC 27710
Phone:
919-684-1817
Fax:
919-684-4183
Education
Fellow In Gastroenterology, Medicine, Duke University, 2007 - 2009
Fellow In Gastroenterology, Medicine, Duke University, 2005 - 2006
Medical Resident, Medicine, Duke University, 2002 - 2005
M.D., Duke University, 2002
Overview
Lab Members
Katie Garman
Primary Investigator
Paula Scotland, PhD
Laboratory Research Analyst II
Joyce Hogue
Laboratory Research Analyst I
Dept of Medicine Resident with research projects:
Dept of Medicine, Division of Gastroenterology Fellows with research projects:
Research Interests
The Garman laboratory focuses on injury, repair, and cancer development in the gastrointestinal tract. We perform translational research with the goal of improving health of the gastrointestinal tract.
Our work is based in observations from human clinical research. We use databases of esophageal and colon disease to learn more about clinical risk factors for disease. We also use pathology samples of tumors to study the gastrointestinal tract in different states: healthy, inflamed or damaged, and with cancer.
We use atypical models to study esophageal injury and repair (including endoscopy in a porcine model).
In order to better understand pathways involved in esophageal damage and repair, we use cell culture models, including 3D organotypic models.
Current Studies
Project 1
Characterize responses to epithelial injury in esophageal submucosal glands (ESMGs). Using human tissue, characterize changes in sumucosal progenitor niche with and without different types of esophageal injury. Compare changes in progenitor/stem cell marker expression and submucosal myofibroblast injury before and after esophageal injury.
In human esophagus, we have identified ductal metaplasia in esophageal submucosal glands associated with esophageal adenocarcinoma (paper submitted).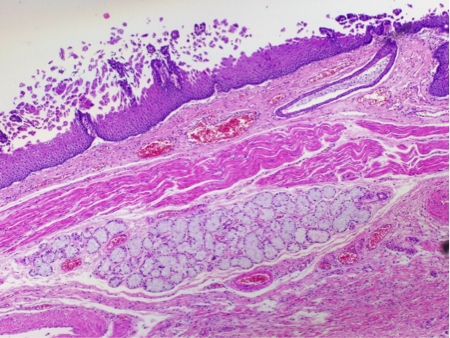 Above: Normal ESMG
Below in A and B: ESMG with ductal metaplasia and inflammation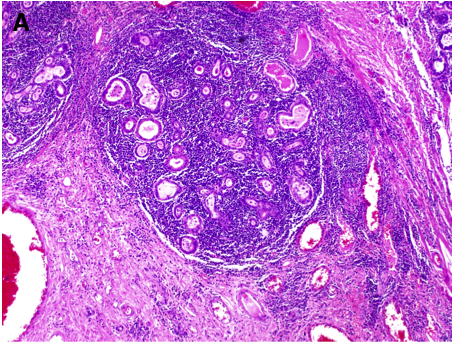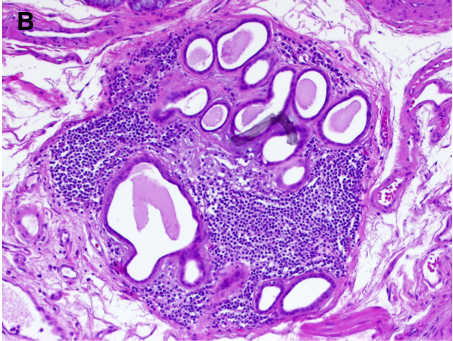 Project 2
Delineate the causes and consequences of submucosal progenitor niche activation using in vitro systems. Esophageal culture models are used to evaluate potential stem cell niches in the esophagus and growth factors associated with phenotypic outgrowths in culture.
Project 3
Dr. Garman is a member of The Cancer Genome Atlas Project Stomach/Esophageal working group. Through Duke's Gastrointestinal Tissue Repository (Garman, PI), Duke contributed patient samples to this working group. Work is progressing on the first esophageal TCGA paper. The first gastric paper has been published. The paper describes four molecular  subtypes of gastric cancer: EBV-infected tumors (PIK3CA mutations, CDKN2A silencing, PD-L1/2 overexpression), MSI tumors (hypermutation), genomically stable tumors (diffuse histology, CDH1, RHOA mutations, cell adhesion), and chromosomally unstable tumors (intestinal histology, P53 mutations, RTK-RAS activation).
http://cancergenome.nih.gov/newsevents/newsannouncements/TCGA_STAD_press...
The paper: http://www.nature.com/nature/journal/v513/n7517/full/nature13480.html
Project 4
With a medicine resident, Alan Erdman, Dr. Garman and the Duke GI Women's Group have identified knowledge gaps in ergonomics of endoscopy. We have designed a survey for GI endoscopists. We are working with the AGA Women's Committee on this project.
https://www.gastro.org/about-aga/committees/women-s-committee
Important Links
Dr. Garman has received pilot funding from UNC CGIBD:
http://www.med.unc.edu/cgibd/center-members
The Garman Lab is funded by NIDDK:
http://www.niddk.nih.gov/Pages/default.aspx
We have collaborations at NC State:
http://www.cvm.ncsu.edu/ccmtr/
http://www.cvm.ncsu.edu/docs/gilab.html
We are part of The Cancer Genome Atlas:
http://cancergenome.nih.gov/
Please consider donating to science
Importance of Donating Tissue for Cancer Research:
http://cancergenome.nih.gov/cancergenomics/tissuesamples