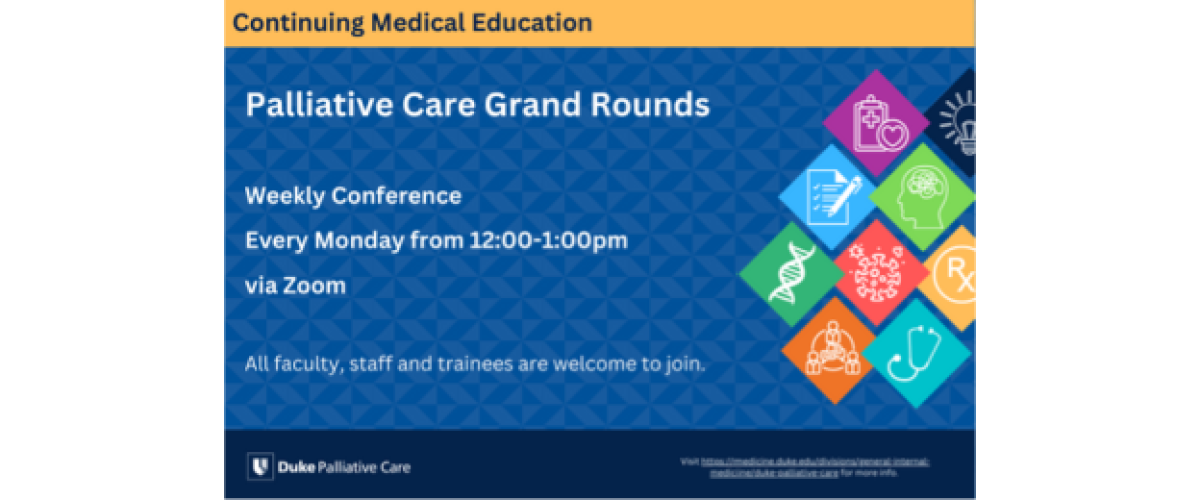 Palliative Care Grand Rounds is a weekly seminar series designed to support continuing medical education for Duke Palliative Care faculty, staff, trainees and their partners and collaborators across the health system and beyond.
Palliative Care Grand Rounds presenters and topics are selected to provide attendees with the latest evidence and knowledge regarding current issues in hospice and palliative medicine. PC Grand Rounds occurs every Monday at 12-1p.m.
How to connect to Palliative Care Grand Rounds:
Faculty, staff and trainees should use the following Zoom link to join each week:
Connect to Medicine Grand Rounds on Zoom
Meeting ID: 920 3024 2716
Passcode: 2023
Dial by Phone: +1 301 715 8592
Having trouble connecting? Get help from Duke OIT.
CME credit:
Category 1: Duke University Health System Department of Clinical Education and Professional Development designates this activity for a maximum of 1.0 AMA PRA Category 1 Credit(s)™. Physicians should claim only credit commensurate with the extent of their participation in the activity.
Attendance and CME credit is tracked online by Duke Continuing Medical Education. 
Current Medicine Grand Rounds committee members: Karen Jooste, MD and Jennifer Bowen
Upcoming 2023 PCGR Schedule
2022-2023 Duke Palliative Care Lecture Series
8/1/22
Summer Break
8/8/22
Summer Break
15-Aug
Paul Riordan, MD
Treating Depression
22-Aug
Fatima Cody Stanford, MD
"Racism in Medicine: The Journey of a Physician Scientist."
29-Aug
Suzanne Pecoraro, LCSW
Post-intensive Care Syndrome
5-Sep-22
LABOR DAY
12-Sep-22
Kerrith McDowell, Mallory Russo, Mia Hutchins-Cabibi
PC Case Conference - Caring as a Team: When Both Partners Have Cancer
19-Sep-22
Kevin Vorenkamp, MD, FASA
Interventional Treatments for Cancer Pain
26-Sep-22
Kerrith McDowell
Buprenorphine and Palliative Care
3-Oct-22
Wil Santivasi, MD
Palliative Sedation
10-Oct-22
Laura Hanson, MD
Geri/PC Grand Rounds
17-Oct-22
Amanda Press and Sara Bliss
TPN
24-Oct-22
Jessica Ma, MD
Research
31-Oct-22
Kyle Rehder
Team Communication
7-Nov-22
Monica Lemmon, MD
Peds
14-Nov-22
 
Fellow Case presentation
21-Nov-22
THANKSGIVING  BREAK
28-Nov-22
 
Fellow Case presentation
5-Dec-22
Maira Charone
Global Palliative Care
12-Dec-22
Callie Tennyson, John Oliver, Karen Jooste
FPDR
19-Dec-22
Amy Lee, MD
Pain Clinic and CRPS
26-Dec-22
CHRISTMAS  BREAK
2-Jan-23
NEW YEARS BREAK
9-Jan-23
Natalie and David
State of the Department
16-Jan-23
MLK DAY
23-Jan-23
 
Fellow QI project
30-Jan-23
Julie Childers
Working with AYA in Palliative Care
6-Feb-23
Guy Potter
Wellbeing
13-Feb-23
Hillary Wilson
Medical Illustration
20-Feb-23
Kate Ciarrocca DMD
Oral considerations in Oncology Care
27-Feb-23
Ada Gregory
Restorative Practices for teams
6-Mar-23
 
Fellow Case presentation
13-Mar-23
 
Fellow Case presentation
20-Mar-23
AAHPM ANNUAL CONFERENCE BREAK
27-Mar-23
Padma Gulur
Complex Regional Pain Syndrome
3-Apr-23
Leah Rosenburg, MD
Two minds, thinking together.  Re-imagining the clinician-patient relationship in serious illness care
10-Apr-23
 
Fellow Case presentation
17-Apr-23
 
Fellow Case presentation
24-Apr-23
 
Geri/PC Grand Rounds
1-May-23
Tony Galanos, MD
Farewell Talk
8-May-23
 
Ethics Series
15-May-23
Laura Porter and Kathy Ramos
Psychology and Palliative Care
22-May-23
 
Fellow QI project
29-May-23
MEMORIAL DAY
5-Jun-23
Josh Briscoe, MD - 60 min
Summer Mini Series - The Uncanny Valley
12-Jun-23
Emily Midgette (psychology intern)
Summer Mini Series
19-Jun-23
David Fisher, MD and Robin Turner, MD
Summer Mini Series
26-Jun-23
Jessica Ma, MD, (Creating presentations) and Robin Turner, MD (Calciphylaxis)
Summer Mini Series
3-Jul-23
Summer Break
7/10/23
Summer Break
7/17/23
Summer Break
7/24/23
Summer Break
7/31/23
Summer Break