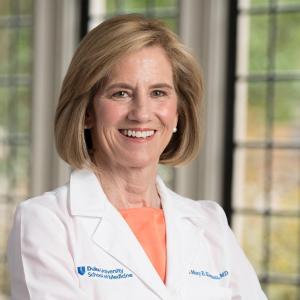 Principal Investigator
R.J. Reynolds Distinguished Professor of Medicine
Professor of Medicine
Dean, School of Medicine
Executive Vice President of Health Affairs
Professor in Molecular Genetics and Microbiology
Professor of Pathology
Member of the Duke Human Vaccine Institute

Contact Information
Department of Medicine
Duke University
DUMC 3703
Durham, NC 27710
Phone: (919) 668-1755
Email address: mary.klotman@duke.edu
Overview
The Klotman Lab is lead by Mary E. Klotman, MD, professor of medicine.
The lab focuses on the molecular pathogenesis of Human Immunodeficiency Virus 1 (HIV-1) infection.
Among many important contributions to this field, Klotman and her team demonstrated that HIV resides in and evolves separately in kidney cells, a critical step in HIV-associated kidney disease.
Her research group also has determined the role of soluble host factors involved in an innate immune response to HIV in an effort to improve prevention strategies, topical microbicides that could be used to block sexual transmission of HIV.
Most recently, her group has been defining the role of integrase-defective lentiviral vectors for the delivery of an HIV vaccine.
Current Studies
Integrase Defective Lentiviral Vector (IDLV)-ENV Immunogen Strategy for an HIV Vaccine 
Lab Members
Bala Balakumaran, PhD
Senior Research Associate
Maria Blasi, PhD
Postdoctoral Associate
Donatella Negri, PhD
Visiting Scholar
Andrea Cara, PhD
Visiting Scholar
Emily Camp
PhD student