Principal Investigator
Associate Professor in Medicine
Assistant Professor in the Department of Surgery
Associate Professor in Pathology

Contact Information

Feel free to contact us through one of the options below.
1.   Please visit our Members page
2.   Tina Van Nevel
       Administrative Assistant
       tina.vannevel@duke.edu    
       919-681-8792
3.   Jennifer Ingram, PhD
      Principal Investigator
      jennifer.ingram@duke.edu
      919-668-1439
4.   Please direct all inquiries about undergraduate research opportunities to:
      Victoria McQuade
      vlm12@duke.edu
      919-684-1324
Home
Research in the Ingram Lab focuses on answering the following overarching questions: What are the unique cellular and metabolic pathways that are altered in obesity and metabolic syndrome that drive pathobiology in asthma? How does metabolic surgery improve airway inflammation and fibrosis in asthma?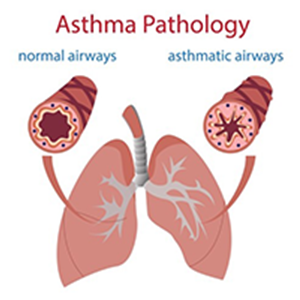 One of the innovative strengths of our work is that we combine in vitro studies with in vivo analyses of cellular function and physiology in both mouse and human subjects. This approach provides a way to connect changes at the molecular and genetic levels to processes that direct pathobiology in the patient. In addition, our research uses relevant models of disease combined with genetic knockouts and transgenic mouse models, allowing for discernment of signaling mechanisms that drive in vivo responses. Therefore, our goal is to predict in vivo responses by measurement of ex vivo cellular behavior.  
The Ingram Lab's research interests focus on the study of airway remodeling in human asthma. Proliferation, migration, and invasion of airway fibroblasts are key features of airway remodeling that contribute to diminished lung function over time. We use molecular biology approaches to define the effects of interleukin-13 (IL-13), a cytokine abundantly produced in the asthmatic airway, in the human airway fibroblast. We have identified important regulatory functions of several proteins prevalent in asthma that control fibroblast growth and pro-fibrotic growth factor production in response to IL-13. By understanding these pathways and their role in human asthma and the chronic effects of airway remodeling, novel treatment strategies may be developed.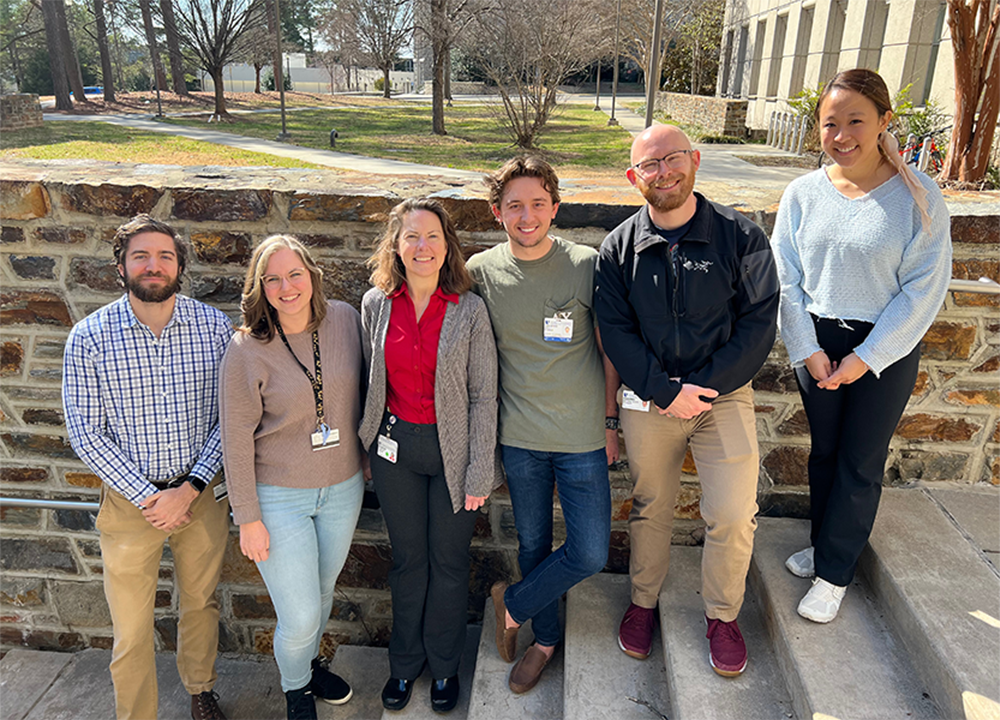 Research
Our lab is currently working on several projects that address these questions:
- Adipokine and glucoregulatory hormone signaling to regulate airway inflammation and
   fibrosis
- Mechanisms mediating effects of bariatric surgery on features of asthma 
- Adipose-airway crosstalk 
- Gut and airway microbiome effects  
- Allergic-inflammation induced pulmonary vascular remodeling
- Airway fibroblast responses to biologic asthma therapy
Resources available for study in the Ingram Lab:
-    Human lung and airway biopsy tissue, endobronchial brushings, bronchoalveolar lavage
      fluid, urine, blood, endotracheal tube sputum, visceral adipose tissue, nasal lavage fluid
      and nasal airway brushings
-    Clinical measures of asthma control, anthropometrics, metabolism and lung function
-    Primary cultures of human airway epithelial cells, fibroblasts, and pre-adipocytes -
      CRISPR
-    Mouse models of genetic and diet-induced obesity, allergic airways disease, respiratory
      virus infection and bariatric surgery
-    Transgenic and knockout mouse models
-    Collaborations with Duke Proteomics, Functional Genomics, Metabolomics, Microbiome,
      Bioinformatics and Rodent Inhalation Centers
Current funding includes grants from the National Institutes of Health, the Sanofi/Regeneron Cooperation, the Duke Microbiome Center. 
Postulated mechanism of anti-fibrotic effects mediated by MMP-19 in the airway. In allergic asthma with comorbid obesity, leptin and interleukin-13 (IL-13) are high, while glucagon-like peptide-1 (GLP-1) is low. Leptin and IL-13 inhibit matrix metalloproteinase-19 (MMP-19) production by airway epithelial cells and fibroblasts, promoting transforming growth factor beta 1 and 2 (TGF1/2) signaling and fibroblast invasion, proliferation, and differentiation, leading to airway fibrosis. With vertical sleeve gastrectomy (VSG) in murine obese allergic airways disease, GLP-1 signaling increases, while leptin is reduced, resulting in up-regulated MMP-19 in airway cells and restoration of normal wound healing.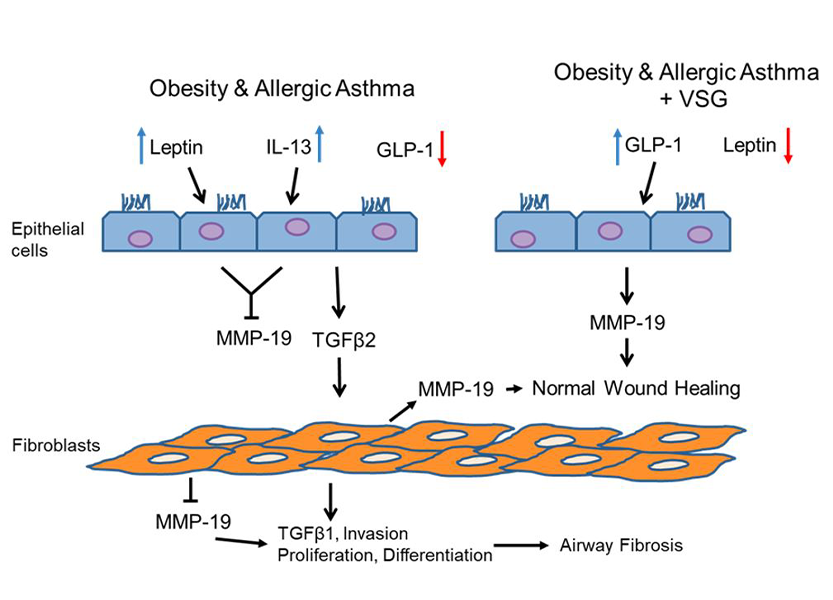 Members
Principal Investigator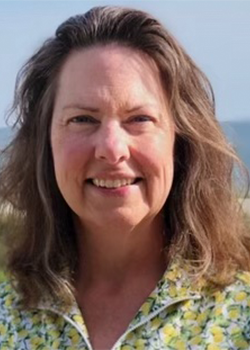 Associate Professor in Medicine
Associate Professor in Pathology
Assistant Professor in the Department of Surgery
Deputy Director – Pulmonary T32 Postdoctoral Fellowship Program (PROSPER)
203 Research Drive, MSRB1 - 263
Durham, NC   27710
jennifer.ingram@duke.edu
919-668-1439
Dr. Ingram holds a PhD in Genetics and has been on faculty in the Pulmonary Division since 2006. She offers a unique perspective as a successful PhD basic/translational scientist working in a clinical department to conduct research on pulmonary diseases. She is a nationally recognized investigator with expertise in molecular and cellular biology and genetics research, specifically with regards to pathologic mechanisms of asthma and obesity. Her basic and translational research program focuses on understanding key cellular signaling pathways that impact airway inflammation and remodeling in human asthma. In 2007, she was awarded the prestigious Parker B. Francis Family Fellowship in Pulmonary Research to further her research on the effects of interleukin-13 (IL-13) on airway fibroblast functions in allergic asthma. Her recent NIH-funded studies, in collaboration with clinical faculty in Duke Pulmonary, Endocrinology, and Surgery Divisions, use mouse models of obesity, chronic allergic airways disease and bariatric surgery, as well as clinical data plus samples isolated from patients with asthma to investigate the effects of bariatric surgery-induced metabolic changes on asthma outcomes.
Matt is originally from Atlanta, Georgia (go Braves!). He completed his undergraduate and medical school in Memphis, Tennessee at Rhodes College and the University of Tennessee, respectively. He moved to the Triangle in 2016 to begin residency training in Internal Medicine at the University of North Carolina and is currently a fellow in the Department of Pulmonary and Critical Care Medicine.
Victoria started in the Ingram Lab after completing her BS in Cellular, Molecular, and Developmental Biology at NC State. She remained with the lab while completing her Master's degree in Functional Genomics, also from NC State. In addition, she is the manager for the Rodent Inhalation Core Facility. She has always been a huge nerd in love with DNA and dad jokes, and this isn't likely to change any time soon.
Jack is a graduate from The University of North Carolina at Chapel Hill where he completed a B.A. in Exercise and Sport Science. He started in the lab as a volunteer and moved up to a Research Technician II position while he continues toward his goal of medical school. Jack displays an interest on the impact of the coagulation cascade(s) in the pathogenesis of allergic asthma, with and without obesity, and the potential implications of bariatric surgery on this mechanism.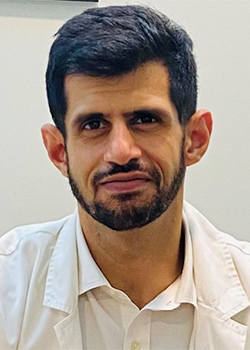 Sanat is a physician and rheumatologist from Pune, India. His current research interests include the musculoskeletal manifestations seen in diabetes mellitus, focusing on the hand and shoulder. He is a Welcome Trust/ DBT fellow at the KEM Hospital Research Centre, Pune where his ongoing study looks at the prevalence, imaging characteristics and internal organ fibrosis correlates of the 'diabetic hand'.  Since most of these are profibrotic conditions, his interests overlapped with the Ingram laboratory's focus on mechanisms of fibrosis. Dr Jennifer Ingram is his mentor in fibroblast biology, and he got hands-on experience in fibroblast culture as well as mouse work in lung fibrosis as a visiting scientist at her lab in April-May 2022.
Lab Alumni: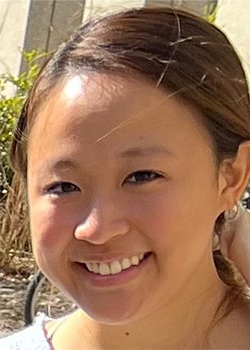 Haein Kim 
Research Technician I
Division of Pulmonary, Allergy and Critical Care Medicine
School of Medicine
Duke University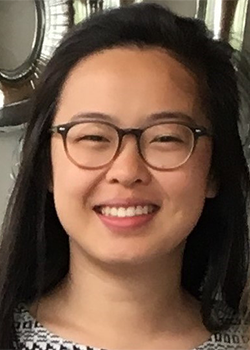 Karen Zhao
3rd year dental student
School of Dentistry
University of North Carolina-Chapel Hill
Originally from Nashville, Tennessee, Mark completed his BS in Biology at the University of Tennessee at Chattanooga, then moved to the Triangle to obtain his PhD in Toxicology from NC State University. Upon completing grad school in 2018, Mark joined the Ingram lab as a postdoc.  Mark completed his Postdoc in May 2023 and is now a Toxicologist at Duke doing consumer product risk assessment.
Kevin was a fourth-year undergraduate at UNC Chapel Hill with a double major in Nutrition Science and Cello Performance and has volunteered in the Ingram lab beginning in 2022 to supplement his education. Kevin has now graduated and will be pursuing medical school.
Publications
Please visit Dr. Ingrams' profile page for a list of  Publications and Artisit Works
Tseng, Victor, Scott Collum, Ayed Allawzi, Kathryn Crotty, Samantha Yeligar, Aaron Trammell, M. Ryan Smith, et al. "3'UTR shortening of HAS2 promotes hyaluronan hyper-synthesis and bioenergetic dysfunction in pulmonary hypertension." Matrix Biol, June 4, 2022. https://doi.org/10.1016/j.matbio.2022.06.001.
Ihrie, Mark D., Victoria L. McQuade, Jack T. Womble, Akhil Hegde, Matthew S. McCravy, Cyrus Victor G. Lacuesta, Robert M. Tighe, Loretta G. Que, Julia K. L. Walker, and Jennifer L. Ingram. "Exogenous leptin enhances markers of airway fibrosis in a mouse model of chronic allergic airways disease." Respir Res 23, no. 1 (May 24, 2022): 131. https://doi.org/10.1186/s12931-022-02048-z.
Adeloye, Davies, Omer Elneima, Luke Daines, Krisnah Poinasamy, Jennifer K. Quint, Samantha Walker, Chris E. Brightling, et al. "The long-term sequelae of COVID-19: an international consensus on research priorities for patients with pre-existing and new-onset airways disease." Lancet Respir Med 9, no. 12 (December 2021): 1467–78. https://doi.org/10.1016/S2213-2600(21)00286-1.
Kim YJ, Womble JT, Gunsch CK, Ingram JL.  The gut/lung microbiome axis in obesity, asthma and bariatric surgery:  a literature review.  Obesity (Silver Spring). 29(4):  636-644, 2021.
McCravy M, Ingram JL, Que LG.  Dysregulated metabolism in the pathophysiology of non-allergic obese asthma. Journal of Asthma and Allergy. 14:  179-186, 2021.
Womble JT, McQuade VL, Ihrie MD, Ingram JL. Imbalanced coagulation in the airway of type-2 high asthma with comorbid obesity. Journal of Asthma and Allergy. 14:  967-980, 2021.
Cyphert-Daly JM, Yang Z, Ingram JL, Tighe RM, Que LG.  Physiologic response to chronic house dust mite exposure in mice is dependent on lot characteristics.  Journal of Allergy and Clinical Immunology. 144(5): 1428-1432, 2019.
Guerron AD, Ortega CB, Lee HJ, Davalos G, Ingram JL, Portenier D.  Asthma medication usage is significantly reduced after bariatric surgery.  Surgical Endoscopy. 33(6): 1967-1975, 2019.
Lugogo NL, Francisco DC, Addison KJ, Manne A, Pederson W, Ingram JL, Green CL, Suratt BT, Lee JJ. Sunday ME, Kraft M, Ledford JG.  Obese asthmatics have decreased surfactant protein-A levels:  mechanisms and implications. Journal of Allergy and Clinical Immunology. 141(3):  918-926, 2018.
Walker JKL, Theriot BS, Ghio M, Trempus CS, Wong JE, McQuade VL, Liang J, Jiang D, Noble PW, Garantziotis S, Kraft M, Ingram JL.  Targeted HAS2 expression lessens airway responsiveness in chronic murine allergic airway disease. American Journal of Respiratory Cell and Molecular Biology. 57(6):  702-710, 2017.
Trempus CS, Song W, Lazrak A, Yu Z, Creighton JR, Young BM, Heise RL, Yu YR, Ingram JL, Tighe RM, Matalon S, Garantziotis S. A novel role for primary cilia in airway remodeling. American Journal of Physiology:  Lung Cellular and Molecular Physiology. 313(2):  L328-L338, 2017.
Vender R, Trank K, Kraft M, Ingram JL, Ishmael F. Differential microRNA expression in airway fibroblasts of asthmatic and non-asthmatic subjects identify putative therapeutic targets. Translational Genetics and Genomics. 1:36-45, 2017.
Hackett T-L, Ferrante S, Hoptay C, Englehardt J, Ingram JL, Zhang Y, Alcala S, Shaheen F, Matz E, Pillai D, Freishtat R. A heterotopic xenograft model of human airways for investigating fibrosis in asthma.  American Journal of Respiratory Cell and Molecular Biology. 56(3): 291-299, 2017.
Ingram JL, Slade D, Church TD, Francisco DC, Heck K, Sigmon RW, Ghio M, Murillo A, Firszt RF, Lugogo NL, Que LG, Sunday ME, Kraft M.  Matrix metalloproteinases-1 and -2 mediate IL-13-induced suppression of elastin in airway fibroblasts in asthma. American Journal of Respiratory Cell and Molecular Biology. 54(1):  41-50, 2016.
Featured
The Team - at work and at play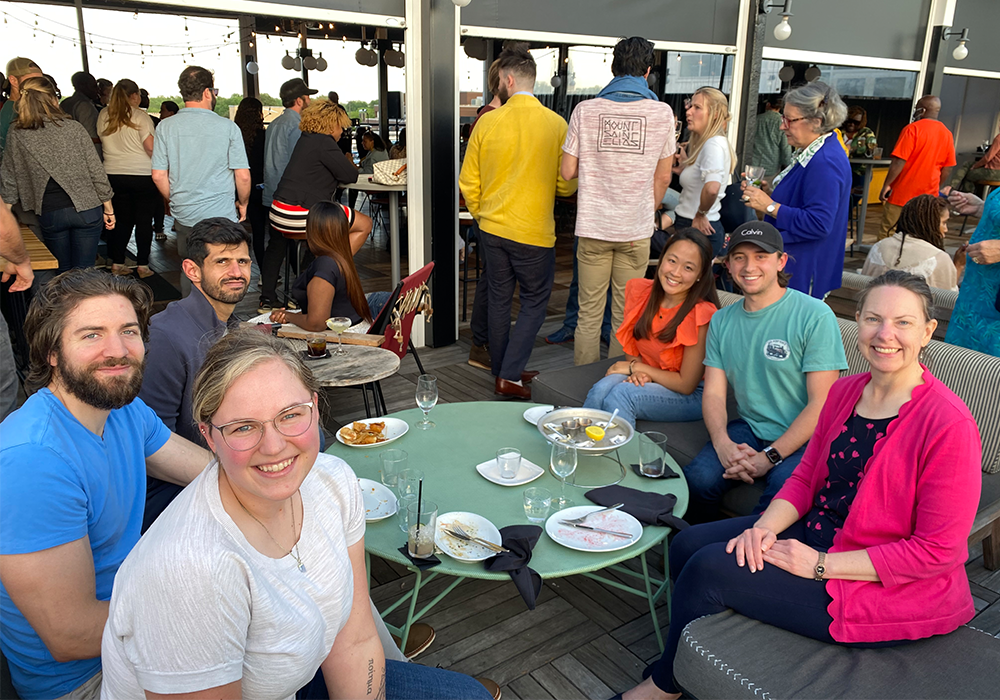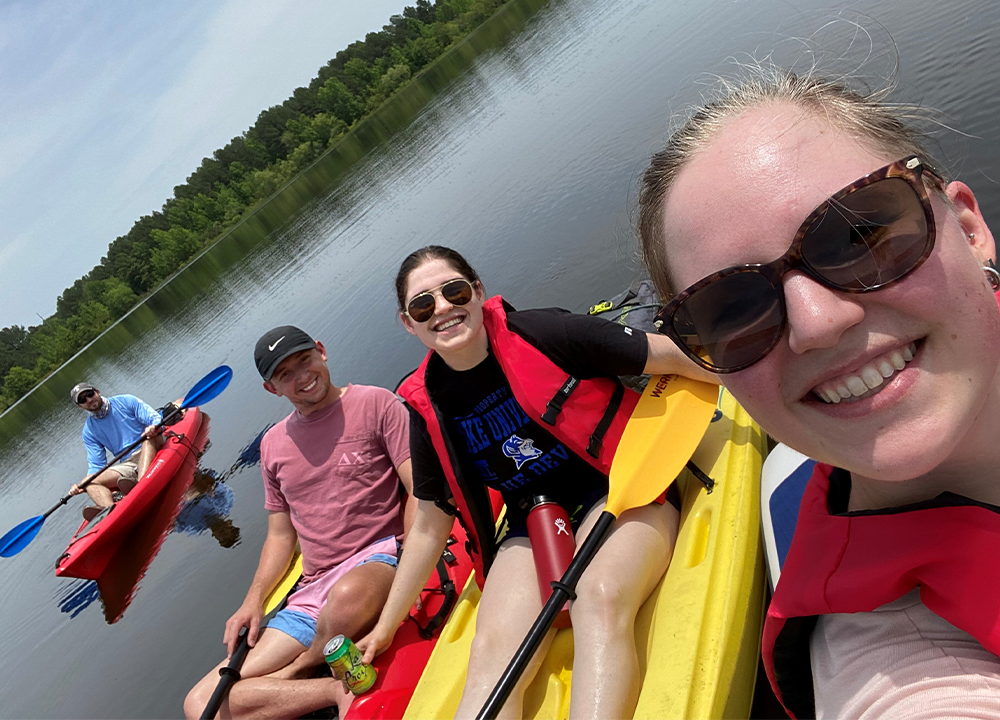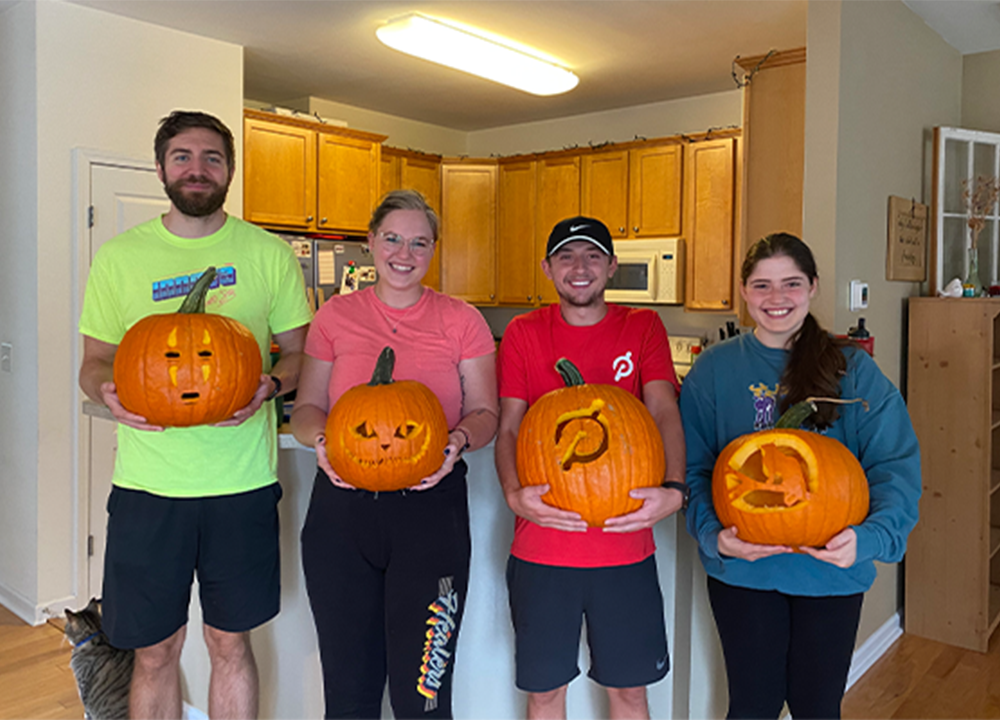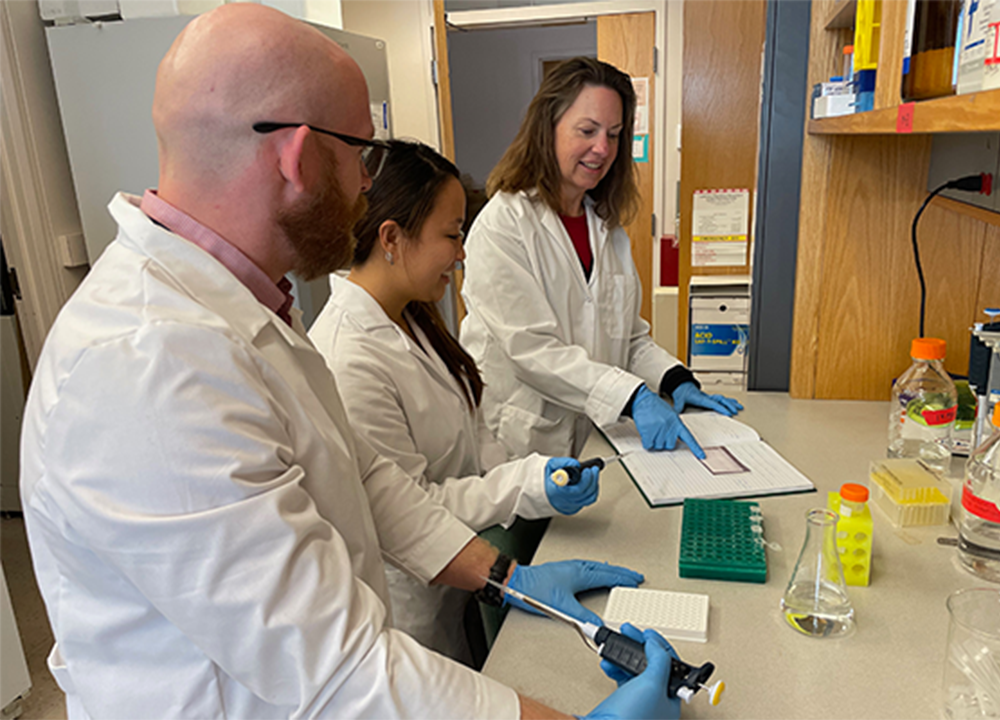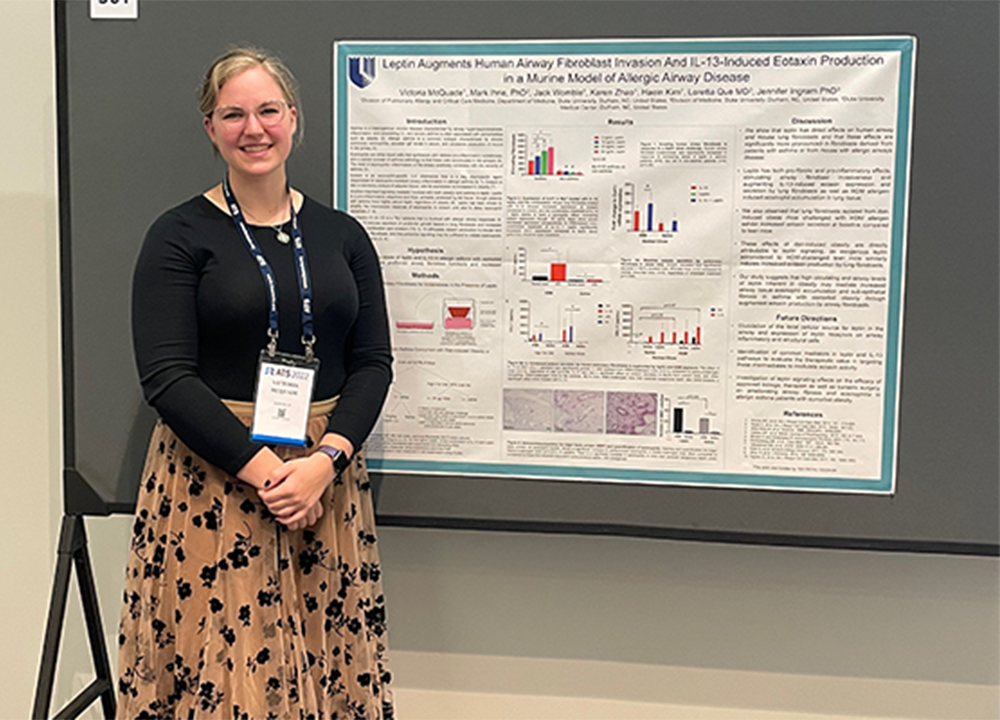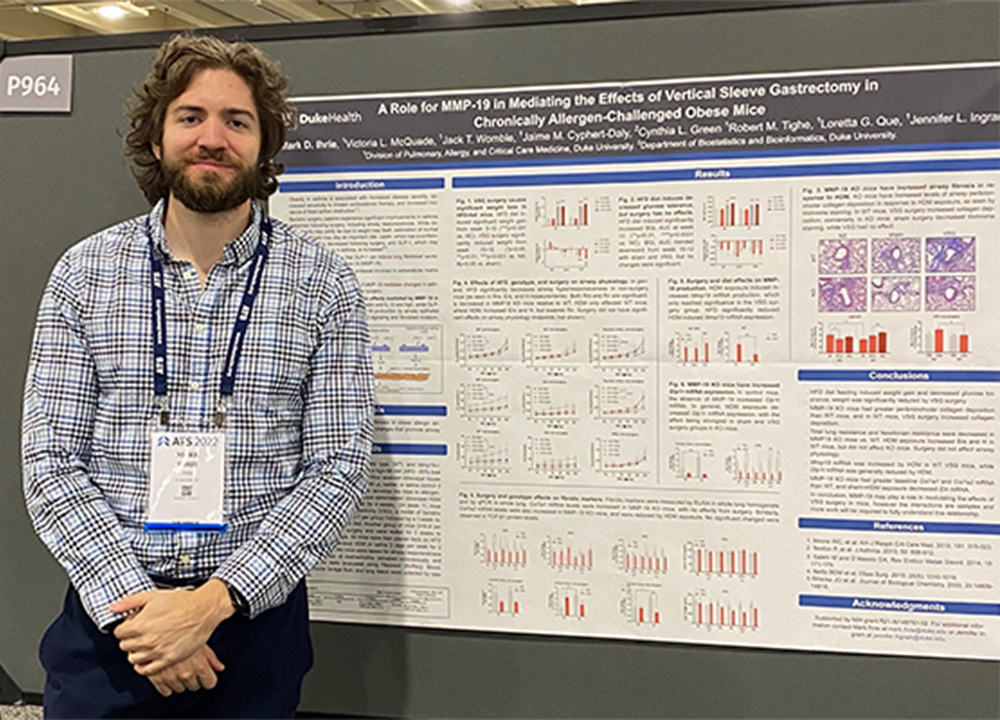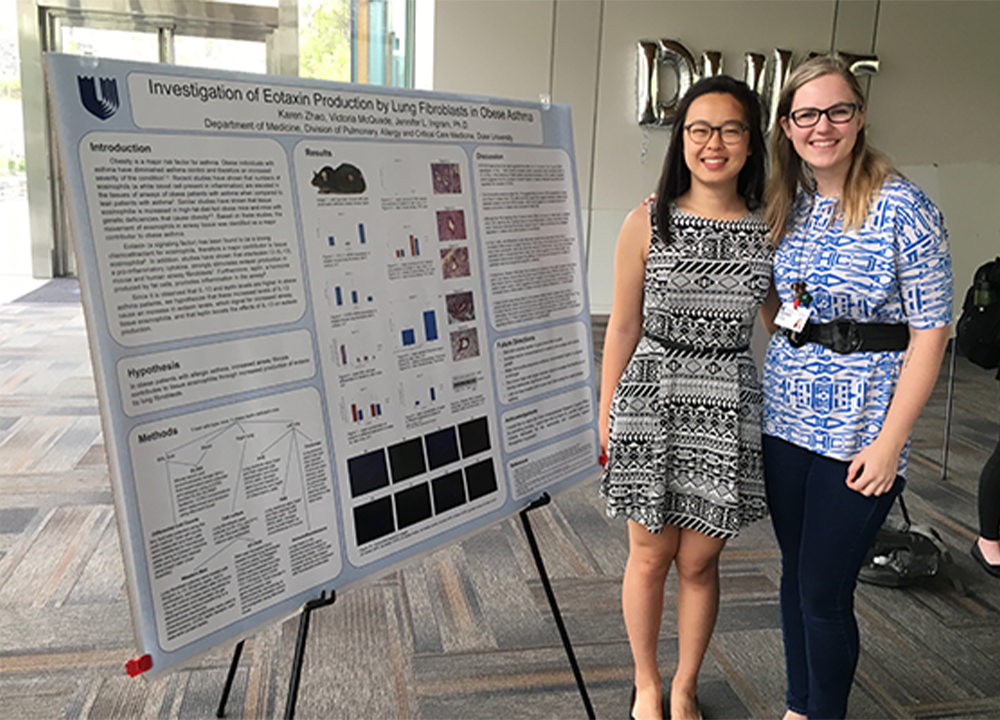 Contact Us
Our lab welcomes feedback, collaboration, and potential new members! 
Feel free to contact us through one of the options below.
1.    To contact any lab members, please visit our Members page; it lists the email information of individual members!
2.    Tina Van Nevel, Administrative Assistant, tina.vannevel@duke.edu, 919-681-8792
3.    Jennifer Ingram, PhD
       jennifer.ingram@duke.edu
       919-668-1439
For specific questions/comments/concerns regarding this website, please contact Erika Ratcliffe at erika.ratcliffe@duke.edu. Thank you!