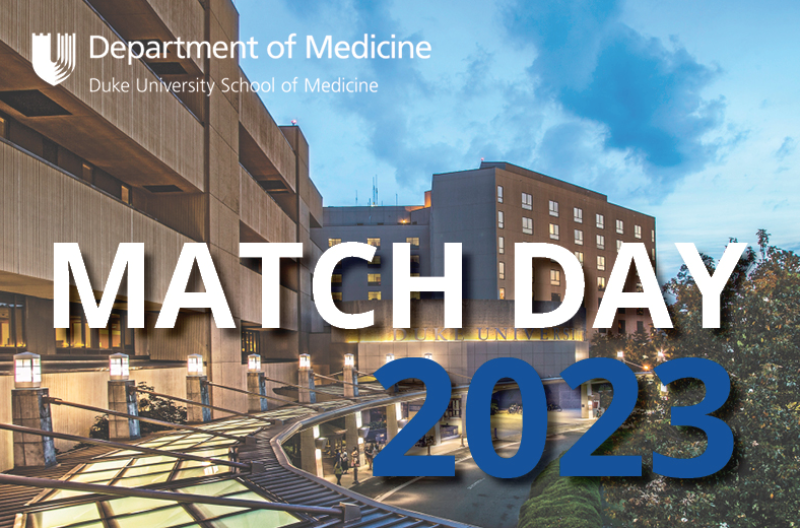 The Duke Internal Medicine Residency Program and the Duke Department of Medicine congratulate newly matched medical students who participated in the 2023 National Resident Matching Program.  We are especially excited to welcome our newest intern class! We cannot wait for you to join us here in Durham.
Our incoming 2023 intern class will include 46 categorical, 11 preliminary (7 Neurology, and 4 Radiology) 6 Combined Medicine-Pediatrics and 2 Combined Medicine-Psychiatry trainees.
The categorical interns will have attended 32 different medical schools, including 4 from Duke. 30  are female,16 are male, 3 are physician scientists and 11 identify as under-represented in medicine.
"Thank you to our faculty and current residents for making Duke the best internal medicine residency in the country," said Kathleen Cooney, MD, MACP, chair of the Department of Medicine. "The hard work that goes into our recruitment efforts and Duke's long-standing tradition of attracting top talent has once again resulted in an impressive class of new interns."   
Special thanks to Dr. David Butterly for leading recruitment efforts and Drs. Kimberley Evans, David Ortiz-Melo and Omobonike Sanders for leading the MRRC recruitment efforts and Drs. Xunrong Luo and Chris Holley for leading PSTP recruitment.
Please join us in welcoming this outstanding 2023 intern class to the Duke Family! 
View the files below to see the new residents. 
Categorical Interns
Med-Psych Interns
Neuro Prelim Interns
Optho Prelim Interns
Prelim Interns
Med-Peds Interns
See Match Day highlights from the School of Medicine