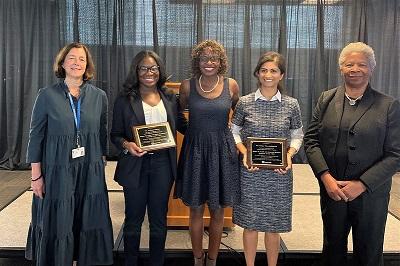 The Department of Medicine's 2023 Resident Research Day, held Friday, May 19, featured presentations from this year's Califf Research Award winners: Nicole Dussault, MD, MS, Sriya Muralidharan, MD - PGY3, and Allison Taylor, MD, MS - PGY3.
The presentations were followed by a poster presentation featuring 18 entrants. The winning posters will be announced during Friday's Neil Spector Medicine Grand Rounds.  
Meet the 2023 Califf Research Award Winners:  
Nicole Dussault, MD, MS - PGY2
Presentation title: Internal Medicine Resident Barriers to Advanced Care Planning in the Primary Care Clinic
Mentor: Jessica Ma, MD.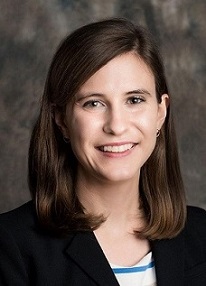 Nicole Dussault is a second-year internal medicine resident interested in the intersection between palliative care, the doctor-patient relationship, and health-services research. She first developed a love of research as an undergraduate at Columbia University, where she majored in economics, and then as a research analyst at the New York Federal Reserve, where she studied the effect of the Affordable Care Act on financial stability. As a medical student at the University of Chicago, she worked on designing and evaluating a training curriculum on trauma-informed care for survivors of sexual assault. During this time, she also completed a masters of informatics degree and worked on machine learning projects to identify patients at risk for sepsis and to predict survival after lung transplant. Now as a resident physician, her research revolves around understanding and addressing resident barriers to conducting advanced care planning in their continuity clinic.
Sriya Muralidharan, MD - PGY3
Presentation title: Pathogenic flora continue to contaminate duodenoscopes despite novel disposable tips
Mentors: Darin Dufault, MD, Jessica Seidelman, MD, and Becky Smith, MD.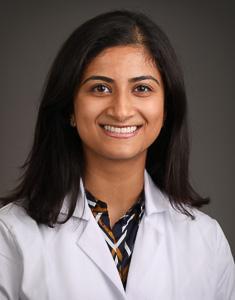 Sriya Muralidharan is a fourth-year resident in the combined Internal Medicine and Pediatrics program. She received her undergraduate and medical degrees from Brown University as part of the Program in Liberal Medical Education. She has a strong interest in the field of biodesign, and participated in the Pratt School of Engineering's Design and Health Program during residency, working on health care app and endoscopy device prototypes. She co-developed the Duke trainee innovations track for residents and fellows across specialties which is in its first year. She has brought her clinical and biodesign interests together in her research on endoscopic innovation and will begin fellowship in gastroenterology and hepatology at the University of Chicago this July.
Allison Taylor, MD, MS - PGY3
Presentation title: Facilitators and Barriers to Care Encountered During Treatment in Non-Hispanic Black Patients with Newly Diagnosed Acute Myeloid Leukemia
Mentor: Thomas W. LeBlanc, MD, MS.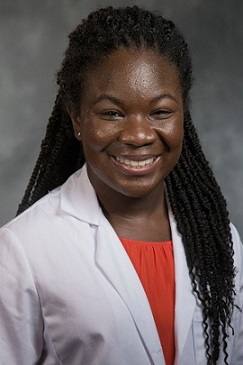 Allison Taylor is a third-year resident and an incoming hematology oncology fellow, also here at Duke. She received her undergraduate and medical degrees from Georgetown University in Washington DC. Her research has focused on outcomes in patients with hematologic malignancies, with a particular interest in acute myeloid leukemia. Throughout residency, she has delved into understanding inequities and disparities related to diagnosis, treatment, and clinical outcomes in African American patients with acute myeloid leukemia. She has presented her work locally, and at national meetings, and is a recipient of the 2022 American Society of Hematology Minority Resident Award and the 2022 Trainee Awardee for the Cancer Prevention & Control Program in the Duke Cancer Institute.
Link to event photo album: https://duke.is/886gp
Feature photo:  (left to right) Kathleen Cooney, MD, chair of the Department of Medicine, Allison Taylor, MD, Nia Mitchell, MD, associate professor in the division of General Internal Medicine, Sriya Muralidharan, MD, and Joanne Wilson, MD.