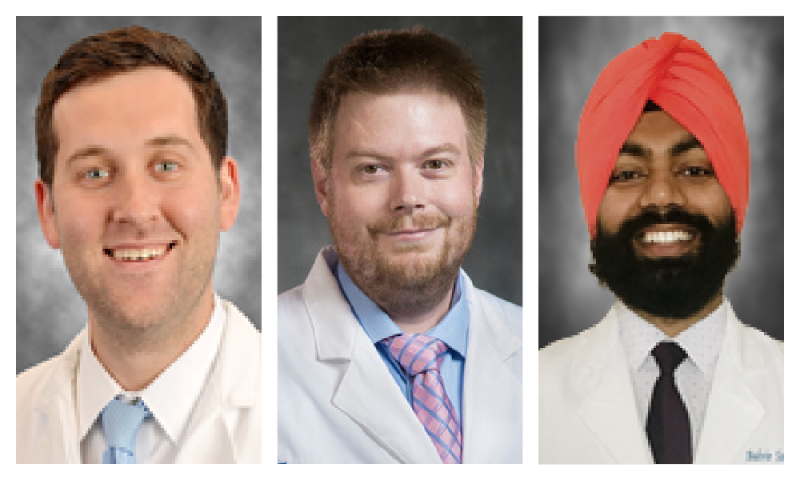 Congratulations to three General Internal Medicine faculty who received promotions to Assistant Professor, effective August 1, 2022. 
Mark Chandler, MD
Dr. Chandler joined Duke in 2018, where his primary clinical duties have been with the Hospital Medicine program. Chandler has taught numerous students and residents during their Internal Medicine and Pediatric inpatient rotations. Dr. Chandler will continue his activities in the clinical and educational settings. He will take a very active role in continuing to care for patients, working on improving the quality of care delivered at Duke through his work on the Complex Care committee and Hospital Medicine Morbidity and Mortality committee, and in teaching medical students and residents. He hopes to continue to expand his teaching roles within the medical school and the Internal Medicine, Internal Medicine-Pediatrics and Pediatrics residencies.
---
Jesse Rhodes, MD
Dr. Rhodes joined our division in 2019. He works extensively on the Med-Peds service line which focuses on the care of young adults with chronic childhood conditions. He has also worked on the "COMET" service which is a consult service for patients with opioid use disorder. In addition to his time on Internal Medicine, he has now started attending on a teaching service on the complex care service on Pediatrics. He is involved in a leadership project that evaluates post-discharge followup and readmissions for patients with sickle cell discharged from the Med-Peds line. He also plans on improving the transitions of care for patients transitioning from the pediatric complex care team to the Med-Peds service.
---
Balvir Singh, MD
Dr. Singh has been with Duke since 2019. Dr. Singh has been praised by residents about finding the perfect balance between fostering resident autonomy and providing support and supervision. He has engaged in scholarly activities that aim to improve quality of clinical care. Dr. Singh is initiating a project with a team of other physicians from our department that aims to improve patient handoff during emergent situations and transfer of patients from a non-ICU setting to an ICU setting. Clinically, Dr. Singh has been providing excellent care for patients in the inpatient setting, admitted to the general ward. In this setting, he has also been teaching clinical care to students and residents and supervising the care provided by residents.