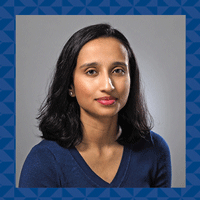 Deepshikha Ashana, MD, MA, MBA, assistant professor in the division of Medicine, Pulmonary, Allergy, and Critical Care Medicine, has been awarded a three-year award of $495,000 to fund her visionary project, Toward a Trauma-Informed Intensive Care Unit, from the Doris Duke Foundation (DDF) to advance human health.  
Dr. Ashana is one of 21 physician scientists selected by the foundation to receive grants and fellowships totaling $7.92 million in support of opportunities for mentored research and time protection for early-career physician scientists.   
Trauma-informed care is an evidence-based, organizational care delivery model that mitigates the impact of an individual's lifetime experiences of psychological trauma such as racism and incarceration, on their health and medical care, and prevents re-traumatization from medical care. 
Although critical illness and care can be highly traumatizing, there are no comprehensive trauma-informed care interventions to support critically ill adult patients and their caregivers, Ashana said. The research funded by the award will measure the uptake of trauma-informed care in United States intensive care units and develop a needs-based, trauma-informed critical care intervention. 
"Our goal is to transform intensive care units into spaces that promote empowerment and healing even in the midst of serious illness," said Ashana, who has dual appointments in Population Health Sciences and the Duke-Margolis Center for Health Policy. "This would have benefits for patients, their caregivers, clinicians, and staff in the form of improved therapeutic alliance between patients, caregivers and clinicians, greater self-efficacy and less moral distress for clinicians and staff, and improved long-term psychological health for all." 
Dr. Ashana's research focuses on understanding and addressing mechanisms of differences in serious illness care among underserved patients. She uses mixed methods to study epidemiologic trends in national health claims data and understand patient perspectives on serious illness care, with a particular focus on modifiable clinician and health system factors. 
Her project is supported by mentors, Christopher Cox, MD, professor of Pulmonary, Allergy, and Critical Care Medicine, Ernestine Briggs-King, PhD, from the Department of Psychiatry, and Sharron Docherty, PhD, from the Duke University School of Nursing.   
"This year's awardees are addressing critical issues that are impacting the health of patients across the United States and beyond," said Sindy Escobar Alvarez, director for medical research at the Doris Duke Foundation. "We are proud to support their important contributions, and we cannot wait to see what this group of physician scientists will accomplish."   
The DDF aims to advance the prevention, diagnosis and treatment of diseases by strengthening and supporting clinical research. In 2023, DDF is celebrating 25 years of supporting physician scientists. Since 1998, the foundation has awarded more than $184.5 million in funding to 427 early-career physician scientists. This year's grantees join a network of accomplished physicians who have gone on to become leaders in academia, medicine, public health and government.