The Department of Medicine (DOM) is pleased to announce the recipients of the annual Master Clinician Award, Carl Berg, MD, Sangeeta Joshi, MD, MBBS, and Shelley McDonald, DO, PhD. 
Dr. Berg is a hepatologist. Dr. Joshi is a critical care specialist and pulmonologist, and Dr. McDonald is a geriatric medicine specialist. The award recognizes faculty members who have made exceptional contributions to the practice of patient care, clinical innovation, and training the next generation of physicians.
Dr. Carl Berg
Since his arrival at Duke in 2012, Dr. Berg has transformed Duke's Liver Transplantation Program which, in February, marked the 2,000 transplants milestone.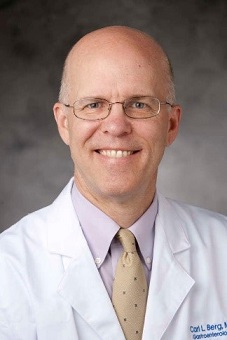 A gifted clinician, Berg came to Duke as medical director of Abdominal Transplantation and medical director of Liver Transplantation and, through collaboration with surgical colleagues, Dr. Debra Sudan and Dr. Stuart Knechtle, Duke's abdominal transplant programs have reached new heights.
In 2016, the liver transplant program set a new high for volume with the best outcomes in the country. In 2017 Duke became the first program in North Carolina to surpass 100 transplants, a level of excellence that has continued even through the pandemic. In 2022, 123 liver transplants were performed with outcomes that have remained consistently in the top five in the U.S.
"He truly practices the art of the medicine. He has great command of pathophysiology and the latest evidence in our field, and he is able to apply his experience and generate plans for patients who might not fit nicely into a diagnostic category," said Andrew Muir, MD, MHS, chief of the division of Gastroenterology, who recruited Berg back in 2011. "Other doctors at Duke and around the country reach out to him with challenging cases given his clinical prowess."
As Berg's division chief, Muir adds that he has been grateful for Dr. Berg's contributions in mentorship and support in building a strong transplantation faculty. "I have also seen his impact through his mentorship of faculty in other transplant programs, including the kidney program and the pediatric liver transplant program," Muir said. "He is willing to spend the time to help all our faculty across Duke. His impact is broad, and it will be long lasting."
Dr. Sangeeta Joshi
Dr. Joshi was nominated by colleagues at Duke Regional Hospital (DRH) in recognition of her exceptional contributions to patient care and innovative clinical leadership.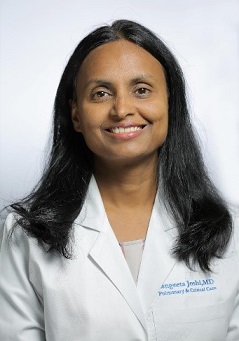 She is known for her compassion and empathy, and serves as a role model for junior clinicians in demonstrating the highest professional standards, her award nominators note. 
She is highly respected for her exemplary skills at managing pulmonary illness and for her understanding of the art of medicine, evidenced by her holistic approach to care and reflected in her glowing patient satisfaction surveys.
Dr. Joshi receives referrals from many community and academic physicians from North Carolina and other states, and she is accessible to answer questions and concerns, frequently going above and beyond the call of duty when advocating for her patients. Her contributions towards improving patient care and her research and quality improvement focus is geared towards improving care delivery for patients, especially those with COPD.
Joshi has led educational sessions at DRH focusing on sepsis management, preventing burnout and improving provider well-being and she has coached hospitalists, medical students, residents, fellow learners and other physicians, helping them achieve their goals within the institution. As medical director of the Critical Care Unit at DRH, she was instrumental in ICU quality improvement projects and championed smooth transition to EPIC. She is especially passionate about mentoring diverse and minority learners including foreign medical graduates, first generation college students, and women in academic medicine.
 "Being a woman of color and a foreign medical graduate, I have experienced this first hand," said Aparna Kamath, MD, MS, DRH, medical director of hospital medicine quality and safety at DRH. "During my early years at Duke, Dr. Joshi gave me excellent advice on how to network within the Duke community and system to achieve my academic and personal goals. Her passion for training and mentoring the next generation of physicians and their well-being is evident."
Dr. Shelley Rose McDonald
Dr. McDonald is an associate professor in the division of Geriatrics and medical director of Duke's innovative Peri-operative Optimization of Senior Health (POSH) clinic, and the 2023 American Geriatric Society Clinician of the Year.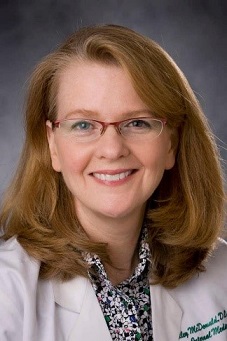 She was nominated for the Master Clinician Award by colleagues who recognize her as "one of the most passionate, skilled and experienced physicians at Duke in the development of clinical innovation."
Dr. McDonald's commitment to inter‐professional team‐oriented patient care delivery is demonstrated by her leadership of the collaborative POSH clinic at the Durham Veterans Affairs Medical Center, now being replicated elsewhere. Central to her success is her commitment to collaborate with physicians, colleagues, and staff, colleagues say.
As a physician‐scientist, Dr. McDonald is committed to continued education of physician and research colleagues inside and outside of Duke, said Heidi K. White, MD, MHS, MEd, clinical vice chief of the division of Geriatrics and a longtime colleague. "She facilitates POSH clinic staff to practice at the top of their license and each member feels their contributions to care are valued and impactful. Her bedside teaching skills are superb, making POSH a favorite geriatrics setting for medical learners of many training levels and from numerous disciplines," White added. "She doggedly pursues every opportunity to collaborate with researchers to ensure that POSH becomes a recognized and reproducible model of care for older adults."  
Personal accessibility and commitment to collaboration with physicians, colleagues and staff have been central to McDonald's success. Early on when peri‐operative management seemed a bit foreign to her co-workers, McDonald developed note templates and organized resources so that other geriatricians could provide similar high‐quality assessments and recommendations.
Dr. McDonald is also an advocate for all who are marginalized. She and the POSH team address the non‐medical factors that influence health outcomes, such as limited health literacy, food insecurity, lack of transportation, financial distress, household stress, or inadequate social connections.