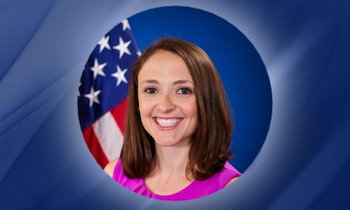 Assistant Professor of Medicine, Laura Caputo, MD, is the recipient of the Innovator Award for the 2022 VHA David M. Worthen Awards for Excellence in Health Professions Education. 
Dr. Caputo is a hospitalist at the Durham VA Medical Center (DVAMC) and has been leading a faculty development project focused on increasing faculty's confidence in teaching and improving the quality of teaching for undergraduate and graduate physician trainees. The program has since expanded to10 different VAs across the country and is regularly enrolling more.
Caputo also started a medical education podcast series titled "VAcross the Street," aimed at graduate physician trainees on the VA inpatient medicine service. Each episode highlights the strengths of the DVAMC faculty, providing listeners from the Durham and other VAMCs with an asynchronous, independent way to learn about VA and its patients.
"The VA's health care system and patient population are unique, and that makes teaching and learning at the VA unique as well," say Caputo. "These projects are exciting because they shine a light on what makes the VA an amazing place both to educate and to train. I'm excited to continue expanding this work on a national level, and am so grateful for the contributions of my amazing colleagues, who are some of the best clinician educators in the country."