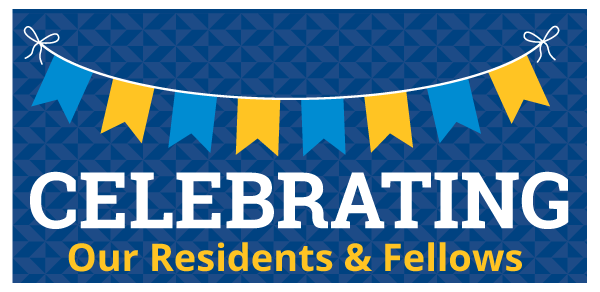 It's GME Appreciation Week! In honor of all Duke GME trainees, Duke University Hospital and Duke GME are sponsoring a variety of events and gifts for trainees and program staff this week. Can you imagine what your days would be like without our incredible residents and fellows? I certainly can't. Getting to work with residents and fellows makes every day more fun and fulfilling, and training our future physician leaders pushes us to be better doctors, teachers, and mentors every day.
 
Please take a few minutes to reflect on what our nearly 330 residents and fellows do every day in support of their patients and Duke's mission. Thank the next trainee you see for all they do! Appreciation can take many forms: a simple "thank you," snacks or coffee breaks, or even just casual time chatting and getting to know the trainees better as individuals.
 
Our fellows and residents care for highly complicated patients alongside us and all of the medical team members here at Duke. They have weathered the COVID storm with us. While learning internal medicine and its subspecialties, they have engaged in academic projects in our labs and research groups. They have taught medical students, their co-trainees, and our faculty. 
 
At Duke, we care for our patients, their loved ones, and each other. The dedication of everyone in the Department of Medicine ensures that we continue training remarkable Internal Medicine and medicine subspecialty physicians. Let our residents and fellows know you care about them and appreciate the work they do every day to live Duke's values! 
Lisa Criscione-Schreiber, MD, MEd
Vice Chair for Education, Duke Department of Medicine
GME Week is February 20 - 24, 2023 and sponsored by Duke University Hospital and Duke GME