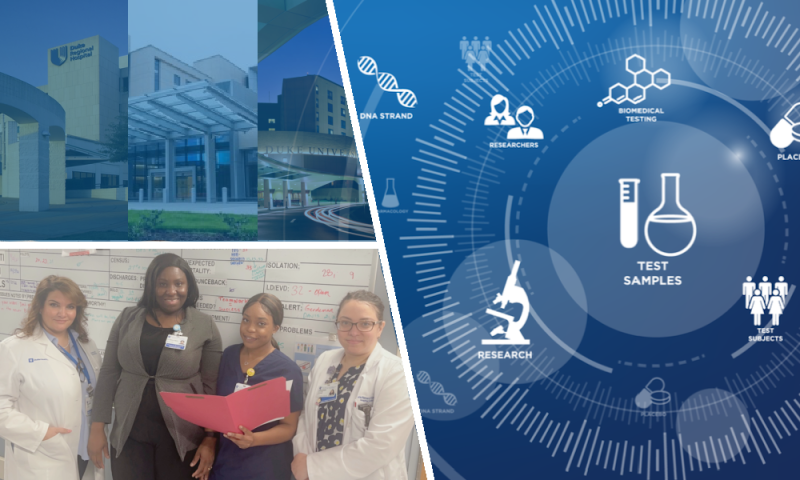 Lana Wahid, MD, assistant professor of medicine in the division of General Internal Medicine, is paving the way for hospitalist to engage in clinical research.
As a hospitalist herself, Dr. Wahid joined Duke Department of Medicine in April of 2020. She came to Duke to get involved in research and quickly saw the gap to provide an avenue for hospitalists interested in this type of research.   
What was needed? A uniformed infrastructure to facilitate the rapid deployment of clinical trials across the three Duke Hospitals.
To close this gap, Wahid developed an innovative new program, Hospital-Based Clinical Trials & Research Program, the first of its kind at Duke University Medical Center. The program officially launched in July of 2022 with a mission to conduct high-quality research to improve health outcomes for all hospitalized patients.
At the time of the program's launch, Duke Regional Hospital and Duke Raleigh Hospital were involved in COVID-19 Therapeutic Trials to give patients optional experimental therapeutics, given the high morbidity and mortality rates and the lack of standard therapeutics. Involvement of these satellite sites helped elevate Duke University Health System to be a leader in enrollment across several multinational COVID-19 clinical trial platforms. However, involvement in non-COVID-19 trials was limited by lack of research infrastructure at the two satellite hospitals.
Wahid enlisted Duke Hospitalist colleagues, Emily Ko, MD, PhD, Valerie Renard, NP, and Tatyana Der, MD, MHS, to assist with program launch – specifically to ensure successful representation across the health-system. Renard leads efforts at Duke University Hospital, Ko at Duke Regional Hospital, and Der at Duke Raleigh Hospital. Since the program facilitates clinical trials across many specialties, it was critical to have champions at each site to help understand the gaps in infrastructure and access a variety of patient populations.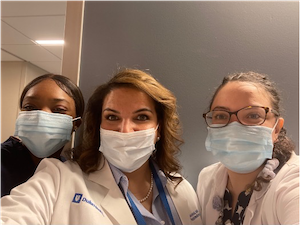 Wahid, Ko, Renard, and Der saw tremendous opportunity to bring cutting edge research to the hospitalized patients they cared for, enrich the diversity of the patient population in clinical trials, and improve enrollment numbers of other DUHS trials. This was also an opportunity for their colleagues to grow professionally and contribute to manuscripts. While many hospitalist worked hard to ensure the success of COVID-19 trials, a few have remained engaged with screening, consenting, and data collection: Marie Witte, MD, Andrea Archibald, MD, Neil Stafford, MD, and Grace Dreyer, PA.
The Hospital-Based Clinical Trials & Research Program currently have five different clinical trials deployed across Duke, ranging from COVID therapeutics to anti-platelet medications, SGLT2 inhibitors, anticoagulation medications, bacteremia and antimicrobials – with new trials coming on board soon involving community-acquired pneumonia, sepsis, diabetic foot infections and covid post-exposure prophylaxis.
Although these types of clinical trials are not new, what this program brings to the table is the direct engagement between clinicians and patients for enrollment.
"When you look at who makes first contact with a patient, it most times is the hospitalist admitting them," says Wahid. "As hospitalists, we are the boots on the ground, and this program allows hospitalists to be the one to introduce the clinical trial opportunity to our patients. We have seen firsthand that this gives us an edge with enrollment numbers."  As a result of this collaboration between hospitals and hospitalists, Duke is the #1 top enrolling site for each of the program's multi-center, international trials.