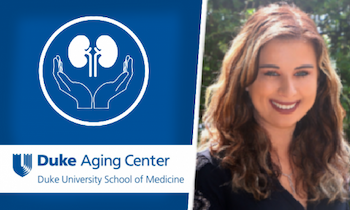 GIM Assistant Professor of Medicine, Dr. Nicole DePasquale, recently became a 2022 – 2024 Pilot and Exploratory Studies Award (PESC) Scholar at the Duke Claude D. Pepper Older Americans Independence Center (Duke OAIC).  The award, which begins on July 1, will fund her pilot study project, "Individual and dyadic factors associated with older dialysis patients' physical resilience." The pilot project serves as an add-on study to her NIA-funded Shared Kidney Care Study. The parent study investigates the ways in which older patients and their family care partners appraise and self-manage the full course of chronic kidney disease (CKD) together as well as how dyadic disease management affects individual and dyadic health. The add-on pilot study seeks to understand the ways in which kidney failure dyads work together (or not) to maintain, regain, or optimize older patients' physical function amid dialysis initiation and its negative downstream effects for patients and family care partners alike. 
"I am thrilled to become a member of the Pepper Family and grateful for the opportunity to enhance existing strengths of the Shared Kidney Care Study by adding a new and unique focus on physical resilience," says DePasquale. "This novel approach will provide initial insight into how older adult-family care partner dyads rebound (or not) from difficulties they encounter while making the major transition to life on dialysis. Such an understanding is critical for identifying specific individual and dyadic processes that can be activated at this point in the CKD trajectory, and stratifying interventions to target dyadic care types associated with varying levels of physical resilience. Besides enhancing and supporting a promising and innovative research program, pilot funding will promote my career development through needed, expert consultation and subsequent skill acquisition in resilience." 
---
Project Summary
Funder: National Institute on Aging (NIA) and Internal
Project Length: 2 years (July 1, 2022 – June 30, 2024)
Funding Amount: $80,000
Principal Investigator: Nicole DePasquale, PhD 
Mentor Team Members: 
C. Barrett Bowling, MD; L. Ebony Boulware, MD
Significance of the project: 
Viewing physical resilience with a dyadic lens has enormous potential to optimize health for older dialysis patients and their family care partners. The vast majority of research on living with kidney failure, however, has focused on the dialysis patient in isolation or, to a far lesser extent, the dedicated care partner in isolation. This traditional approach is misaligned with the real-world context in which patients and care partners are situated – they experience and navigate kidney failure and subsequent dialysis treatment together as an interdependent unit or team. Consequently, there has been limited integration of dyadic science into nephrology research. This lack of integration has limited current understanding of the different ways older adult-family care partner dyads work together (or not) to maintain, regain, or optimize patients' physical functioning (i.e., physical resilience) after the major life transition of dialysis initiation, in which each member of the care dyad faces its negative downstream effects. Thus, nephrology research conceptualized and conducted at the level of the care dyad can help to uncover transactional, interdependent, or other dyadic processes underlying varying levels of physical resilience in older dialysis patients. In turn, such insights can provide new directions for the measurement of physical resilience; inform the design of resilience-promoting interventions targeting the care dyad; and facilitate use of health care provider strategies that approximate the interpersonal context in which kidney failure care actually occurs. Further, the ability to identify care dyads that represent the extremes of low or high physical resilience may enable more tailored or effective clinical decision-making, person-centered nephrology care, care planning, and referral to relevant supportive services. 
Objectives 
Use qualitative and quantitative approaches with 30 kidney failure care dyads comprising older adults aged > 65 years who recently started dialysis and their family care partner to:
Explore and describe the individual (patient and care partner) and dyadic factors influential for patients' physical resilience
Identify dyadic care types associated with different degrees of physical resilience