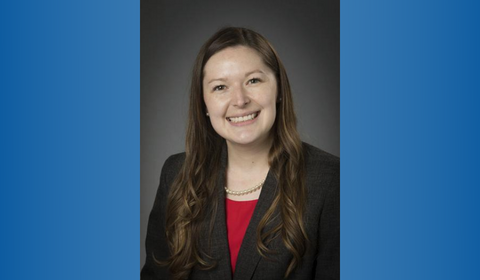 Courtney Dominguez, MD, senior assistant resident in the Duke Internal Medicine Residency Program, has been selected to serve as the Durham VA Medical Center Chief Resident for Quality and Safety (CRQS) for 2023-24.
During her chief resident year, Dr. Dominguez will be part of a network of such chief residents across the country who lead quality improvement (QI) projects and receive expert training from mentors. She also will participate in a national curriculum designed to prepare a new generation of QI leaders able to help residents implement QI initiatives.
"Dr. Dominquez is a growing leader in quality improvement. I'm proud to watch her continue to grow and lead quality improvement initiatives," said Kathleen Cooney, MD, MACP, Chair of the Department of Medicine. "I'm thrilled that she will be working with the residency program leadership next year."
Dominguez will be the 12th Duke internal medicine resident to hold the chief resident for quality and safety role at the Durham VA.
"I am incredibly excited to work with Dr. Dominguez in this role. As a resident, she demonstrates the highest level of patient care, teamwork and communication.  Her growing skills as an academic leader are evident and I look forward to seeing the impact she has on the care of veterans as well as on the education of our residents" said Aimee Zaas, MD, MHS, program director, Duke Internal Medicine Residency, and Professor of Medicine (Infectious Diseases). Dominguez will work closely with Joel Boggan, MD, MPH, Associate Professor of Medicine (General Internal Medicine) and other past CRQS.
"It is with great excitement that I will take on the CRQS role this upcoming year," said Dr. Dominguez. "I look forward to helping improve the health and wellness of our veterans alongside our excellent leadership and the residents of the internal medicine program." Dominguez earned her undergraduate degree from the University of Texas-Dallas and her medical degree from the Texas Tech University Health Sciences Center School of Medicine. 
Dominguez will begin as chief resident for quality improvement and patient safety in July 2023. She will join 2023-2024 chief residents Nathan Hirschman, MD; Michael Cosiano, MD; and Ann Cameron Barr, MD. After her year as chief resident, Dominguez plans to pursue a career in Endocrinology.
Former Chief Residents for Quality and Safety include:
2012-13 Ryan Schulteis, MD; Chief Health Informatics Officer, Durham VA Medical Center and founder/CEO, SV Analytics
2013-14 Joel Boggan, MD, MPH; Associate Program Director, Duke Internal Medicine Residency Program and Associate Professor working in GIM and Hospital Medicine, Durham VA Medical Center
2014-15 Aaron Mitchell, MD, MPH; Assistant Member Level I, Memorial Sloan Kettering Cancer Center
2015-16 Lindsay Boole, MD; Pulmonary and Critical Care Physician, WakeMed
2016-17 R. Matt Atkins, MD; Chief Medical Informatics Officer, OU Physicians Group and Director of Informatics and Quality Improvement, Department of Medicine, University of Oklahoma College of Medicine
2017-18 Sam Lindner, MD; Structural Cardiology fellow, Washington University in St. Louis
2018-19 John Paul Shoup, MD; Medical Director of Process Improvement, BJC Physician Group, Washington University in St. Louis
2019-20 Lara Hayes, MD; Assistant Professor of Medicine in the Division of General Internal Medicine (Hospital Medicine) at the University of Utah.
2020-21 Govind Krishnan, MD; Pulmonary / Critical Care fellow, Duke University
2021-22 Michael Burt, MD; Hospital Medicine, Duke University Hospital
2022-23 Ryan Duffy, MD; Current CRQS