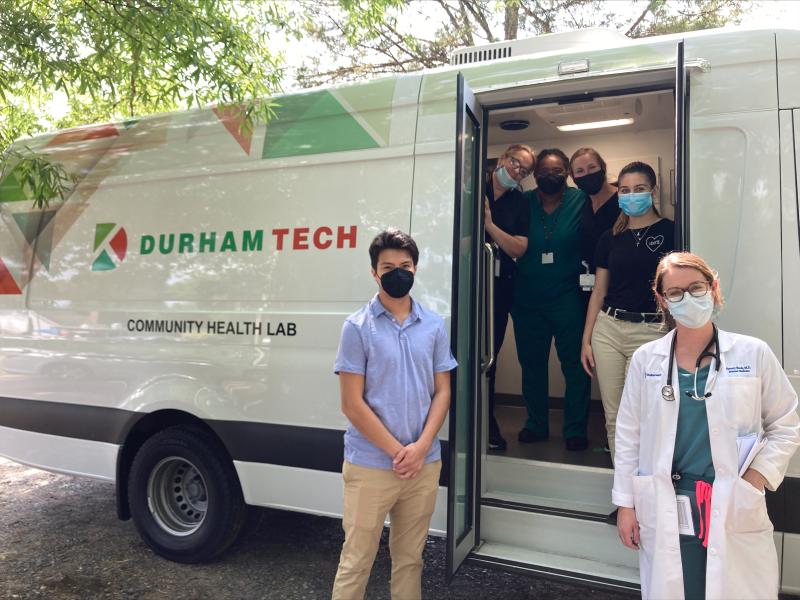 As the largest primary care teaching clinic for the Duke Internal Medicine Residency Program, the Duke Outpatient Clinic (DOC) provides an invaluable learning experience for future physicians while serving some of the most medically complex and vulnerable patients as the biggest safety net practice in the Duke Health System.
A partnership between the DOC and Durham Tech Community College is now taking that care out to the community through a joint DOC-Durham Tech Mobile Health Lab service that visits DOC patients at home—while providing residents with life lessons in equity.
"The patients being visited have significant challenges, both physical and economic," said DOC Medical Director, Alex Cho, MD, MBA. "The exposure for residents takes them to Durham neighborhoods they've probably never been to and gives them a window on how our patients live."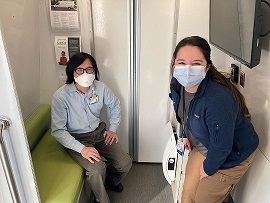 Committed to Caring
Thanks to former Duke resident Hannah Florian's fierce commitment to patients, the service was piloted in August 2021 with support from leadership at Durham Tech, Duke University Hospital and the DOC. Florian was inspired to create the program with Durham Tech in the spring of 2020 as the COVID-19 pandemic exacerbated challenges for DOC's homebound patients.
"We had a very sick population and patients on medications that had to be monitored with lab work," said Florian, now Chief Resident of Internal Medicine at Atrium Health's Carolinas Medical Center in Charlotte, N.C. "People were really scared and didn't want to come in even for a lab visit, or they had transportation challenges, employment issues or food insecurity. We were faced with so many barriers."
For going above and beyond the call of duty in conceiving, planning, coordinating, and implementing the mobile lab for homebound patients in need, Florian received the American Association of Medical College (AAMC) Organization of Resident Representatives 2022 Community Service Award.
"I've learned so much from actually going to my patients' homes, seeing where they're living and how their medications are set up, the family support," Florian adds. "The true infrastructure of their day-to-day lives helps us as healthcare professionals really gain insight into their care."
An Eye-Opening Experience
Three junior residents have stepped in to fill Florian's shoes, continuing her work to support and manage the pilot service.
"It's an eye-opening experience," says resident Sarah Morgan, MD. "It's helpful to have a better understanding of where and how patients are accessing the health care system and some of the real challenges they face. You prescribe a medicine and picture that person going home and putting their medicine into their beautiful, little organized container and opening it up every week. Going to people's homes, you see how people are actually experiencing our recommendations."
"You learn a lot in clinic but it's driven home so much more when you see how people are handling their meds, and how simplifying things is really worth a lot," says Garret Johnson, MD, resident. "The value of actually taking a medicine or taking it as it's supposed to be prescribed versus just being confused and taking it the wrong way is a lot higher than the value of having a perfect med list that doesn't actually translate into the human being. There's something different about seeing that in person. People's lives can really be complicated."
Working Together
The mobile lab follows DOC's model of intensive, team-based care involving Durham Tech faculty, learners, and DOC residents that conduct joint visits for assessments, lab draws and other evaluations. while providing an insightful, multi-discipline learning experience for both Durham Tech and Duke students as they work alongside each other.
Durham Tech initially established a mobile care service with a $1 million grant from Blue Cross and Blue Shield of North Carolina to provide free glasses, screenings, and health education to elementary-aged children while giving Durham Tech students hands-on practice.  
By partnering with the DOC, the collaborative offers an unparalleled experience for both Duke residents and Durham Tech students by allowing them to work on interventions together to improve quality of life and overall health, says Whitney Young, paramedic and coordinator of the Mobile Health Lab at Durham Tech.
---
Featured image: Duke resident Emory Buck, MD, prepares to head out on patient visits with a crew of Durham Tech students.