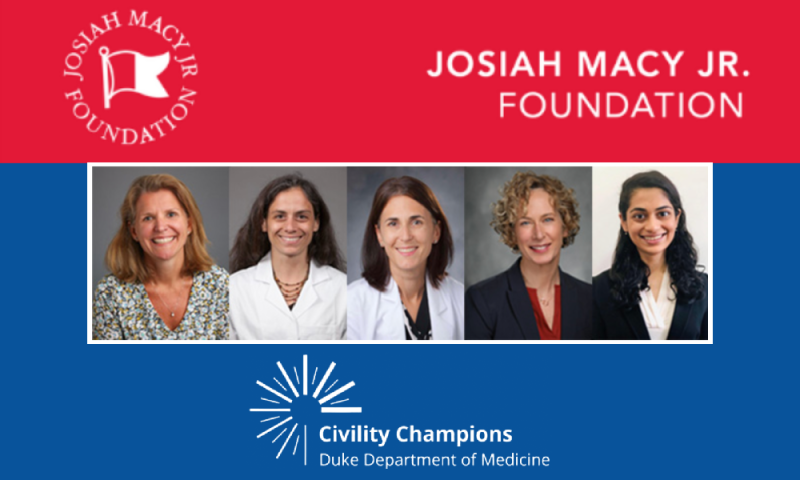 Congratulations to Betty Staples, MD, Jane Gagliardi, MD, MHS, Aimee Zaas, MD, MHS, Sharon Shofer, PhD, and Apurva Khedagi, MD, MS for receiving the Catalyst Award for Transformation in Graduate Medical Education from the Josiah Macy Jr. Foundation. Their proposal was chosen from a national applicant pool of 65 graduate medical education programs and academic institutions.
The grant award and matching funds from the Duke Office of Graduate Medical Education (GME) will be used to expand the Department of Medicine's Civility Champions pilot program to clinical departments outside the Department of Medicine with the goal of increasing overall civility in the clinical learning environment. Participants include Pediatrics, Family Medicine, Emergency Medicine, General Surgery, Neurosurgery, and Otolaryngology.
The plan is to train a total of 50-75 participants from these areas as Civility Champions who are skilled at listening attentively, exploring options for intervention or reporting, referring individuals to relevant institutional resources as desired, and modeling their departments' commitment to addressing harm caused by incivility and bias.
Over the one-year grant period, faculty and housestaff Civility Champions will receive training to increase their competence and comfort in providing restorative justice-based counseling to recipients of incivility as well as increase their ability to recognize workplace incivility, intervene as an upstander, and incorporate lessons learned in their teaching/leadership practice.
Champions will be solicited from participating departments, which will also appoint a lead champion, all of whom will undergo six hours of training, followed by quarterly debriefs supported by members of the study team with a goal of facilitating the independent and sustainable establishment of Civility Champion programs in each participating department.
"After I had the opportunity to undertake training in 2018, I thought every department should have Civility Champions!" said Gagliardi, Civility Champion debrief facilitator. "I am excited about the possibility of working with this team and contributing to a positive, supportive, and inclusive workplace culture and am grateful to the Office of GME and the Josiah Macy Foundation for this opportunity.  I firmly believe that the lessons I've learned from being a Civility Champion are helpful in every domain of my professional and personal life."  
Civility Champion originated in 2017-2018 by Drs. Dinushika Mohottige, Aimee Zaas, Lisa Criscione-Schreiber, Kim Evans and Laura Svetkey. Civility Champions are trained by Ada Gregory in principles of nonviolent communication and restorative justice.  Civility Champions are trained and empowered to support peers who have been the target of incivility with an overarching goal of contributing to a positive, anti-racist, anti-biased institutional culture.    
"It is amazing to see that an idea brought forth and developed by one of our chief residents has grown into a program that other departments are excited to bring to their trainees and faculty," says Zaas, program director of the Duke Internal Medicine Residency Program and professor in the division of Infectious Diseases and International Health. "This is an incredible example of how culture change can happen in a large institution like Duke."
Grant leadership includes Drs. Betty Staples, associate director of GME and faculty in the Department of Pediatrics; Jane Gagliardi of the Departments of Medicine and Psychiatry & Behavioral Sciences; Aimee Zaas, residency director for the Department of Medicine; Apurva Khedagi, resident in the Department of Medicine; and Sharon Shofer, education specialist in the Office of GME.  
"I have always been passionate about working against discrimination and bias which led me to seek out the training to become a Civility Champion," says Khedagi. "The lessons and reflection that I learn as a civility champion continue to guide and transform my professional and personal life. I am grateful for the Office of GME and the Josiah Macy Foundation to have recognized this incredible initiative and I am very excited about working to help build an inclusive and empowering culture."