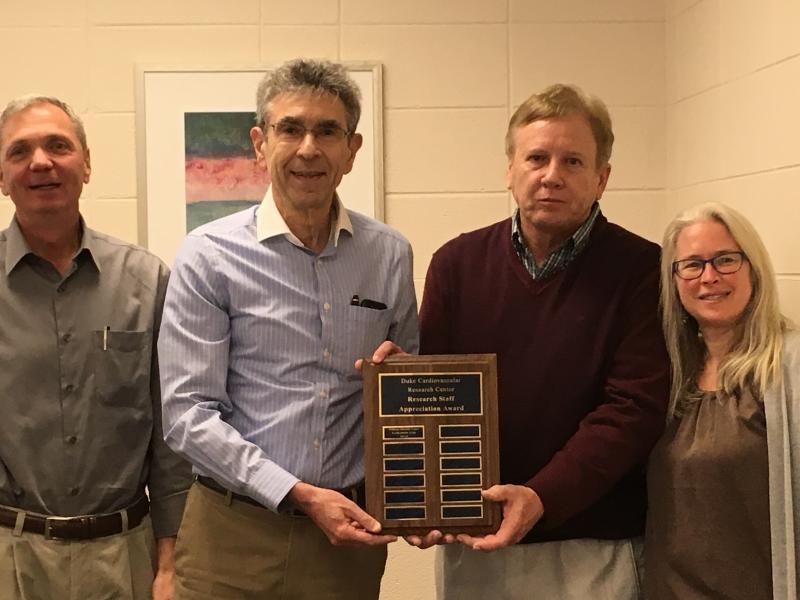 The inaugural Duke Cardiovascular Research Center (CVRC) Research Staff Appreciation Award was presented to William Darrell Capel earlier this week.
Capel, a Lab Research Analyst II, was nominated by his direct supervisor, Robert J. Lefkowitz, MD. The award was created to shine a spotlight on the high caliber of staff in CVRC labs.
"The mission of the Duke Cardiovascular Research Center is to conduct fundamental research to advance our knowledge into the causes of cardiovascular disease and to develop the next generation of world-renowned physician-scientist thought leaders.  This research would not be possible without the tireless effort of our unsung heroes on the research staff who we work together with to achieve our mission," said Howard Rockman, MD, director of the Duke Cardiovascular Research Center and professor of medicine (Cardiology).
During the awards presentation, Dr. Lefkowitz noted that Capel has worked at Duke for 25 years and in the Lefkowitz lab since 1990.
"Darrell serves as a mentor and teacher to many in the lab. He contributes in developing and optimizing lab procedures, and his role has been essential in many important discoveries in the lab," Lefkowitz said.
In past years Capel has worked with many lab trainees who are now faculty, including Neil Freedman, MD; Sudar Rajagopal, MD, PhD; Sudha Shenoy, PhD; and Jim Wisler, MD.
"I am honored by the recognition and appreciation bestowed upon me by the research staff of the CVRC," Capel said. "It has been a rewarding journey with hard work but also many cherished memories."
To be eligible for a CVRC Research Staff Award, an individual must be employed by the Duke School of Medicine and meet all of the following criteria:
At least 5 years of continuous service in a research role in the CVRC.
Provide exemplary support in the conduct of basic or translational research within the CVRC.
Demonstrated technical expertise to support basic or translational research program(s) in a manner which strengthens the research mission of the CVRC.
Demonstrated record of excellent performance and good citizenship.
As the awardee, Capel's name has been inscribed on a plaque which will be displayed in a public area of the CVRC, and he received a gift certificate to Duke Stores. Learn about the award.