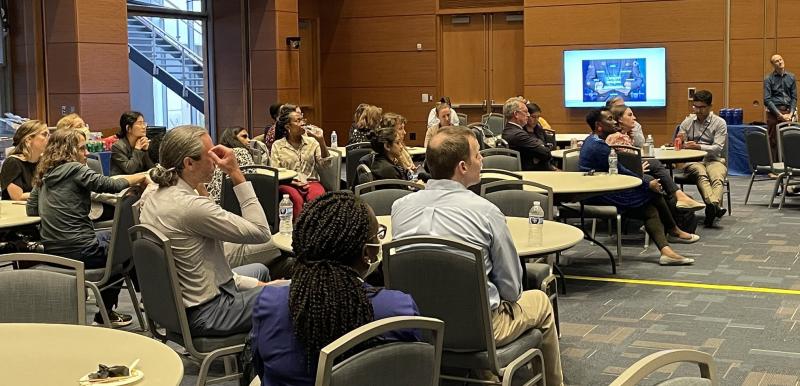 On September 27, the Department of Medicine (DOM) kicked off the academic year for new members of the Faculty Development Academy (FDA), one of the unique programs offered by the department to provide on-going mentorship and development for career track members.
Department Chair Kathleen Cooney, MD, opened the event at Trent Semans Great Hall, congratulating the new cohort. Carla Brady, MD, MHS, vice chair for Faculty Development, moderated a panel discussion with faculty members Toyosi Onwuemene, MD, MS, associate professor, Hematology, John Roberts, MD, MEd, MS, associate professor, Nephrology, Jatin Roper, MD, assistant professor, Gastroenterology, and Julia Messina, MD, MHS, assistant professor, Infectious Diseases.
Since its establishment in 2011, the academy continues to provide individual faculty development needs, supplement on-going mentorship, and develop faculty in multiple career tracks.
Members of the academy join one of four branches. Each branch is facilitated by a branch chair and several other senior faculty coaches with a strong mentoring and career development track record. 
Congratulations to new FDA members listed by branch below. 
Basic/Translational Science Research Branch
Brian Andonian, Rheumatology and Immunology
Xiaohan Lu, Nephrology
Clinical/Health Services Research Branch
Eziafa Oduah, Medical Oncology
Hannah McManus, Medical Oncology
Jashalynn German, Endocrinology, Metabolism, and Nutrition
Jie Wang, Hematologic Malignancies and Cellular Therapy
Laura Alder, Medical Oncology
Molly Hillenbrand, Infectious Diseases
Senthil Selvaraj, Cardiology
Sofia Zavala Monzon, Infectious Diseases 
Education/Scholars Branch
Talisha Ramchal, Gastroenterology
Clinician-Teacher Branch
Collin Burks, Geriatrics
Kennedy Wolfe, General Internal Medicine
Taylor Broome, General Internal Medicine