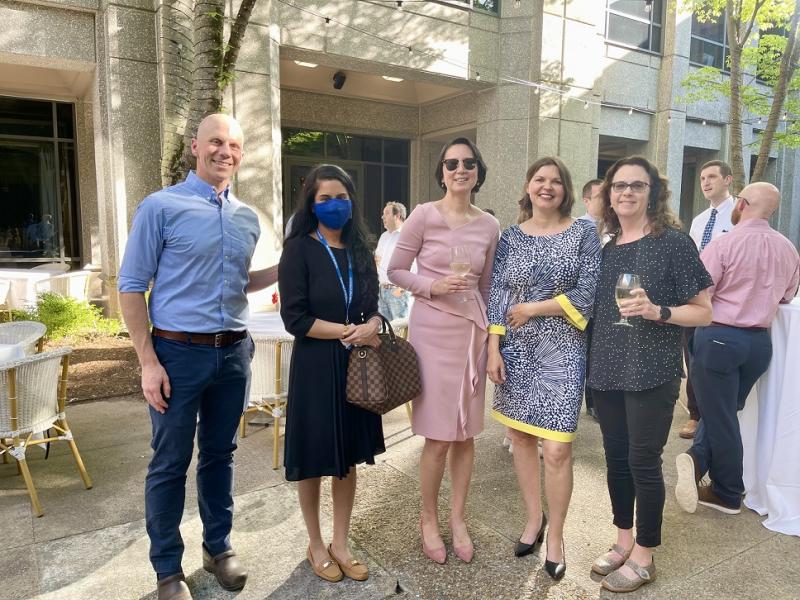 By Liz Switzer
As the Department of Medicine (DOM) Fellow Research Academy (FRA) wraps up its inaugural year, participants say they are coming away better positioned as competitive candidates for research awards and with a sense of camaraderie that is fostered by a departmental culture of career development.
About 30 fellows from all across the DOM's different divisions—a heterogeneous group with varying levels of clinical and research training—are participating in the FRA, which offers a curriculum tailored to aspiring researchers.
The program's four components are grant development, career development, one-on-one mentoring, and networking. Career development sessions cover topics like writing as a skill set, responsibly conducting research, how to be inclusive and diverse in research approaches, and negotiating work-life balance, faculty jobs, and lab space.
The FRA is supported by DOM's Research Development Council (RDC), which focuses on fostering the department's research agenda. The RDC is spearheaded by Matt Crowley, MD, associate director for Research Development (Clinical Sciences) and associate professor of medicine (Endocrinology, Metabolism, and Nutrition), and Xunrong Luo, MD, PhD, associate director of the Physician-Scientist Training Program in the DOM and professor of medicine (Nephrology).
Grant writing is a fundamental skill for becoming a successful academic investigator since grants are used to support salaries, laboratory supplies and equipment for researchers.  Peer-reviewed funding also helps fellows secure independent faculty positions. The DOM's FRA is one tool that will feed that pipeline, and feedback from the program's first year has been very positive.
"Starting as a new researcher can feel really intimidating. I believe that our research fellows appreciate being seen on this journey from fellowship to independent research. The tailored support that the FRA offers will make a big difference for our fellows' prospects," says Crowley.  "I think it really fills a need."
Bringing fellows together from different divisions has also cultivated a shared sense of departmental citizenship for the fellows along with an informal sense of building valued connections across the DOM's divisions, Crowley adds.  
A Home for Fellows
"The goal of this program is really for research-oriented fellows in the department of medicine to have a place to go," says Luo. "Part of the value of a program like this is not necessarily the structured lectures, but the feeling of having a home, a group where they feel they belong. The second (goal) is to learn very specific skills that are important for their career development."
Third year fellow Isaac Smith, MD (General Internal Medicine) agrees. "Sometimes, especially during COVID since we're working from home, it's easy to feel isolated in your own little research bubble," he says. "And things sometimes aren't going as well as you hoped in your research, so hearing from other people that are going through the same things has been a really good source of support."
 Anika Lucas, MD, MTS (Nephrology), a fourth-year fellow who will be joining the Duke faculty in July, has also found the FRA to be beneficial to her development as an early career investigator.
"The longitudinal curriculum on grantsmanship demystifies the process of obtaining a K-grant, and small group sessions provide additional mentoring by group leaders and peers. As a result of this experience, I was able to meet colleagues in other division who share similar clinical and research interests," she says. "The strength of the FRA lies in the didactics and mentorship and networking opportunities it affords. I am truly grateful that this program was started prior to completing my fellowship program."
Building on the Basics
The priority for first year FRA participants is learning how to write grants in preparation of that core responsibility for career researchers. Irina Mokrova, PhD, director of the DOM Office of Research, designed a grant writing workshop curriculum for the program with 10 monthly lectures that sequentially build from the starting point of finding a funding agency, to selecting the type of grant that might be sought, to going through the motion of learning how to write each grant section.
One of the biggest challenges for physician researchers is that they are expected to be able to write and secure grants, but they have limited skills in these areas. "This whole enterprise is about the need to prepare junior scientists for grant writing a whole lot earlier than it's typically done," Mokrova says. "The sooner and the more exposure to grant writing they have and the more grant writing they do early on, realistically speaking it can make or break somebody's research career."
Smith has used his FRA experience to focus on a career development award that he plans to submit as a junior Duke faculty member. "The second and third years, I think it's really important to have that grant and a project in mind already so you can really benefit the most from the course," he says. "Getting feedback on our work in those small groups was some of the best learning that I did."
Future Faculty
Fellow Aaron Vose, MD, (Pulmonary, Allergy, and Critical Care Medicine) will also join the Duke faculty this summer. As a senior fellow, he has been one of those valuable mentors for junior FRA fellows, Luo points out.
Vose's research interests are investigating the role of diseases like diabetes and metabolic syndrome on the lungs ability to appropriately respond to injury and recover from injury, but one of the best FRA experiences he has had this year is gaining feedback and a fresh perspective on his projects from mentors outside of his specialty.
Since Vose is near completion of his training, looking back he wishes the FRA had been available to him earlier on. "For folks starting out it has a lot of potential and benefit because, in the larger group formats, there's a lot of time spent talking about identifying mentors, finding ways to integrate yourself into the research environment of your division, ways to sort of understand your place, and help you realize if this is really what you want to do for your career," he says.
Vose adds that he believes the FRA benefits the DOM in terms of recruitment. "It's been really great for the Department of Medicine to really invest in fellows who are interested in research because that's really important to the field of medicine as a whole," he says, "and for folks coming to Duke, it's important to understand that Department is really looking to invest in people with those interests."
Photo: FRA leadership team and fellows close out the first year of the program on Monday night with an in-person celebration in Durham. From left to right are Matthew Crowley, MD, MHS, Saini Pillai, MBA, Xunrong Luo, MD, PhD, Irina Mokrova, PhD and Maren Olsen, PhD.