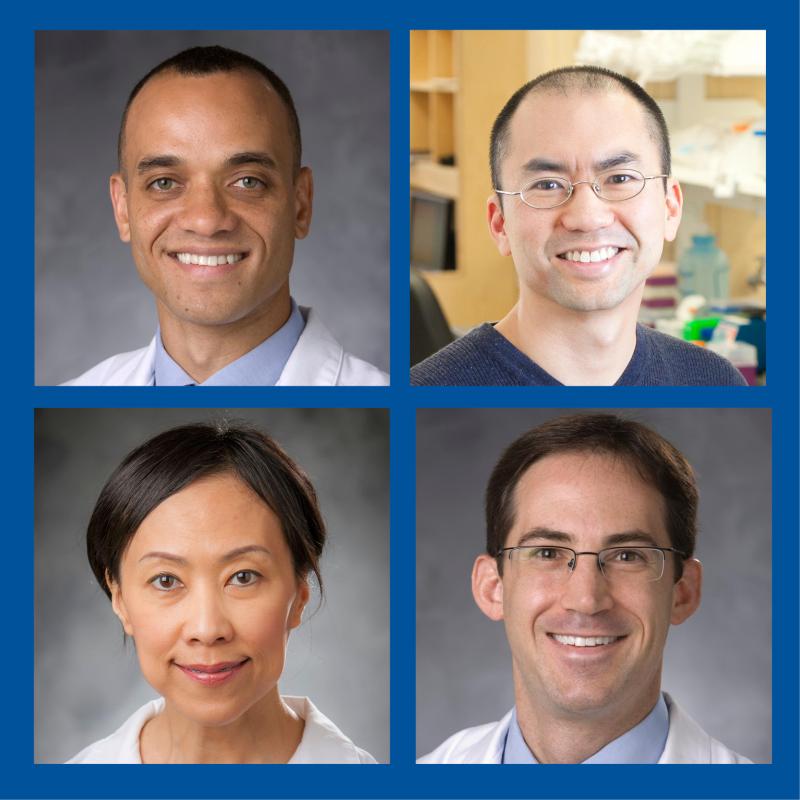 Four Department of Medicine faculty members have been elected members of the American Society of Clinical Investigators (ASCI).
Gerald Bloomfield, MD, MPH, associate professor in the division of Cardiology, Dennis Ko, MD, PhD, associate professor of Medicine, Thuy Le, MD, D.Phil, associate professor in the division of Infectious Diseases, and Jonathan Paul Piccini, MD, MHS, professor in the division of Cardiology, are among the 100 members elected for 2023.
Dr. Gerald Bloomfield leads a longstanding research and capacity-building program on cardiovascular global health, which includes work in under-resourced communities in the U.S. and a number of low-and middle-income countries.
He is most widely known for two important areas of cardiovascular research: heart failure in sub-Saharan Africa and HIV-associated cardiovascular disease. Dr. Bloomfield's seminal work highlighted an under-appreciated burden of subclinical atherosclerosis contributing to heart failure in Kenya and his scientific contributions have shifted thinking in global health.
"Election to ASCI is an honor that I attribute to the countless mentors, collaborators and students who have supported, critiqued and shaped my research over the years," he said. "Recognition of the critical role of global cardiovascular health research by the ASCI is powerful and meaningful to the numerous individuals around the globe engaged in this work."
Dr. Dennis Ko is a pioneer and leader in human genetics of host-pathogen interactions. His research addresses the critical mechanistic gap in understanding how genetic diversity contributes to disease risk and severity. Although genome-wide association studies (GWAS) have become ubiquitous, approaches to link associations from disease to cellular functions had been lacking. His ground-breaking Hi-HOST cellular GWAS approach represents a major contribution and advance to broadly understanding a wide scope of human genetic variation.
Dr. Ko has gone on to publish Hi-HOST screens of 8 different pathogens, 79 cellular traits, and >10 million SNPs, representing an unprecedented opportunity to understand how human genetics impacts host-pathogen interactions and disease.  
Dr. Thuy Le is the world expert in talaromycosis - a severe fungal infection endemic in Southeast Asia that kills one in three afflicted individuals, but diagnosis and treatment remain primitive. Dr. Le leads a multi-national team that has developed several novel non-culture diagnostics to enable early diagnosis.  She led the first-ever treatment trial that has defined treatment guidelines for talaromycosis in the US and internationally. Her experience in the translation of knowledge and technologies into disease management and prevention have placed her at the forefront on international leadership in the medical mycology and HIV fields.
"I am humble by the selection into this century-old society of physician scientists who through impactful biomedical research and clinical investigations have transformed medicine. This honor only serves to remind me to focus on the end game, which is to make a real impact on the lives of people affected by talaromycosis."
Dr. Jonathan Paul Piccini is a clinical cardiac electrophysiologist and Director of the Cardiac Electrophysiology section at the Duke Heart Center. His focus is on the care of patients with atrial fibrillation and complex arrhythmias, with particular emphasis on catheter ablation, left atrial appendage occlusion, and lead extraction. Dr. Piccini's research interests include the conduct of clinical trials and the assessment of innovative cardiovascular therapeutics for the care of patients with heart rhythm disorders.
He has served as the chairman for several national and international clinical trials and registries, including the American Heart Association-Get with the Guidelines Atrial Fibrillation quality improvement registry. He is an associate editor for the American Heart Journal and serves on the editorial board of several journals, including Heart Rhythm, the European Heart Journal, JACC: Clinical Electrophysiology, Circulation: Arrhythmia & Electrophysiology and the Journal of Cardiac Electrophysiology. Dr. Piccini has more than 450 publications in the field of heart rhythm medicine and has been the recipient of several teaching and mentorship awards. 
---
ASCI is an honor society of physician-scientists. Founded in 1908, the Society is home to over 3,000 members active across academic medicine and industry. The new members come from 49 different institutions and represent excellence across the breadth of academic medicine.
They will be officially inducted into the Society at the ASCI Dinner and New Member Induction Ceremony, April 21, 2023, as part of the AAP/ASCI/APSA Joint Meeting, April 21–23, at the Swissotel Chicago.
See all Department of Medicine faculty members elected into the American Society for Clinical Investigation (ASCI)