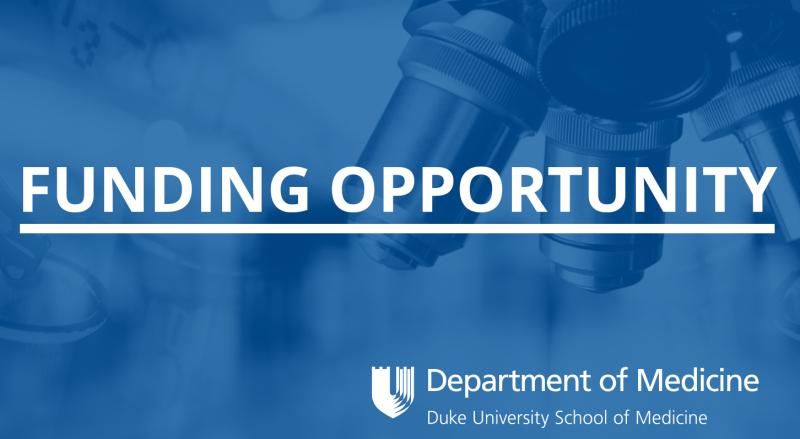 Training the next generation of biomedical researchers is an important core mission of the Department of Medicine. We admit the most promising, dedicated fellows into our programs, and provide experiences that will allow them to put their passion for medicine to work. These fellows will be tomorrow's leaders in science and medicine. The Mario Family Foundation has generously supported this mission to support junior investigators in training to make the transition to become independent scientists and planning for their first extra-mural funding.

The Department of Medicine is accepting applications from fellows in specialty training for the Mario Family Foundation Award, which funds two patient-oriented research (clinical or translational) proposals for one year of funding. The total funding for all proposal expenses is $35,000.

Applications must be submitted electronically no later than Monday, May 1, 2023, 5 p.m. 

Applications will be peer reviewed by a panel of senior scientists from the Department of Medicine. Proposals will be judged on scientific-merit, rigor, and quality of project. Our intent is to complete reviews and start funding by July 1, 2023.

Additional details and application information can be found on the Mario Family Foundation Award webpage. For project-related questions, please contact Saini Pillai, MBA, Senior Program Coordinator, Chair's Office.
Scott M. Palmer, MD, MHS
Donald F. Fortin, MD, Distinguished Professor of Medicine
Vice Chair for Research, Department of Medicine
Director Medicine Plus, Duke Clinical Research Institute
 
Manesh R. Patel, MD
Richard S. Stack Distinguished Professor
Chief, Division of Cardiology
Co-Director Duke Heart Center
Duke Clinical Research Institute
 
Christopher L. Holley, MD, PhD
Associate Professor of Medicine
Assistant Research Professor of Molecular Genetics and Microbiology
Chair – Basic, Internal Grants Program, Research Development Council, Department of Medicine
 
Christina M. Wyatt, MD, MSc
Associate Professor of Medicine
Chair – Clinical, Internal Grants Program, Research Development Council, Department of Medicine