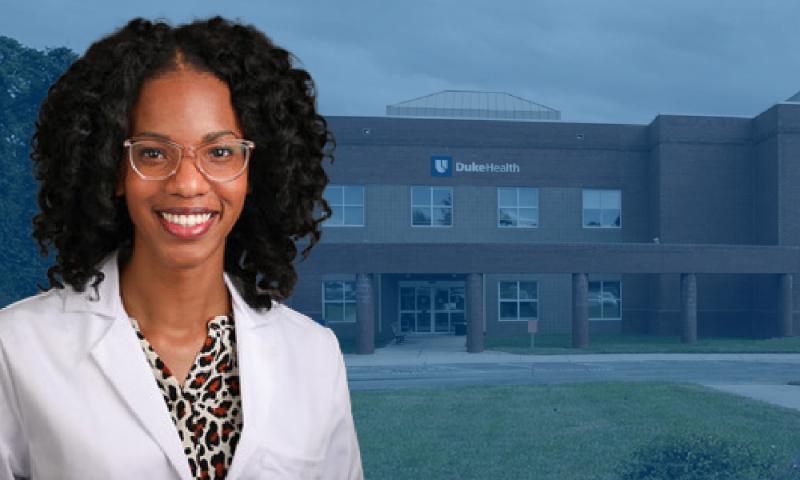 Ceshae Harding, MD, Medical Instructor in the Division of General Internal Medicine, is accepting new patients for her new Women's Primary Care (WPC) Clinic at the Duke Outpatient Clinic for in-person and telehealth visits.

The clinic specializes in providing comprehensive care for women of childbearing age (18 to 50 years of age) with chronic medical conditions such as hypertension, diabetes, chronic kidney disease, and autoimmune disorders. With a goal to optimize health prior to pregnancy, as well as provide long term postpartum follow-up care, the clinic will also serve women who had conditions such as preeclampsia, gestational hypertension, or gestational diabetes that increase their risk for cardiovascular disease.
"As the prevalence of chronic disease increases in women of childbearing age, there is a need for primary care in this population that also fosters reproductive health," shared Dr. Harding. "Without consistent primary care, we are increasingly seeing conditions like chronic hypertension and diabetes being diagnosed during pregnancy, which is many women's first sustained encounter with the healthcare system. We also have this opportunity during the postpartum period to promote primary care engagement among women who had conditions during pregnancy that place them at elevated risk for cardiovascular disease and thus, require risk factor modification and chronic disease surveillance."
This clinic was established to meet the unique primary care needs of reproductive aged women with chronic medical conditions while also providing general primary care to otherwise healthy women of childbearing age. Appointments are available Friday mornings starting August 26, 2022. To make an appointment, click here. 
Ceshae Harding, MD, is a medical instructor in the Division of General Internal Medicine of Duke's Department of Medicine and postdoctoral fellow in the National Clinician Scholars Program. She is a recent graduate of the Duke Internal Medicine Residency Program and is currently pursuing a health services research career. Her mission is to advance comprehensive care for women of childbearing age through clinical care, research, and advocacy.