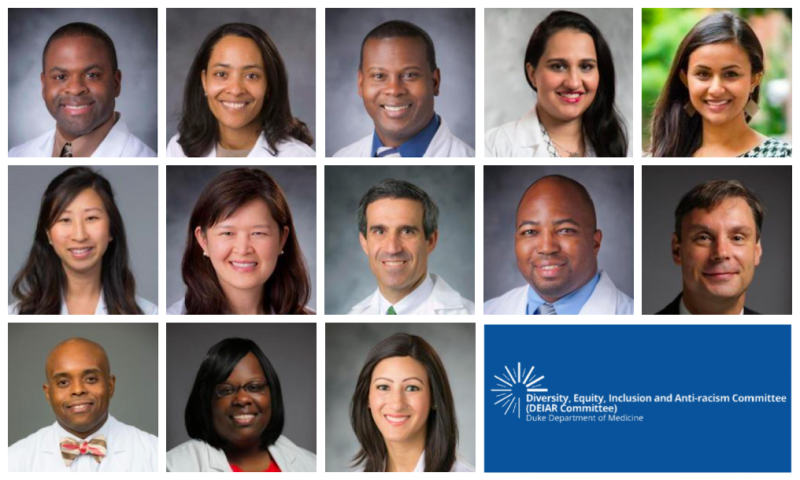 The Diversity, Equity, Inclusion, and Anti-Racism Committee (DEIAR) announced the individuals selected to become the inaugural Vice Chiefs for Diversity, Equity, and Inclusion (VCDEI) for each division within the department of medicine. These individuals are all wonderful thoughtful leaders who have shown a commitment to improving DEI within the department.

As the VCDEI, they will partner with the division chief and the DEIAR committee to create an infrastructure for DEI within each division. The VCDEI will serve as members of the DEIAR Committee, act as a liaison between DEIAR Committee and their respective division, and contribute to a DEI agenda focused on culture, recruitment, retention, education, and training within their division. All VCDEIs will become Civility Champions as well as undergo Stepping-In for Respect training as well. 
 
We look forward to working with these new VCDEIs to continue implementing positive and sustainable change around DEI within the department of medicine. 
| Vice Chief  | Division |
| --- | --- |
| Larry R. Jackson II | Cardiology |
| Bryan Batch | Endocrinology, Metabolism, and Nutrition |
| Julius Wilder | Gastroenterology |
| Fatima Syed | General Internal Medicine |
| Sonya Patel-Nguyen | GIM/Hospital Medicine |
| Yoon Hie Kim | Geriatrics |
| Phuong Doan | Hematologic Malignancies and Cellular Therapy |
| John Strouse | Hematology |
| Lance Okeke | Infectious Diseases |
| Daniel George | Medical Oncology |
| Gentzon Hall | Nephrology |
| Isaretta Riley | Pulmonary, Allergy, and Critical Care Medicine |
| Sophia Weinmann | Rheumatology and Immunology |