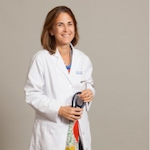 From the Director
Big week this week! We have the Intern Retreat on Thursday, the ITE continues and our SARs are racking up in the interviews! Plus the students are starting their clerkships! Dr. Butterly and I have met with almost all of the interns and it will be starting to be time for JARs and SARs to check in with their advisors for their fall check in meetings. Please always reach out to us with any questions or concerns.
Countdown to the Stead Tread continues as well! We are excited to have the BEST YEAR EVER and hope to see you there, whether you are running, walking or cheering people on.
Congratulations to VA CRQS Alum Fam Michael and Allison Burt on the birth of Lilliana! All are doing well.
Kudos
Kudos also this week to Shivy Chandramouli on an outstanding Cohen Conference, to Amanda Broderick, Omar Martinez-Uribe and Megan Barrett (with guest expert former Chief Dr. Steph Garbarino) on a fantastic LEADs, to Haley Bush, Yemi Olubowale, Joseph Goddu and Alejandro de la Torre from Bari Rosenberg for their outstanding work on 9100, to Damarcus Ingram and Vivian Lei for their hard work getting a patient the appropriate care (from Emory Buck), to Isabelle Byers from Katie Smith for helping out at the DOC, to Hannah Schwennesen from Jackie Kercheval for her expert management of a very sick patient, to Audrey Zhang from Nijat Aliyev for being an awesome DOC Lead, and to Joshua Mercer from Sarah Morgan and Zach Lorsch for his incredibly patient-centered care at the VA!
Pubmed from the Program
This week's pubmed from the program goes to Shannon Herndon for her poster accepted at the upcoming American College of Rheumatology meeting
"Facilitators of Immunosuppressive Medication Adherence in Systemic Lupus Erythematosus: A Qualitative Study of Racial Minority Patients, Lupus Providers and Clinic Staff"
Have a great week!

Aimee