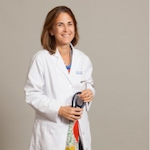 From the Director
NEW INTERNS ARE HERE! Super excited to have our newest DukeFam make it thru GME orientation without any hiccups and here for IM Res Orientation and our welcome event! The new interns have shadow time as well as more orientation on Monday and Tuesday and then first day on the wards/clinics is Wednesday!  Congrats as well to our SARs as well as the rising JARs and rising SARs – ready to lead this place!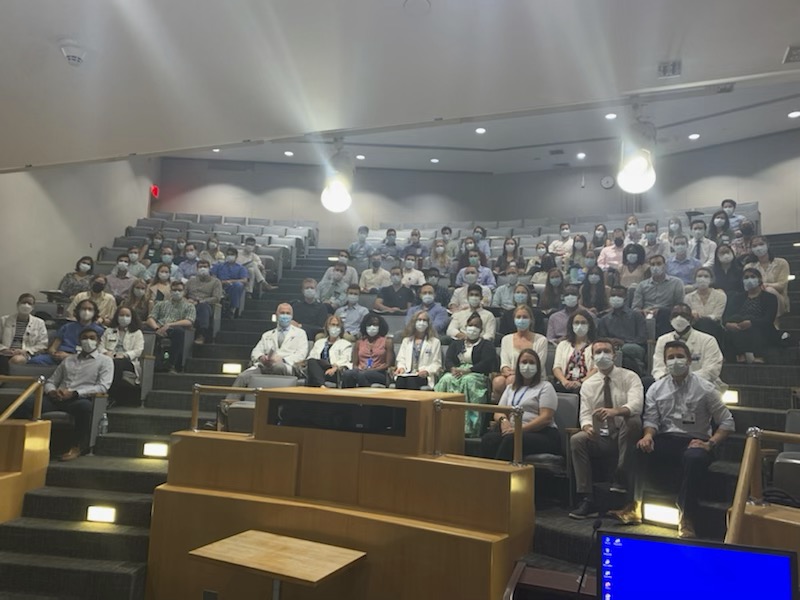 Congratulations to Sara and Mike Moserowitz on the birth of Eli! All are doing great!
Kudos
Kudos this week to Mae Hamilton, Matt Pisarcik, Ben Berger, Daniel Travis and Lauren Pinion for leading intern bootcamp, to Forrest Gamble from NIjat Aliyev for procedure teaching, to Chris Luccarelli, Katie Smith and Neesha Nama for being awesome on gen med 1 this past weekend, to Courtney Dominguez from Kristen Corey and Harsh Patolia for being a total boss in the VA MICU, to Ryan Duffy from Nijat Aliyev for great advice during a call day at DRH, to Nijat Aliyev and Sachi Oshima from Dan Weinberg for covering him so he could attend an important life event!
Pubmed from the Program
This week's pubmed from the program goes to Kristen Corey for her paper in Anesthesiology!
Suppression of Fibrinolysis and Hypercoagulability, Severity of Hypoxemia and Mortality in COVID-19 Patients: A Retrospective Cohort Study. Corey KM, Olson LA, Naqvi IA, et al.  Anesthesiology July 2022 Vol 137. 67-78.
LET'S GOOOOO!!!
Aimee
Contributed by Dani Zipkin, MD
Ambulatory Threads 2021-2022
Welcome interns and welcome to the next year of training for the whole team! The program is continuing to offer the Ambulatory Threads scheduling platform for interns and JARs this year. What this means is, each six months you have a template with combined sub-specialties plus continuity clinic, and in the sub-specialties you will also return to the same faculty clinic across the +2 blocks, to have some continuity there as well. There are four threads total, so that by the end of the program you will have experienced EVERY subspecialty in a continuity way in the ambulatory setting. As you may imagine, it's a lot of moving parts. Your faculty are notified ahead of time that you are coming and many plan their schedule around you! If you're scheduled for a clinic, we expect you to be there – notify a chief any time you run into issues and can't get there.
Morning Report
The morning report series is continuing this year as the primary space for general internal medicine teaching. There are faculty from all over the health system coming to give case-based talks on their specialty areas. The curriculum is designed as a 12-month cohesive approach to primary care topics based on ABIM boards expectations. It takes place Tu/W/Th at 7:15 and will remain on Zoom – it's the only curriculum staying virtual, as many scatter to different ambulatory locations after the session.
You are a primary care doctor!
From day one, you all have an assigned clinic site and a panel of patients who know your name, rolled over from the graduated senior. We will review these guidelines during orientation and during the year, but we want you to know we've created a system for managing messages that off-loads your clinic work when you're on busy inpatient rotations and opens you up to more messages on ambulatory. We call this system "Red-Yellow-Green". This looks different for the different clinics because of the computer systems and different needs. Here are the guidelines for what to expect on each rotation, by clinic: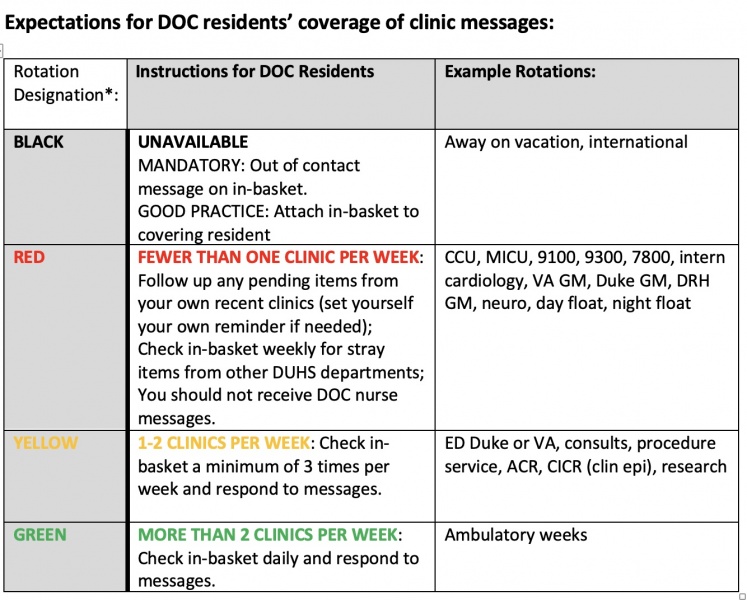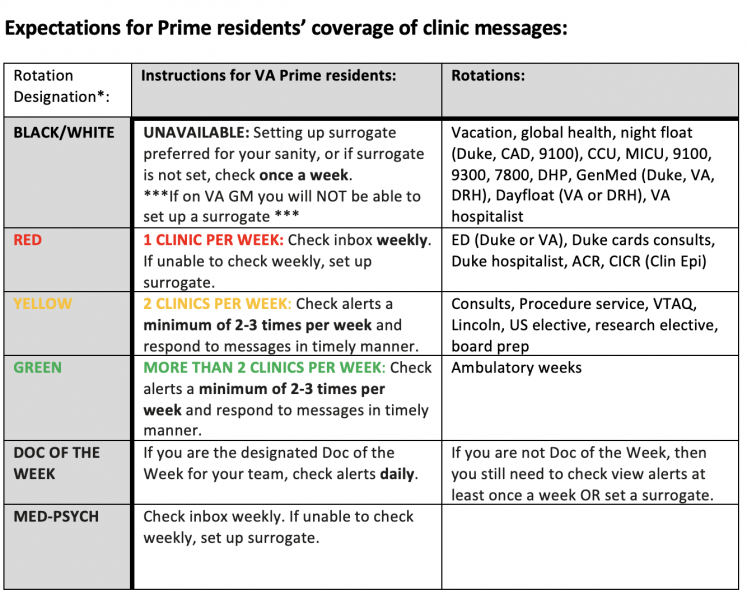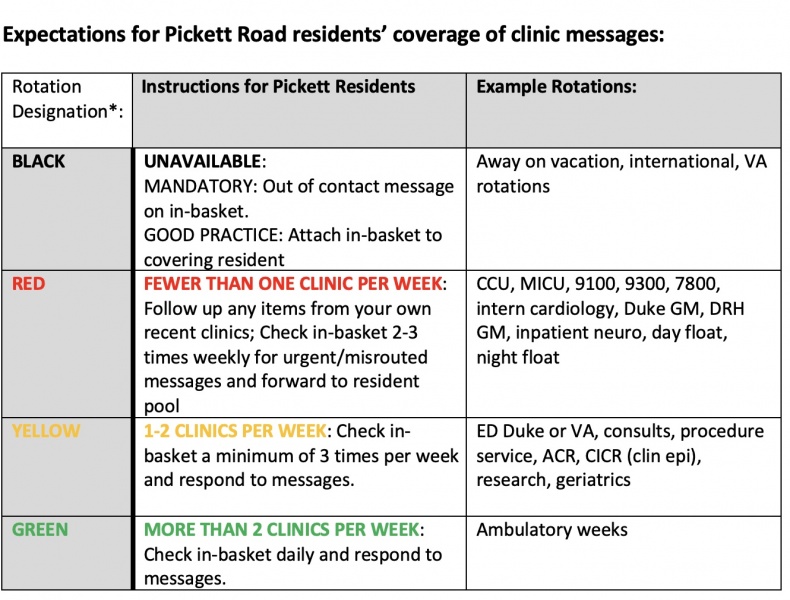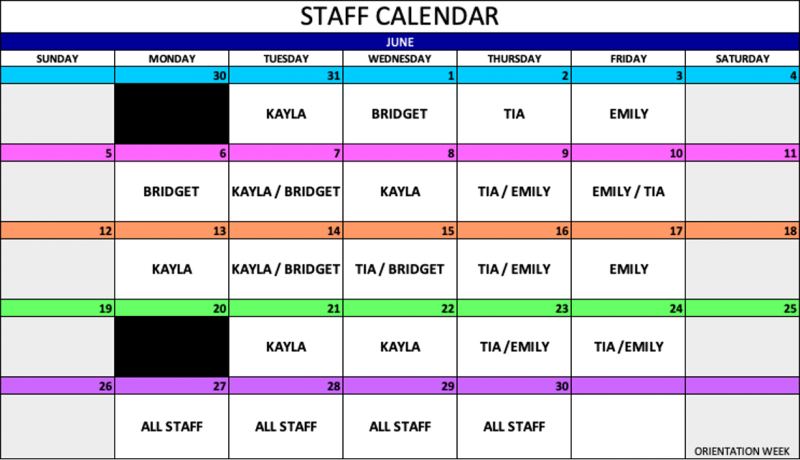 Morning Report: June 28-30, 2022 via Zoom

| Date | Topic | Lecturer | Time | Location |
| --- | --- | --- | --- | --- |
| 06/28/22 | Canceled | -- | 7:15 a.m. | Zoom |
| 06/29/22 | Intro to Ambulatory Medicine | The Chiefs | 7:15 a.m. | Zoom |
| 06/30/22 | Contraception | Dr. Clayton Alfonso | 7:15 a.m. | Zoom |
Academic Half Day: July 1, 2022
 
Thread
Topic
Lecturer
Time
Location
Rheum/Renal/Endo/ID/GI/GIM
Canceled
--

9 a.m.

10:30 a.m.

VA Surgery Conference Room C5010

Card/Heme/Pulm/Onc

Canceled
--

9 a.m.

10:30 a.m.

VA Medicine Conference Room B8017
Noon Conference: June 27-July 1, 2022

Date
Inpatient Topic on Zoom
Lecturer
Time
Location
Lunch
06/27/22
Fun Lunch
--
12 p.m.

DUH 2002
& Zoom

Saladelia 
06/28/22
Tom Holland Lecture

Dr. Carter Devlin

Dr. Aubrie Carroll 

12 p.m.

Zoom

Cosmic Cantina 

06/29/22

Life Long Learning 

Dr. Aimee Zaas

12 p.m.

DUH 2002
& Zoom

Chick-fil-A
06/30/22

Chief Welcome

The Chiefs

12 p.m.

DUH 2002
& Zoom

Piper's in the Park 
07/01/22
Resco Welcome

--

12 p.m.

DUH 2002
& Zoom

Namu
Report Conference Schedule: June 27-29 , 2022
Date
Topic
Lecturer
Time
06/27/22

VA JAR CAT

MS2 Report - held in 8262

Dr. Townsend w/ Dr. Simel

Teaching w/ ACR

11 a.m.
 

2:30 p.m.

06/28/22

VA JAR Case Report
 

VA Intern Case Report

Dr. Ahlers w/ Dr. Chirs Hostler

Dr. Nandita Singh w/ Dr. Blair Glasgo

11 a.m.
 

1:30 p.m.
 

06/29/22

VA JAR CAT 

Dr. Cheney w/ Dr. Matt Sparks

11 a.m.
 

 
 
 
 
Our Wellbeing
The Department of Medicine is keeping an updated list of wellbeing resources during this extraordinary time. Click here for more information.
Employee Health has Expanded Hours!
Based on feedback from team members who are seeking COVID testing so they can safely return to work with EOHW approval, the COVID hotline has expanded hours for employees: 5:30 a.m. - 6:00 p.m. 7 days per week. 
Feeling down? Need to talk to someone? Opportunities for Wellness
All trainees at Duke have FREE access to Personal Assistance Services (PAS), which is the faculty/employee assistance program of Duke University. The staff of licensed professionals offer confidential assessment, short-term counseling, and referrals to help resolve a range of personal, work, and family problems. PAS services are available free of charge to Duke faculty and staff, and their immediate family members. An appointment to meet with a PAS counselor may be arranged by calling the PAS office at 919-416-1PAS (919-416-1727), Monday through Friday between 8:00 A.M. and 5:00 P.M. For assistance after hours, residents and fellows can call the Blood and Body Fluid Hotline (115 inside DUH, 919-684-1115 outside) for referral to behavioral health resources. Another resource is Duke Outpatient Psychiatry Referrals at (919) 684-0100 or 1-888-ASK-DUKE. https://www.hr.duke.edu/pas/