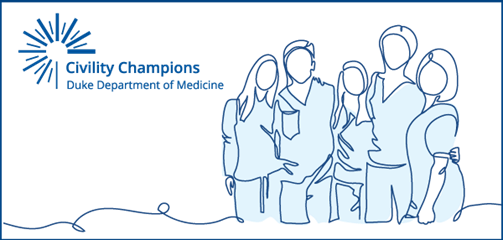 If you are a member of the Department of Medicine Faculty or GME trainee and are interested in becoming a Civility Champion, we would love to have you train in our upcoming sessions!  In our overarching mission to improve the culture, we find that more Champions facilitate a better environment!

Training involves 6 hours of in-person, interactive learning about principles of restorative justice and nonviolent communication, led by Ada Gregory.  Once trained, Civility Champions are requested to attend quarterly debriefs and model and implement a civil approach to healthcare workplace interactions.  More information about the program and who is involved can be found at this link.

Our next set of training will take place at the Searle Center on either:
• Tuesday, April 18, and Tuesday, April 25 from 7-10 a.m.
 - or -
• Thursday, April 20, and Thursday, April 27 from 2-5 p.m.

If you can set aside the time for training, we'd love to have you!  If you are interested in participating, please email jane.gagliardi@duke.edu and kimberly.dorman@duke.edu.