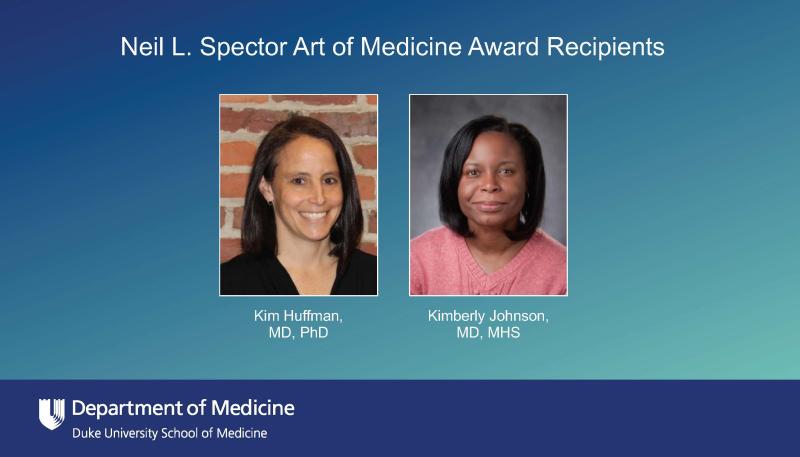 The Department of Medicine is pleased to announce the recipients of the first annual Neil L. Spector Art of Medicine Award, which recognizes exemplary mentorship practices in clinical and translational research.
This award is presented annually to a faculty member in the Department of Medicine who demonstrates respect for trainees and junior faculty members and who holistically approaches mentorship to guide trainees to attain their diverse research goals. 
2021 Neil L. Spector Art of Medicine Award Recipients:
Senior Mentor Award Recipient
Kimberly Johnson, MD, MHS, professor of medicine (Geriatrics)
"Dr. Johnson's unique ability to see all levels of influence and all angles of the research dilemma make her the type of mentor you want to be around all the time, absorbing wisdom and trying, however impossible, to emulate her ability to orchestrate, interpret, and lead. These unique skills make her a truly miraculous mentor The downstream effect of her mentorship will be felt for generations of researchers to come through Duke and beyond."
Junior Mentor Award Recipient
Kim Huffman, MD, PhD, associate professor of medicine (Rheumatology and Immunology)
"Kim embodies all of the characteristics of an exceptional mentor. She is singularly focused on helping her mentees identify their research passion and connecting them with the collaborators and resources they need to achieve success. She has an astute scientific mind and through her mentorship is able to develop that skill in her mentees. And on top of that, she is a wonderful person who genuinely cares about her mentees and other team members."
The award was established after the passing of Dr. Neil Spector in 2020 to recognize exemplary mentorship practices in clinical and translational research. Recipients of the award demonstrate qualities well represented by Dr. Spector in his interactions with his patients, colleagues, and trainees:  integrity, compassion, altruism, respect, and empathy.
Join us for a special Medicine Grand Rounds on Fri., May 28 at 12 p.m. where the recipients will highlight their mentorship best practices and attendees will hear from their respective mentees.
About Dr. Spector
Neil L. Spector, MD, was a nationally recognized physician-scientist, translational research leader, and oncology mentor. He was the Sandra Coates Associate Professor in the Department of Medicine, an associate professor of pharmacology and cancer biology, and at Duke Cancer Institute, associate director for translational research, director of the Developmental Therapeutics Program, and associate codirector of clinical research with the breast cancer disease group. He led two molecularly targeted therapies to FDA approval, one for the treatment of pediatric T-cell acute lymphoblastic leukemia and another for the treatment of HER2 overexpressing breast cancers.
Spector served as an attending physician and supervised medical oncology fellows at the Durham Veteran Affairs Healthcare System. In 2016, he was appointed as the inaugural director of the National Precision Oncology Program at the Veterans Health Administration in the U.S. Department of Veterans Affairs, as part of the Cancer Moonshot initiative that launched that year.
In 2015, Spector published Gone in a Heartbeat: A Physician's Search for True Healing, which chronicles his courageous battle with Lyme disease. He was undiagnosed and untreated for years, and ultimately the disease damaged his heart. In 2009, he received a heart transplant at Duke. He became a tireless advocate for Lyme disease research and awareness. His research on the tick-borne parasite Borrelia burgdorferi and the bacteria Bartonella, which have been linked to Lyme disease in humans, had recently expanded into investigating a possible overlap between these pathogens and cancer.
Neil Spector passed away in 2020, due to a clinically aggressive post-transplant lymphoproliferative disorder.