The 2018-2019 chief resident for internal medicine at Duke Regional Hospital and for Ambulatory Medicine is Norman "Winn" Seay, MD. Dr. Seay is responsible for the ambulatory medicine rotations for the Duke Internal Medicine Residency Program. Seay is a graduate of Duke University and received his MD at Harvard Medical School. Going into his chief resident year he plans to be a role model, helping to facilitate the professional development of others. Seay will return to his fellowship in the Division of Nephrology after his chief resident year.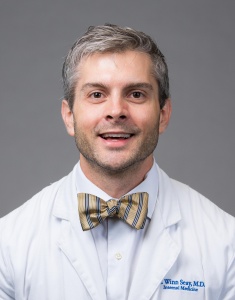 How did you end up at Duke?
I attended Duke for undergrad and loved it here during my four years, but I didn't necessarily intend to come back as I headed to Boston for medical school. That being said, I came here to interview for residency, four years later, and was blown away. I was honestly at a loss for words! The interview day was so well-polished, and Durham had changed dramatically. It was hard not to come back.
What do you like to do for fun?
My wife, Theresa—a cardiothoracic anesthesia fellow—and I are big foodies, and when we both have weekends off we love to explore Hillsborough, Durham, Chapel Hill, and the Raleigh area for different foods. Aside from trying and exploring new restaurants, we have delved into the local music scene.
Did you always want to go into medicine?
I think I knew ever since the seventh or eighth grade when I looked up at a poster of the anatomy of the human heart—I was instantly hooked!
My uncle, whom I hold in high regard, is a cardiologist as well, so going into medical school and residency I was really leaning towards cardiology. The further I got along in my training, however, the more I developed a love affair with kidneys, which ultimately won out!
Do you remember a key teaching moment from your training that helped you become a better doctor?
Honestly, in observing the difficult discussions that are had with patients and their families especially when bad events happen, I really saw how my senior residents or attending handled the situation and facilitated the discussion in such a mature manner. I think those events were huge professional moments for me in learning how to take things a step further from just synthesizing and organizing medical knowledge to practicing the human aspects of being a physician.
Can you share a fun or meaningful moment from your training that illustrates #DukeFamily?
Gosh, there are so many! You know, the most obvious example is Dr. Aimee Zaas and how incredible of a program director she is. There have been occasions as a resident where something bad has happened in our program or even in my wife's program, and within 24 hours [and sometimes late in the evening], Dr. Zaas checked in by phone or email to make sure that we were okay. She is so incredibly vested. And my former co-residents! Whenever someone was sick or needed coverage for an interview my fellow residents immediately stepped up to help out.
What is your approach to leading and working with residents?
I think it's important to remember what it was like being a resident and just the everyday challenges of residency. It is important to not lose that empathy and to let that inform every discussion I go into with a resident. Taking a step back and seeing the bigger picture, being fair and consistent across the board. I think balancing those two qualities is important.
What are your main responsibilities as chief resident?
My main responsibilities are facilitating the professional development of the residents, allowing them to grow, shine and pursue their career paths. I am learning more and more that it's about having a good feel for when people might need additional support—not to mention all the administrative duties! I will be navigating Duke Regional Hospital, DOC, and the other ambulatory clinics, so it is important to understand the different systems and key players while being a liaison between the administrative entities and residents.
What do you hope to accomplish this year?
I want to figure out how to make each and every resident shine in their moment and enable them to be the best resident they can be. Secondarily, I'm trying to figure out how this year fits in my own grand scheme and career path.
Do you plan to do anything differently this year?
This year the program is moving to a thread system for ambulatory rotations. Before we didn't necessarily have an even mix of sub-specialty clinic exposure. Now we are creating these threads of different specialties intertwined within blocks. I think one of my big roles is going to be trying to sort out any kinks and trying to figure out how to implement all of the hard work that has already been invested in this new effort in the upcoming year.
What is your teaching style?
It is important to have a framework in terms of how you approach a problem or a particular topic, ideally grounded in human physiology and pathophysiology. I love the classic interactive chalk talk. At the chief resident conference we attended in March, one of the seminars was on other formats of teaching that might be exciting to apply this upcoming year. For example, during our ambulatory morning report, we have a case conference that usually [albeit ironically] involves an interesting but often rare and esoteric disease—the so-called "zebra." I realized in attending the seminar that there are lots of learning opportunities that are missed if we focus solely on "the zebra." For example, maybe earlier in the course of the case the zebra was mistaken for a more common illness (i.e. a horse). At that point in the case it might be worthwhile to pause and reflect upon the diagnosis and management of the horse. Truth be told, the real world of ambulatory medicine usually involves horses—not zebras.
What do you want to do after your chief resident year?
I want to stay in academic medicine. I think one of the things that I love about nephrology is how routed it is in medicine. I would love to be involved in both realms of practice. I'm interested in professional development and education. I'm still sorting out how clinical research fits in the picture!
Is there anything else about you that you'd like to share with Medicine faculty or residents?
I'm so grateful for being given this opportunity. With respect to the faulty in particular, I have been just so fortunate along the way—both in residency and fellowship—to have such wonderful program directors and assistant program directors and who have made this such a wonderful place to work, grow, and learn. We are #DukeFamily.
Written by NyAsia Harris, communications intern for the Department of Medicine.