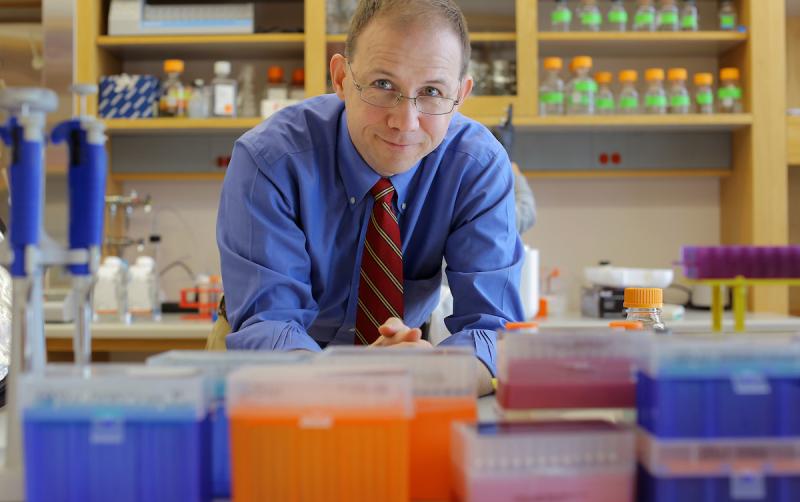 In 2016, the Duke School of Medicine selected 38 of its faculty for the new Duke Health Scholars and Duke Health Fellows Program. With funds from the Duke University Health System, the program supports the research efforts of early to mid-career clinician-scientists at Duke. Among the faculty honored are 14 individuals from the Department of Medicine, including Christopher Holley, MD, PhD, assistant professor of medicine (Cardiology) and Duke Health Fellow recipient.
---
Last year in Christopher Holley's lab, an uninstalled exhaust hood still wrapped in plastic suggested that the young investigator was just getting going.
Don't be deceived. Holley arrived a lab-bench veteran when he joined Duke's cardiology division faculty in 2015. But the physician-scientist is launching something very new: wide-reaching molecular studies into a new field of RNA biology with vast potential.
While a postdoctoral researcher at Washington University School of Medicine, Holley discovered that a subset of non-coding RNA — called small nucleolar RNAs —appear influential in regulating damaging oxidative stress in cells. That stress is a player in multiple serious illnesses in cardiology and beyond.
Part of an emerging field called epitranscriptomics, this research area might open new windows to understand cell biology and expose previously unknown targets for disease treatment.
"Chris is an exceptional physician-scientist who has the intellect, drive and technical courage to take on the most challenging of questions in biology of our time," says Michael D. Gunn, MD, chair for basic science for the Department of Medicine Research Development Council.
Joining Duke's faculty was a homecoming for Holley. He earned undergraduate, medical and PhD degrees here, a journey launched in 1991 when the South Carolina high school valedictorian arrived at a downtown Durham bus station and found his way to campus.
Holley grew up in Mt. Pleasant, SC. His father, an infectious diseases doctor at the Medical University of South Carolina, treated patients infected with HIV. His mother, an elementary school teacher, taught computer literacy and remedial reading and math.
His comfort in laboratories began early. A family friend at the medical school invited him during high school to help analyze chemicals in home dialysis solution to be sent home with patients who had no fridges or air conditioning. Holley assessed whether therapeutic components could remain stable for a week in the summer heat.
Inspired by botany professors while an undergrad, including former research vice provost Jim Siedow, PhD, Holley considered becoming a plant scientist. But after learning that Duke's Medical Scientist Training Program would allow him to mix medicine and research, he chose that. "I came to realize the best way to take what I was good at and was interested in and to be helpful was to be a physician and scientist," Holley says.
Holley tackled doctoral research in the lab of molecular biologist Sally Kornbluth, PhD, now Duke's provost who he calls "a fantastic mentor." Kornbluth taught him to meticulously probe the basic biology driving programmed cell death, a topic relevant in degenerative disorders and much more.
After medical school, Holley was drawn to medicine and cardiology at Washington University, serving as both chief resident and chief fellow. He learned to treat patients with heart failure and care for those put on mechanical circulatory support or who receive heart transplants, clinical work he continues at Duke.
Holley encountered the RNA puzzle in St. Louis, too, while a postdoctoral researcher. With experiments, he discovered that some small nucleolar RNAs, despite their name, were active in cell cytoplasm and that they appear to help regulate reactive oxygen species.
A clue to their potential clinical importance bloomed when he tested mice genetically altered to lack some snoRNAs. The altered animals did not get sick from lab-induced sepsis the way the unaltered animals did. "We found a real biological effect, not just in cells but in animals," Holley says.
Holley is well aware many more questions must be answered before it's certain that snoRNAs science could lead to new therapies — let's call them a new class of antioxidants — to treating heart failure or maybe many more illnesses.
To tackle them, he is researching how snoRNAs are active across cell types. The fact that snoRNAs have been conserved across species, including Drosophila, suggests they may be. He is also exploring whether they always produce changes in observable protein synthesis and cell physiology across cells.
"In my opinion, the proof of these concepts would be as significant a finding as the demonstration that gene expression is regulated by DNA methylation and would, in a similar manner, lead to a new area of study in gene regulation," says former Duke Medical School Dean Nancy Andrews, MD PhD.
For now Holley stresses, he faces more puzzles than solutions, with a lot more work to be done. "We're left with some very interesting biology," he says, "and a very incomplete picture."
The series of profiles of our Duke Health Scholars were written by Catherine Clabby, freelance science journalist. Photos are by Ted Richardson.