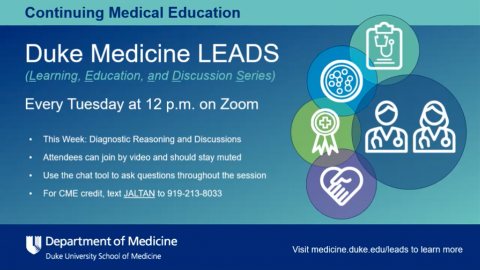 The February 8, 2022, session of Duke Medicine LEADS featured Bryan C. Batch, MD, MHS, Nia S. Mitchell, MD, MPH, Julius Wilder, MD presenting on "Perspectives on Health Disparities Research." 
Pearls
Research on health disparities and social determinants of health must engage community partners and engage appropriate stakeholders to ensure that the projects are relevant and that interventions are impactful and sustainable.
Future research must identify how to circumnavigate the barrier of trust as it pertains to participation of diverse communities in clinical trial research.

Trainees who are interested in research projects on health disparities should consider asking potential mentors if they have projects that involve existing data.

There are existing resources at Duke to support investigators who want formal training in disparities research methods and recruitment of minority populations.
Duke Medicine Learning, Education, and Discussion Series (LEADS) takes place each Tuesday at 12 p.m. Learn more and see schedule of upcoming sessions.