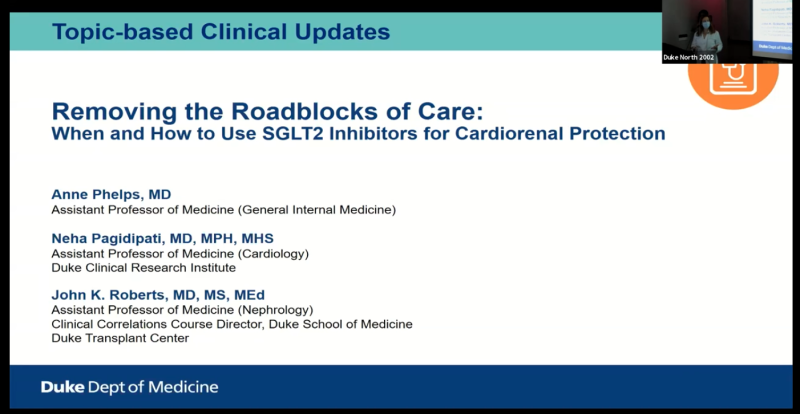 The August 24, 2021 session of Duke Medicine LEADS featured Anne Phelps, MD; Neha Pagidipati, MD, MPH, MHS; and John K. Roberts, MD, MS, MEd, presenting "Removing the Roadblocks of Care: When and How to Use SGLT2 Inhibitors for Cardiorenal Protection."
Here are pearls and takeaways from the session:
Use SGLT2-inhibitors (empagliflozin, dapagliflozin, canagloflozin, etc) in patients with heart failure with reduced ejection fraction (HFrEF) and/or chronic kidney disease with diabetes or with albuminuria (>200 mg/g). Promising data also suggest SGLTi should/can be used in HFpEF and in patients with baseline eGFR <30.  
After starting an SGLT2i, expect up to a 30% "eGFR dip".  This reflects that the medication is working and does not reflect kidney function loss.  There is usually no need for routine lab monitoring. 
SGLT2i have a synergistic effect with loop diuretics.  When adding an SGLT2i, diuretic adjustments usually do not have to be made.  There are no guidelines, so use your clinical judgement.  
SGLT2i have a low adverse event profile and there is greater harm in foregoing treatment with an SGLTi, even amongst the elderly.  They do not increase risk for hypoglycemic events, symptomatic hypotension (on average lowers SBP by 2 mmHg), or serious adverse cardiorenal events. Euglycemic ketoacidosis is rare.  
However, do not use SGLT2i in patients with type 1 diabetes, end stage renal disease, lupus, ANCA, are at high risk for UTI, mycotic infection, and/or DKA.  
These medications should be covered by most insurances and/or with assistance for patient assistance programs. Canagliflozin is on NC MedAssist formulary.  
Duke Medicine Learning, Education, and Discussion Series (LEADS) takes place each Tuesday at 12 p.m. Learn more and see schedule of upcoming sessions.