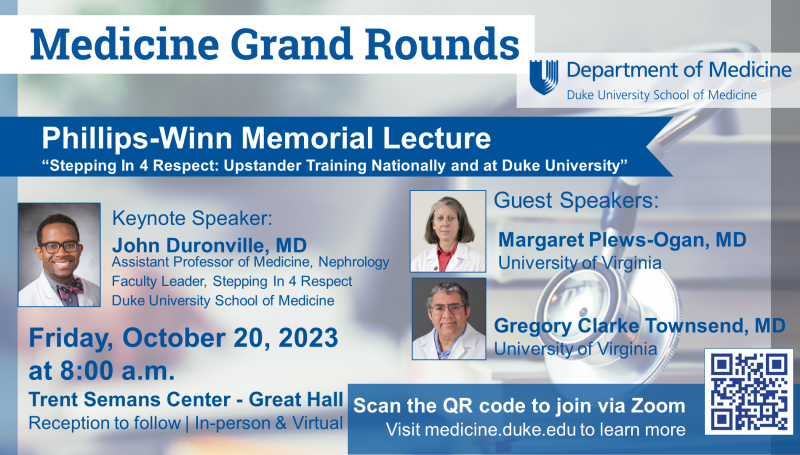 The Duke Department of Medicine (DOM) and the Program for Women in Medicine (PWIM) will host a special Friday, October 20, 2023, Medicine Grand Rounds on Stepping In 4 Respect: Upstander Training Nationally and at Duke University. The event will take place in person at Trent Semans – Great Hall and virtually via Zoom.
The event will be led by John V. Duronville, MD, assistant professor in the division of Nephrology. Dr. Duronville serves as a Civility Champion, the lead for Stepping In 4 Respect, a multi-institution prospective quality improvement study developed at the University of Virginia (UVA) to assess change in attitudes and behaviors toward discrimination and harassment. He is also the clinical subcommittee chair for the Diversity, Equity, Inclusion, and Anti-Racism committee (DEIAR). 
Special guests will include Margaret L Plews-Ogan, MD, the Brodie Professor of Medicine at UVA, and Gregory Clark Townsend, MD, UVA associate professor in the Division of Infectious Diseases and International Health.
Plews-Ogan is co-author of three books, including "Choosing Wisdom: Strategies and Inspiration for Growing Through Life-Changing Difficulties." In addition, she is the founder and past director of the UVA Center for Appreciative Practice, which works to facilitate improvements in clinical care, education, and communication throughout UVA Health.
Gregory Clark Townsend, MD, is an associate professor of internal medicine in the Division of Infectious Diseases and International Health at UVA. He specializes in treating patients with HIV and sees patients at the Ryan White HIV Clinic. He joined the UVA faculty in 1993, and in 2014 was named associate dean for diversity and medical education.
In the following interview, Duronville talks about the origins of Stepping In 4Respect at Duke, the success of the program here and plans to expand it in the larger School of Medicine and larger Duke community. 
Q: How did Stepping In 4 Respect come about at Duke?  
Duronville: Our story starts at Duke in 2017 when a number of incidents around incivility and disrespect coming from patients or providers and staff towards trainees were brought to the attention of DOM leadership and Internal Medicine Residency leadership. This was spearheaded by one of our phenomenal chief residents at the time Dinushika Mohottige. She presented this amazing Grand Rounds in early 2018 around this, and her work with Drs. Aimee Zaas, Lisa Criscione-Schreiber and Kim Evans, representing the leadership from Graduate Medical Education, the Minority Retention and Recruitment Committee (MRRC), and the Internal Medicine Residency. They felt we needed faculty who were trained to be first responders when these instances of incivility occur. How do we appropriately address these instances and support the people that were harmed but also to identify issues within the ecosystem that lends to incivility and could we address this on a higher institutional level? One of their response was the creation of Civility Champions.
After this idea was introduced within the department, a call went out for faculty volunteers. Several faculty members across all the divisions of internal medicine volunteered and received training on institutional instances when these aggressions occur. What are the appropriate reporting mechanisms? How do you facilitate a debrief with someone who has been harmed? How do we give them the space to share then help them identify ways that they want to respond to that harm. I volunteered to be a Civility Champion, along with a number of my colleagues. We received the training from Ada Gregory at the Keenan Institute of Ethics. She was the one who did the training initially to get Civility Champions off the ground.
By that November 2019, Duke DOM leadership became aware that the University of Virginia (UVA) had a program that was much in line with what the Civility Champions were doing, and it was called Stepping In 4 Respect. Civility Champions involved supporting individuals after the harm has already occurred. Where Stepping In 4Respect provided training and tools for the general population about how you respond in the moment when you're witnessing aggression or a moment of harassment. We felt this was very similar to what was going on with Civility Champions so we went to UVA for more insight. There were a number of us, myself, Drs. Criscione-Schreiber and Evans representing the DOM with other members at the School of Medicine and the Office of Diversity and Inclusion (ODI). We went to UVA in November 2019 and received the first training for individuals/institutions interested in participating in Stepping In 4Respect, with the original protocol and materials provided by UVA.
Q: Let's talk about the success of the program.
Duronville: The first small group at Duke received the training in the autumn and winter of 2019, and we introduced the idea to our Civility Champions cohort.  January 2021 was the first workshop that was offered to a division in the DOM. So, it has been two and a half years of us growing this within the DOM. We've had on average about 10 workshop facilitators who are all clinical faculty who underwent UVA training to lead these workshops. Since that time, we've completed workshops for all 12 divisions within the DOM.
We've completed workshops with 690 out of 845 regular rank DOM faculty and more than 120 trainees. That includes the rising second-year residence in Medicine who receive training as they transition from interns to second. Every incoming DOM fellows complete this workshop during their GME Orientation week. This program has also been part of the Faculty Development Academy and other faculty leadership programs, such as ALICE, the women in leadership program. DOM staff led by Amy Porter-Tacoronte, chief administrative officer, are also engaging in Stepping in 4 Respect training with 155 staff members who completed this workshop over the last year.  We continue to receive inquiries outside of the DOM to provide this workshop to other groups within the School of Medicine. 
The division of Physical Therapy which is part of the Department of Orthopedics has adopted this program under the leadership of Dr. Tiffany Adams. Thus far 85% of the Physical Therapy faculty completed SI4R workshops and it is now part of the doctor of physical therapy student curriculum.  
Q: How do you measure success?
Duronville: So, this is challenging qualitative work and there are multiple end goals in this. Some are easy to measure, others are not. How many people are attending the workshops? How many people are completing the surveys that are included as part of the national study to see if there is an improvement in their ability to respond in the moment when they witness harmful actions?  Then there are the other things that are more challenging in terms of what may rise to the level of culture change. How easy is it for members of the community to feel included, to feel seen, to feel validated when they present issues that rise to a level of harm to them? How responsive are our leaders to these issues? Are the resolutions to these harms restorative as opposed to punitive?
What has been helpful is the enthusiasm around these workshops. Once someone completes it, I think there is an understanding of why these conversations are important to have within the work environment. There may be skepticism at first…why are we spending two hours sitting in a meeting with colleagues that we see every day? Maybe we already know what's going on, and we already have ways of addressing these issues. But I think after the workshops there's a realization that there's more to be done. What we think we know may not be the whole story. It gives us an opportunity to basically see each other, the people we work alongside every day, in a different light, and to have greater empathy and understanding of the challenges that as individuals we may face for various reasons.
And then there is the enthusiasm by other departments and groups outside of the DOM when they recognize that they, too, have a desire to have these conversations, to build greater camaraderie and collegiality within their cohorts. And I think the messaging that they're getting from people who have attended the workshops is that there's something that's happening here that's changing the atmosphere in a way that's a bit more positive and supportive. So, getting that level of interest from outside of the department has been a way for us to see, perhaps, that maybe something is changing.
Q: What are next steps for the program? What's your aspirational goal for it?
Duronville: We've completed our first phase which was to train our regular rank faculty in all the divisions. Now we're finding out that a two-hour workshop is not enough. And people want to practice these tools that we share and become more comfortable in real time with them. So divisions are asking for booster sessions where we can come back as facilitators and do a deeper dive with the videos, the resources that were provided by UVA. So that's one phase, providing the booster sessions for divisions who want to seek this so that they have more practice and familiarity with the language and the tools that were provided.
The second phase is making sure that our residents and fellows receive the same training. There are institutions that also train their medical students. And then there's the expansion of this program outside of the DOM. We are engaging our School of Medicine leadership in exploring ways that their offices can support the program for other departments.
Q:  Is this program beneficial for the larger Duke community?
 Duronville: That's a great question. Of course, but that takes buy-in. When you speak with UVA and other collaborators throughout the country, different programs have taken different approaches on sharing this information.
This is what the grand rounds is hoping to accomplish to share some of our experience over the past two years, and perhaps to give insight to those who are interested in participating in this program. We absolutely want to be expanded beyond the department of medicine.