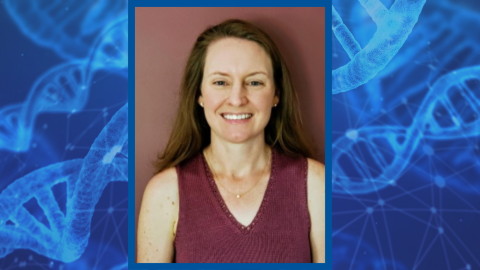 Ryanne Wu, MD, MHS, Associate Professor of Medicine and faculty for the Duke Precision Medicine Program, knew she wanted to be a physician from a very young age. As a child, watching her mother study to be a physical therapist with enthusiasm and a deep appreciation for the potential of the human body inspired her and piqued her curiosity to pursue a career in medicine.
Now, at Duke, Wu is an internal medicine physician and health services researcher with an emphasis on precision medicine. She studies the implementation of precision medicine interventions with the goal of improving clinical care processes and outcomes. Wu is part of projects involving MeTree, a patient-facing family health history risk assessment platform designed at Duke's Center for Applied Genomics and Precision Medicine, as well as the Veteran Affair's Pharmacogenomic (PGx) Testing for Veterans (PHASER) program, which is working to complete PGx testing on up to 250,000 veterans by 2024.
Wu's path to precision medicine, however, has been anything but conventional. She first came to Duke in 1997 as an undergraduate student. She majored in psychology, realizing early on that there's a lot more to being a doctor than just knowing the science.
"There is more to caring for patients than understanding their anatomy and physiology," she said. "Our assessment of risk and benefit and our lived experiences impact the health choices we make. I knew if I wanted to help patients, I needed to understand their minds as well as their bodies."
After graduating from Duke, she attended the UNC School of Medicine, thinking that she would be a full-time clinician in the community. It was only through working on research projects in preparation for a plan to specialize in oncology that she discovered her interest in research and a desire to not just provide clinical care but improve the processes by which we deliver care. It was also during her residency at Georgetown that she found that while she was fascinated with cancer, her passion was less for treating it than finding ways to prevent cancer and identify patients early on who were at increased risk and needed more intensive screening and surveillance strategies. The seeds of a career in precision medicine were being planted unbeknownst to her.   
Wu returned to Duke and met Lori Orlando, MD, MHS, MMCI, Professor of Medicine and Director of the Precision Medicine Program in the Duke Department of Medicine. She joined Orlando's team working on the development and implementation of MeTree, a patient-facing family health history-based risk assessment and clinical decision support program designed to facilitate the uptake of risk stratified evidence-based guidelines. Designed to overcome the major barriers to collecting and using high quality family health histories to guide clinical care, MeTree has been shown to be highly effective at identifying patients at increased risk and impacting clinical activity when integrated into primary care practice.
"Precision medicine has relevance across the health to disease spectrum. As a primary care doctor, a lot of my interest is in how do I keep you healthy? Not just, how do I treat you once you're sick," Wu said. "There are a lot of opportunities within precision medicine to improve the ways that we risk stratify patients so that prevention, screening, and therapeutics are tailored to the individual patient's needs instead of treating the population as one homogeneous group. Precision medicine is a way to address the health of populations not with a one-size-fits-all framework but by subcategorizing people based on risk so that everyone receives the care that they need in their specific context." 
"Precision medicine is a way to address the health of populations not with a one-size-fits-all framework but by subcategorizing people based on risk so that everyone receives the care that they need in their specific context."
- Ryanne Wu, MD, MHS, Associate Professor of Medicine and faculty for the Duke Precision Medicine Program
Wu is particularly interested in finding ways to systematically improve risk assessment in healthy populations to identify, predict, and intervene before or early in the disease process. The problem is not necessarily that risk calculators and risk-stratification guidelines don't exist, but rather that they aren't integrated into our electronic medical records systems in a way that allows for automated data capture and risk calculation.
"In order to optimize the healthcare provider-patient encounter, risk calculations need to be automated and available prior to the visit. Then the time with the patient can be spent on risk counseling and shared decision making around prevention and management options that fit with the patient's personal risk and values." she said.
In 2015, Wu's family had the opportunity to move to Singapore for three years, due to her husband's job. Wu took the opportunity to join the faculty at the Duke-National University of Singapore Medical School and be a part of the SingHealth Duke-NUS Institute of Precision Medicine (PRISM). There, she helped incorporate MeTree into PRISM's SPECTRA biorepository of
multi-dimensional data, including genomic, clinical, lifestyle, and imaging data, from healthy Singaporeans. Incorporating MeTree allowed the team to look at detailed family health history in conjunction with genome sequencing data. They made some valuable discoveries around the potential role of family health history as a  screening tool for determining who should get genomic sequencing.
"My moving to Singapore early in my career was not the standard path for an academic clinician," she added. "For my family and personal life, it was an important opportunity with many benefits including exposing my children at a young age to a part of their heritage and to how another part of the world lives. From a career perspective, I was not certain what the move might lead to but in the end my time at Duke-NUS provided me opportunities to learn and be a part of a sequencing program at a national scale that I would never have had the opportunity to do if I had not taken that chance."
Wu on Career Advice 
 
Wu's advice to those looking to pursue a career in science is, "Don't let yourself get boxed into a single pathway."
Training in medicine is a very linear path in many ways, but once training is over your career can go in any direction you choose. While people can be successful and fulfilled following the traditional career models, she also highlighted the importance of thinking broadly about what your passions are and then finding mentorship that wants to work with you to pursue that. 
"I have been blessed with fantastic mentors throughout my training and since coming to Duke. People who have looked not to mold me into their image but help me pursue what mattered to me. I could not be more grateful for that."
Wu added, "It's important to ask, 'What's important to me?' and, 'How can I achieve that?' And then find mentors who believe in you, advocate for yourself and find a way to do it."