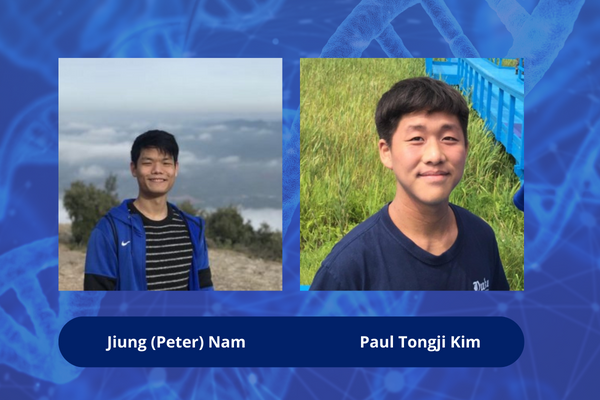 The Duke Program in Precision Medicine wrapped up its second year of the Snyderman Scholars Applied Genomics & Precision Medicine Summer Program on July 29. The program provides Duke University undergraduate students an opportunity to participate in a faculty-mentored research project in applied genomics and precision medicine, thanks to the generous support of Dr. Ralph Snyderman and his "Snyderman Fund."
Juniors, Jiung (Peter) Nam and Paul Tongji Kim, spent 10 weeks working with faculty mentors on research projects they developed and proposed as part of the Snyderman Scholars program.
Nam's project, "Targeting Serine Threonine Kinase 3 to Prevent Doxorubicin-Induced Cardiotoxicity," was in collaboration with faculty mentor, Everado Macias, PhD, assistant professor of pathology at Duke.
He investigated the role of Serine Threonine Kinase 3 (STK3), a protein that regulates cell proliferation.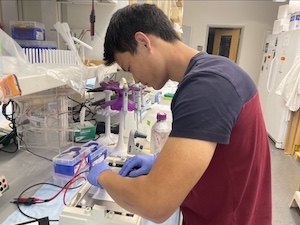 The team hypothesized that inhibiting STK3 activity would protect heart cells from the toxic effects of chemotherapy. Testing was done by measuring how both genetic and chemical inhibition of STK3 in heart cells changed their proliferation in response to chemotherapeutic treatment. Additionally, the team ran the same experiments on breast cancer cells to observe whether STK3 inhibition protected or sensitized breast cancer to chemotherapy.
"We found that heart cells treated with STK3 inhibitor compounds showed increased proliferation and protection against chemotherapy-induced cardiotoxicity," shared Nam. "By contrast, breast cancer cells treated with STK3 inhibitors showed decreased growth, suggesting that STK3 plays different roles between heart cells and breast cancer cells." 
The team is looking to identify a therapeutic gene target to improve overall survivability for breast cancer patients receiving chemotherapy.
Kim was mentored by Jennifer Zhang, PhD, professor of dermatology at Duke, on his project titled, "A Statistical Analysis of Latent Herpesvirus Infection and its Biomarkers."
While working in the wet lab, Kim's research focused around understanding the mechanisms behind the establishment of latency in Herpesvirus-1 (HSV-1) and how the virus manages to evade detection by the immune system. This summer, Kim was able to establish HSV-1 infection models and analyze a dataset that sequenced the RNA profiles of murine trigeminal ganglia, a collection of nerves outside the nervous system, infected with Herpesvirus. The dataset analysis validated previously published literature regarding how HSV-1 establishes latent infection, giving Kim specific biomarkers to analyze while working in the wet lab.
"The Snyderman Scholars program has been immensely valuable in exposing me to the burgeoning field of computational biology and bioinformatics," Kim reflected. "I have gained a newfound appreciation for the work that bioinformaticians do to process unprecedented quantities of data as well as welcome addition to my skillset as a biology researcher."
Both Peter Nam and Paul Kim plan to attend medical school in the future and will continue research in their mentors' labs while they finish their time undergraduate education at Duke.
The Snyderman Scholars program is funded by Dr. Ralph Snyderman through the "Snyderman Fund." Snyderman is a James B. Duke Distinguished Professor of Medicine and served as Chancellor for Health Affairs and Dean of the School of Medicine at Duke University from 1989 to July 2004.
Learn more about the Snyderman Scholars Applied Genomics & Precision Medicine program.